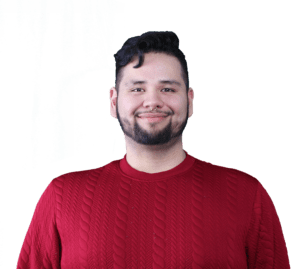 If every porkchop were perfect, we wouldn't have hotdogs.
Who Are You?
Miguel at Work
Digital Marketing Intern
Miguel at Play
Gamer, Weeb, Social Justice Warrior, Tall Man
What Does a Day in the Life of Miguel Morales Look Like?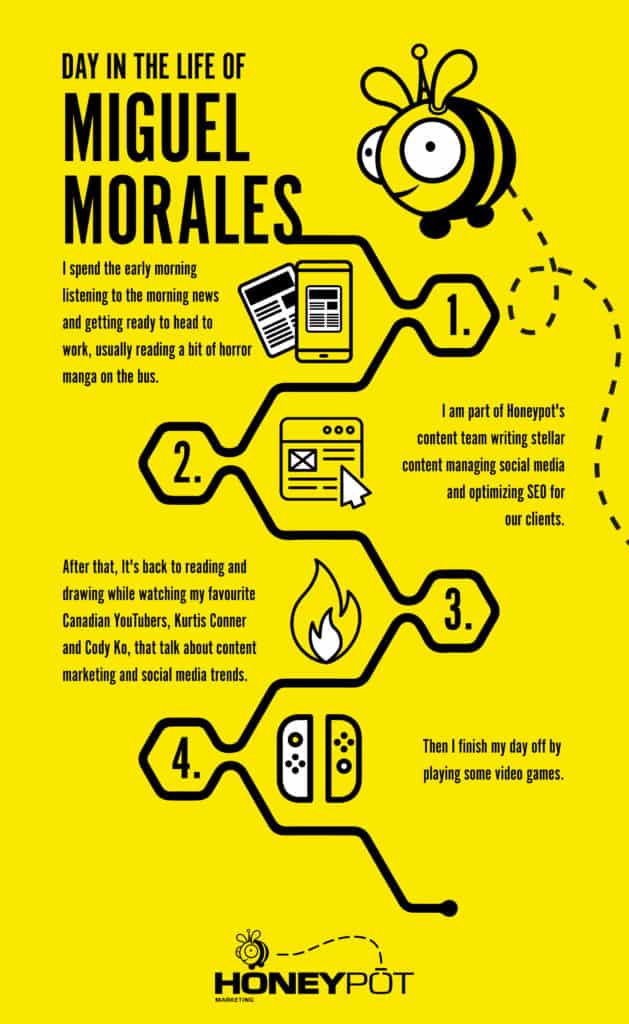 What Attracted You to Your Career?
Brands like Fido representing their queer employees during Pride with content that told their story and gave marginalized individuals a platform while humanizing the company. Their strategy triggered my interest in content marketing.
I'm happy I get to cultivate honest and authentic relationships between brands and their followers while getting to be creative!
Best Thing About Your Job?
The people! Everyone at the Hive is so welcoming and has taught me so much. I've gained many friends and mentors, and I'm excited to learn so much more.
Most Challenging Thing About Your Job?
I've mostly had experience with researching, strategy, and the PR side of the industry; switching gears and working with social media and SEO has been challenging, but it's a challenge I am ready to take on!
One Lesson You've Learned on the Job?
As a writer, there's never a thing as too much proofreading; read it over, then have someone look over it and read again. What we write one day may require an update the next day, and with content going out for the world to see, your editing skills must be top-notch.
One Item You Can't Live Without?
Headphones. If I can't listen to music and focus on my work, I tend to get distracted and find it hard to concentrate. Plugging into Spotify or a YouTube playlist lets me get into my zone.
What Tool Do You Find Most Useful at Work?
Grammarly is incredibly useful, especially if you find yourself sounding monotomous.
What's One Thing from Your Bucket List That You Have Done, or Want to Do?
Not to sound corny, but I want to become one of those video game commentary channels on YouTube that explore obscure games through playthroughs. Video games have always been an escape and a source of creativity for me, and I want to share that love of gaming with the community.