Always look nice, because you never know who you are going to meet that day.
Who Are You?
Justin at Work
Creative Director.
Justin at Play
Edgy. Free Spirited. Socialite. Gamer. Music Lover.
What Does a Day in the Life of Justin Maciel Look Like?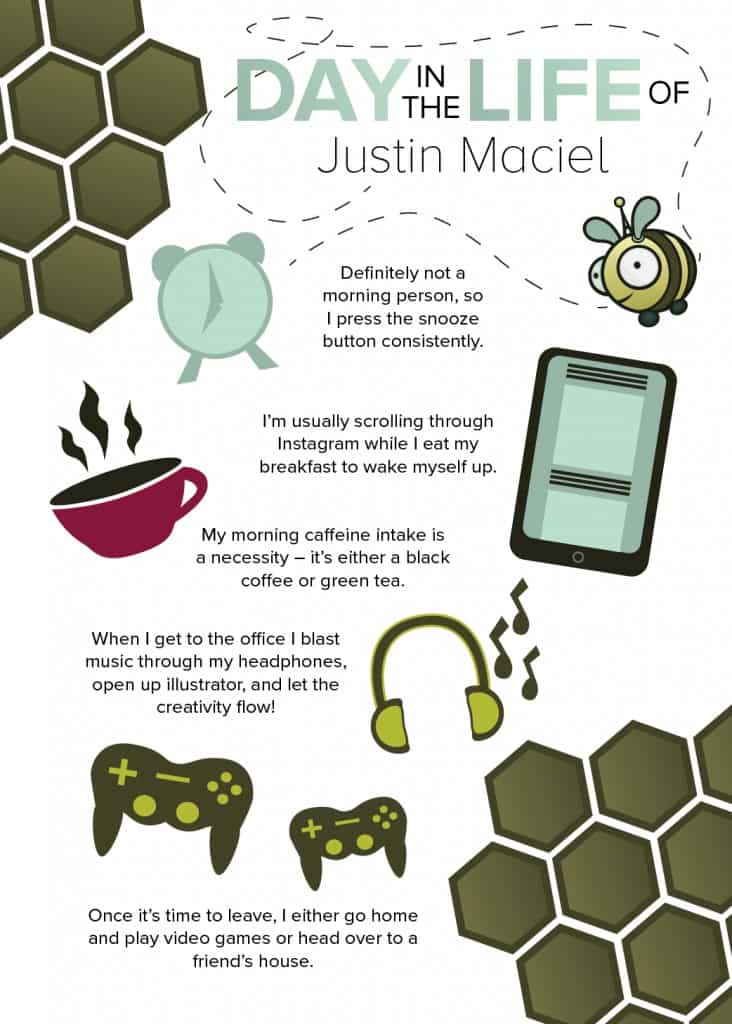 What Attracted You to Your Career?
I've been a doodler all my life, always drawing in the margins of my notes and basically anywhere I could. When I realized my doodles could be turned to art, and that my art could have a practical use, I began to look into graphic design.  It was turning my creative abilities into something with the strategy behind it that really appealed to me.
Best Thing About Your Job?
The variety of companies and creative styles I get to work with. And I get to make things look good all day long.
Most Challenging Thing About Your Job?
Sitting at a desk all day. I love to be on the go and moving all the time, so I get a little stir crazy.
One Lesson You've Learned on the Job?
Do not be afraid to ask questions. It's better to ask and know what you're doing, than to sit there confused and waste your time.
One Item You Can't Live Without?
My headphones. I would not be able to work with complete silence.
What Tool Do You Find Most Useful at Work?
Illustrator is my design tool of preference, I use it pretty much 90% of the time. I love the fact that no matter how big or small, my image will always be crystal clear.
What's One Thing from Your Bucket List That You Have Done, or Want to Do?
To get more tattoos. There are 2 more that I want, then I can scratch it off the list!