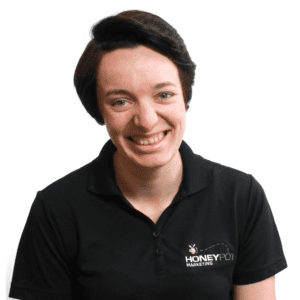 Be kind to the people you meet in life, everyone is fighting their own battles.
Who Are You?
Katie at Work
Traffic Manager.
Katie at Play
Animal lover. Gamer Girl. YouTube addict. Mother of One. Music Enthusiast.
What Does a Day in the Life of Katie Look Like?
I'm a morning person, so I'm usually up before everyone in my house.
After making lunches and a quick bite to eat, it's off to work at Honeypot!
My day is a continuous balance between fixing technical bugs and creating landing pages for our next campaign.
When my day is done, I head home to relax.
My nights are usually full of watching videos or doing different jobs around the house.
What Attracted You to Your Career?
I've always loved to learn.
Digital marketing is constantly changing every day, so there is always something new to learn, a new trick to try out.
Best Thing About Your Job?
I love that every day is different.
Each day I come in and work on a different set of clients and projects. It always keeps me on my toes.
Most Challenging Thing About Your Job?
My biggest challenge would be troubleshooting the different technical issues that arise.
Every issue is different with it's own set of problems to solve. Those problems always test me and push me to learn more.
One Lesson You've Learned on the Job?
Sometimes you just need to take a break from a problem. When you come back to it with fresh eyes, you will see a solution.
One Item You Can't Live Without?
My family, they are what keeps me grounded.
What Tool Do You Find Most Useful at Work?
Flaticon is my most used tool at work. It saves me so much time searching for or creating different images for creative pieces.
What's One Thing from Your Bucket List That You Have Done or Want to Do?
Going on a road trip through the states and hitting every cheesy tourist attraction I can!