How to Set Up Google My Business
---
What is Google My Business?
Google My Business (GMB) is a powerful free tool that lets you manage how your business appears in Google search results, Google Maps, and Google reviews. You can add your business name, contact information, location and hours, photos, and you can monitor and respond to customer reviews. Read on for a step-by-step guide on how to set up Google My Business.
Google My Business Reviews
The power of GMB reviews should not be underestimated. It's a great way to connect with your consumers.
Responding to reviews shows that you're thankful for their support, and can help make positive reviews stand out on your listing, which further influences people to leave reviews of their own.
It's also important to respond to negative reviews to show that you take them seriously, and you're making an effort to resolve the issue. Always be courteous - attacking a negative review only looks unprofessional and hostile and will make the negative review seem more credible.
An amazing book that delves into the topic of dealing with negative consumer feedback in some creative and insightful ways is Hug Your Haters, by Jay Baer. It speaks to the value of using negative reviews to optimize your customer service efforts, drawing on meticulously researched case studies from businesses of all types and sizes from around the world. It's an easy read and comes highly endorsed by the master of social media, Gary Vaynerchuk, who claims "it's a must-read if you care about your customers and your business."
Here is a screenshot sample of some reviews for Honeypot Marketing.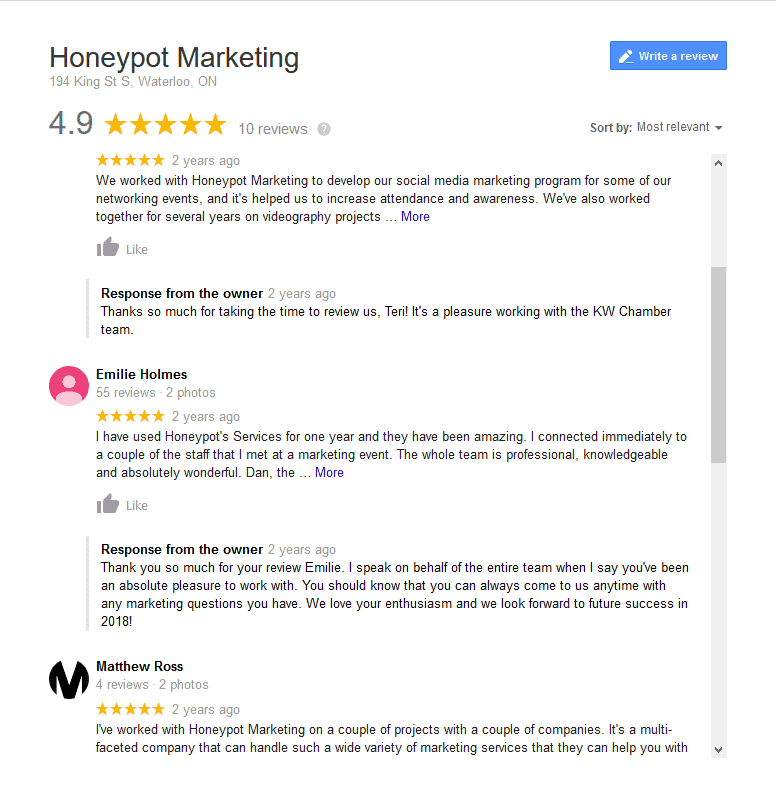 You can also access analytics to see where and how people are searching for you, and more.
How to Set Up Google My Business
Let's take a look at the first steps to get your business listing set up:
Create an account and claim your business
Log in to the Google account you want to be associated with your business.
Go to google.com/business and click the "Manage now" button.
Enter your business name.
Enter your business address.
If you deliver, check the box, "I deliver goods and services to my customers." If you work out of your house or another address, you don't want publicly shown, Check "Hide my address (it's not a store) Only show region." Finally, select your Delivery area.
Choose your business category. Try to choose the most accurate category possible -- you're telling Google which type of customers should see your company listing.
Add your business phone number and/or website.
Choose a verification option. If you're not ready to verify your business yet, click "Try a different method" → "Later."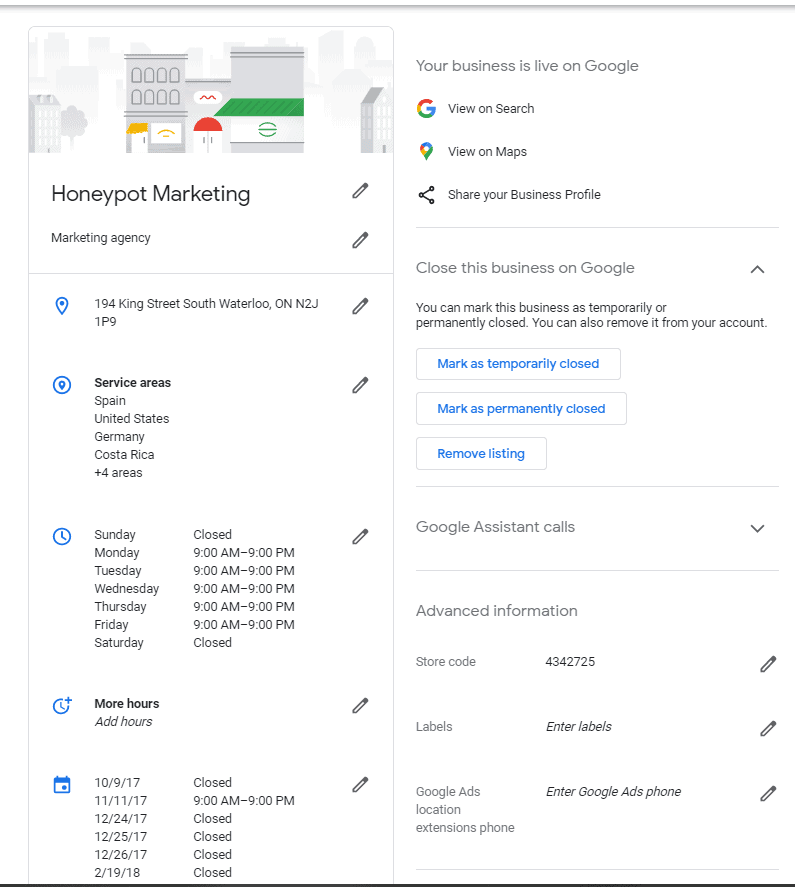 That's it for set up. But, there's much more you can, and should do. You can find a walkthrough on How to Get Verified on Google My Business here, and a walkthrough on How to Optimize Google My Business here.