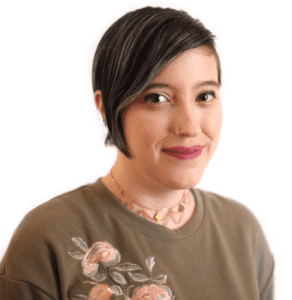 "Don't judge a person until you've walked in their shoes."
Who Are You?
April at Work
At work, I like to be prepared for anything. Keeping organized and on top of deadlines is a priority. For me, the busier the better – it keeps me on my toes and I guess I am a glutton for punishment. It's not all seriousness for me though, I like to crack a few jokes before I buckle into work.
April at Play
At play, I am busy playing video games or reading a books/comics. I enjoy watching anime and follow an abundance of TV shows. I like to hang with my friends for board games or run in a dungeons and dragons campaign. 
What Does a Day in the Life of April Look Like?
I wake up early every morning to make sure I am prepared for the day.

I get ready, head to work and then it's planning for a busy workday.

When I get to work, I like to start my day by greeting my coworkers and then buckle into business.

When I get home, I am probably binge-watching a show while playing my Switch.

At night, I like to read and write to settle down before bed.
What Attracted You to Your Career?
I like a challenge, and I like to be busy, marketing seems to hit both marks pretty well.
I love how marketing is always different depending on the business or client. It's always something new. There is never a shortage of things to learn.

I like this business because it is never stale and I can use all my skills at work (graphic design -> marketing), it is always changing and a welcomed challenge.
Best Thing About Your Job?
The best thing about my job is that there is always something new to discover as well as new challenges to face.
The best thing about handling clients is that each one is unique. They all need something different depending on their industry and product.
I really enjoy figuring it out and feel rewarded when the projects I work on succeed. Honeypot expands my horizon and that is something I value greatly.
Most Challenging Thing About Your Job?
The most challenging thing about my job is the fast-paced environment, but I actually like that. It keeps me on my toes, and I am never bored.
Most Memorable Advice You've Been Given?
Failure is a success if you learn from it.
One Lesson You've Learned on the Job?
I have learned to keep organized, it is impossible to work if you aren't on the ball.

One Item You Can't Live Without?
The one item I can't live without is my Alienware laptop. It's my baby! Work hard play hard. It does both. 🙂
What Tool Do You Find Most Useful at Work?
The tool I find most useful at work is Basecamp, it's super helpful and keeps me on track of all the tasks that need to be done for our team.
What's One Thing from Your Bucket List That You Have Done or Want to Do?
I'd love to visit Japan and tour around for a month, just so I could visit all of the areas.