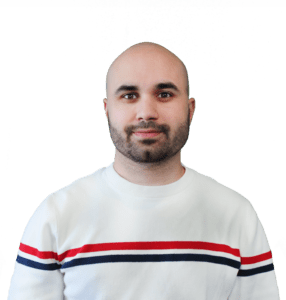 Learn something about everything, and everything about something.
Who Are You?
Matt at Work
Public Relations Specialist, Aka. Producer Matt
Matt at Play
Avid Gamer, Techie, Nerd, Cat Dad, NewsHound, Coffee Addict, Montreal Canadiens Fan
What Does a Day in the Life of Matt Look Like?

What Attracted You to Your Career?
I've always been a communicator and love making new connections with people. Public relations seemed like an ideal career for me, and after studying public relations at Conestoga College, I knew I made the right choice.
Best Thing About Your Job?
I love that I need to keep up with current events, news stories, controversies, politics, and trends. If you enjoy what you do, you never have to work a day in your life.
Most Challenging Thing About Your Job?
Sometimes, public relations pose challenges when trying to convey a message during a time of crisis. Although crisis communications come with an absolute 'thrill,' it's often stressful and 'go-go-go.'
In the end, I love it though.
One Lesson You've Learned On This Job?
Don't second guess yourself. Always have confidence in communicating your professional opinion and advice to clients.
One Item You Can't Live Without?
My gaming PC. I've spent the better part of 5 years upgrading it and making custom upgrades. It's a hobby of mine.
What Tool Do You Find Most Useful at Work?
ActiveCampaign has recently become my favourite tool/mar-tech at the Hive. It helps to achieve and exceed our campaign goals for our clients and partners.
What's One Thing from Your Bucket List That You Have Done, or Want to Do?
I want to get Paul McCartney to sign my arm at a concert and get it tattooed. I'm a huge Beatles fan ¯\_(ツ)_/¯.