3 Black Friday Marketing Campaigns to Boost Sales Beyond the Holidays
---
Podcast: Play in new window | Download
Subscribe Today Google Podcasts | RSS
With only another week to go, let's talk about Black Friday marketing campaigns that you can use to boost sales beyond the holidays.
Black Friday Beyond! Sounds like a Twilight Zone episode. It's not. It's just 2020, and everything seems weird.
Check out the video or podcast above. 👆 Subscribe to our weekly live stream on Facebook, or take it on the go with a podcast on your platforms' choice. Keep up-to-date on news, trends, and tips in digital marketing and join in on the conversation.
What's New in Digital Marketing?
We've got some juicy news from the world of digital marketing this week. Check out the articles below.
Facebook Updates Report Moderation Systems to Ensure Worst-Case Content is Dealt With First – After a summer of Facebook facing backlash due to their ineffective reporting policy, they have updated its content moderation queue system, which should lead to significant improvements in addressing the worst-case reports and slowing the spread of harmful content.
LinkedIn Top Voices 2020: Design – LinkedIn News is debuting their 6th annual Top Voices list, a collection of hundreds of experts driving today's professional conversation. As COVID-19 continues to upend our lives, these members are using their voices to help us parse today's changing world of work, navigate our industries, and find balance through it all.
Twitter Launches Disappearing' fleets' Worldwide – Twitter Inc said on Tuesday it was globally launching tweets that disappear after 24 hours, similar to the stories feature that is popular on Snapchat and Facebook's photo-sharing app Instagram.
New Study Outlines Key Considerations for TikTok Promotions and Ad Campaigns – If you're considering TikTok within your 2021 planning, this new analysis report may help. To help businesses tap into the platform and understand what works best to maximize their results, VidMob recently analyzed over 1,400 TikTok video ads.
SEO Testing Case Studies – Split-Testing lessons from SearchPilot. A fantastic resource for anyone looking to expand their knowledge of the SEO world.
What's Working?
We want to focus on 3 main campaign ideas that can be used for your Black Friday marketing and beyond:
Bundle Offers
Lead Generation Contests
Lead Magnets
These campaign ideas are perfect for Black Friday and the holidays, but they can also perform well all year round.
BFCM may be the biggest retail event of the year, but there's no reason why you can use these ideas at any time.
Let's get into it.
1 Bundle Offers
Creating mixed product bundles is an excellent option for your Black Friday marketing strategy and can also boost sales.
Pairing a popular high ticket item with a complimentary add-on can not only make the high ticket item more appealing, with a higher perceived value. Still, it can help sell less popular items that people may not have considered otherwise.
For example, let's use a bundle offer to buy a jacket and get a scarf 50% off. The jackets are $200, and the scarves are $30; this can make purchasing the jacket much more appealing to shoppers, and you're only giving a $15 discount off a $230 purchase — that's 6.5% off the whole order.
Notice how the bundled products in the above example complement each other? You don't want to throw things together and cross your fingers.
There are strategies and best practices for creating the perfect bundle that will appeal to your customers.
Take a look at this example of a bundled Black Friday marketing campaign we created for a client here at Honeypot.
This Black Friday marketing campaign was successful because it smartly bundled a collection of complementary products with the core product at a very attractive discount.
The strategy for this campaign: offer the most popular item at a discounted price point with high value bundle items.
The e-books and subscription examples above, a Keto success roadmap, Keto recipe book and a 6-month online workout subscription are highly relevant to the goals of our potential customers.
Using Value Adds also reduces discounts, which means you're not giving things away and going bankrupt, which is much more critical for smaller businesses.
The e-books in the offer have a high perceived value. By discounting those e-books 100% in the offer, the products were not discounted at all.
Regular price: $226.49
Actual Discount 14.1%
Perceived Discount 47%
So how do you get the ball rolling? An excellent place to start is by using Google Analytics to identify your most popular products.
Using Google Analytics to Identify Your Most Popular Products
Offering a deal on the products that people are most interested in will entice them to take the time to check out your offer and consider a purchase.
To identify these products, you'll want to look at what product pages have the most traffic.
This is how you do this:
Click "Behavior."
Click "Site Content," then "All Pages."
Look for your highest trafficked product pages.
In the image above from QuickZip Sheet, we can see that 2 of their most popular products, their Luxe Starter Pack and Baby Starter Pack, would be great to bundle together, targeting parents with newborns and young children.
However, it won't always play out like this. Maybe your top products don't mix and match well? What do you do?
Bundle Popular Products With Related Accessories
The jacket and scarf example mentioned earlier is an excellent example of this. Scarves may not be a top-selling product, but when paired with a product that people have a lot of interest in, they become much more appealing.
After all, who doesn't love accessories?
If it's a low-cost item, you could even consider bundling it in with a higher ticket item for free. Gifts can be incredibly appealing, primarily when they work as an accessory to the bundle's main product.
You could also collaborate with another local business and bundle complementary products.
Say you sell a Phlippen awesome BBQ sauce like the local sauce masters, Phlippen's. You could bundle it with a local butcher selling steaks or any business selling food products, including restaurants.
Oh, restaurants, we miss you so much.
Sephora has some perfect examples of creating bundles of products that complement each other.
Lipstick and makeup. Lotion and a beach bag; they just make sense together. Paired with copy that conveys the FOMO on a limited edition and restricting it to online-only purchases creates a sense of exclusivity and urgency, as well.
Video games are another great and common item to see bundled. Game consoles can be pricey. Bundling one with the hottest game and offering an extra controller at a discounted price creates a higher perceived value than the console alone.
The example above is a classic example of offering multiple bundles that can be mixed and matched, giving customers more choice and more incentive to buy.
Upsell Your Bundles
Upselling using e-commerce recommendations is a brilliant way to sell your product bundles. 35% of all Amazon purchases come from recommendations, many of which are bundles.
Restaurants also do this with their "supersize" options; this allows them to sell more, increasing their average order value, and the customer feels like they're getting more value for their money. Win-win.
Let's look at a coffee example because I feel like I need more caffeine in my life right now.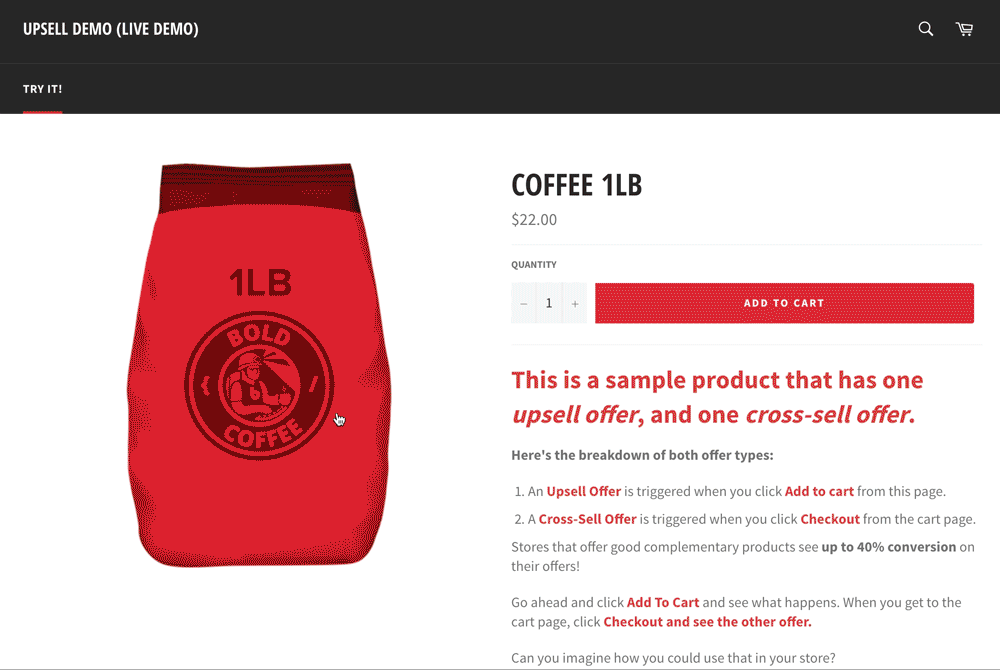 In the above example, the customer is ordering a 1lb bag of coffee for $22. They're then offered a second 1lb bag for only $3 more, and then also offered a pack of filters for another $3.
So, for $6 more, the customer is getting twice the amount of coffee and an accessory they already needed. It's a bundle offer that's hard to turn down. If you're already buying a bag, why not double your order for only a few dollars more?
A final point to make is to ensure that, regardless of what bundles you put together, make sure always to sell your products separately as well.
Nintendo learned that the hard way. Their revenues decreased by 20% when buying a bundle was the customer's sole option to purchase a product. Learn from their mistake.
Here is a step-by-step process for creating a bundle offer for your Black Friday marketing and beyond:
Start by creating a bundle offer, including some of your more popular items at a discounted price point.
Set up Tracking Links and Tags so you can gather audience insights on who is most interested in your offer and what channels work best to reach them.
Promote bundles on your social channels, e-commerce site, and digital ads, using the tracking links you've created.
Focus your message on the offer, discount, and the time-savings it will offer your target audience.
Use Remarketing techniques to re-engage with your audiences, especially with those who abandoned carts.
2 Lead Generation Campaigns
Lead generation can be a complicated beast. We see so many pop-ups every day that most of them get ignored, or worse – they annoy us enough that we decide to stop visiting the site.
So, how do you create a lead generation Black Friday marketing campaign that isn't boring or annoying?
Let's take a look at the structure of a lead generation campaign.
It's a high-level overview that can be applied to all sorts of campaigns, and a great resource when you're planning your campaigns.
Following this structure will help you capture and nurture your leads to create long-lasting relationships, which, in turn, creates future opportunities and more sales.
The important thing to note is that you need to warm up your leads to move them through the funnel. You don't want to start with the hard sell. You want to offer value and then follow up with your core product.
Getting Started with Lead Generation Campaigns
When you get started with creating your lead generation campaigns, you want to follow these steps:
Know your goals and target market. To drive success, you'll need to define your outcomes. The contest goals should align with your business' marketing objective.
Choose contest type and prize. You'll now want to plan out your campaign details. Choose the best contest type that will work for your campaign. For your prize, there needs to be some incentive; how will it motivate your customers?
Build your contest. Now that you have the framework build it! Some essential elements that you'll want to include: Attention-grabbing title, entry details/rules, a good, high-quality image, and contest details.
Promote your contest. Once your contest is live, start promoting it! This can be done by adding a banner to your site, sending an email blast, promoting your contest on your social channels, and through ads.
Track your results, follow up, learn, and repeat! Track the results of your contest and create follow-up content (winner announcement). Take what you've learned and repeat!
Lead gen contests are a great way to entice potential customers and encourage engagement by offering perceived value with your ask.
Now it's not just another annoying pop-up. It's an opportunity to win something from a brand your interested in.
Interest is officially piqued because you're not just popping up on their screen with your hand out asking for something. You're offering an exchange and making it clear that there's something in it for them.
Contests are fun. People love entering them, especially if they only have to give their email. How many places have you given your email to? Exactly. Too many to count.
Let's take a look at an example of a lead gen contest we created here at Honeypot for one of our clients.
As you can see, it doesn't need to be overly complicated. $400 worth of gear is a very enticing incentive to sign up.
It also encourages social media engagement by creating a contest entry rule that requires customers to share an installation picture and tag the business.
By doing this, you're encouraging User Generated Content, which is a goldmine in the world of marketing.
Nothing sells a product better than a happy customer showing it off.
Here are a few more tips to consider when creating your Lead Gen Contests for your Black Friday marketing:
Make sure your prize has value – Your prize must be valuable enough that people will want to enter your contest. It has to catch your potential new customers' attention and be compelling enough to drive them to participate.
Have a value specific prize – Make sure it's only valuable specifically to people who have the strongest potential of becoming your customers. If it has a strong generic value, everyone will want to enter, and you'll end up with a ton of unqualified leads. An example of a value specific prize could be an extended trial of your product or service.
Make everyone feel like a winner – Attempt to make everyone who enters feel like a winner. You can do this by offering a limited time discount or a sale exclusive to the contestants. Everyone likes to win and feel special, right?
Use social media – This is an effective way to spread the word about your contest and your brand and interact and communicate with your leads.
Like and share – You can ask customers to like and share your business page or a post on your page. The winner can be then be chosen from the pool of people who shared your post as a form of entry. Be sure to provide an incentive specific to your company, such as a discount or freebie.
Use Photo contests – Ask customers to take a photo of themselves with your product and post it to your page. Collect all of the photos and place them in an album with the contest rules.
Create a designated landing page with a CTA – When your customers click on the link, they need to land on your contest landing page. The page should include the contest rules and a clear Call To Action. This will increase your chances of conversion.
Contests are a fun, interactive way to generate new leads, create further exposure for your product, and form relationships with customers. When was the last time you were upset about getting free stuff?
3 The Lead Magnet
Lead magnets are one of the best ways to build a qualified leads list.
A lead magnet's point is to create a piece of content that offers value to the customer in exchange for their email or contact information.
Rather than sending people to your home page, you create a landing page to drive audiences to.
Landing pages have very specific content matching your offer. Your website will, rightly so, have quite a lot of content that would compete with your simple campaign message.
How Do Lead Magnets Work?
Offer a piece of FREE valuable content for your audience; this could be like a product guide, PDF checklist, report, e-book, case study or video.
Create a landing page where entry to the offer is simple, easy to follow, and accessible.
Promote the lead magnet with an on-site pop-up, social media, or through digital ads.
Track everything, set up UTM links and Google tags to understand which channels work best and who is most interested in the content.
Monitor performance and optimize the offer to maximize the number of potential leads collected.
Follow up with an upsell or promotions with the new leads list you've built.
Here's an example of a lead magnet we created here at Honeypot for one of our clients:
Instead of asking for a sale here or offering a discount or bundle, we provided the customer with free content to make a more informed purchasing decision.
Another thing to note is the simplicity of the CTA. We asked for nothing more than an email address to receive the free guide, making the customer ask simple and easy.
There is no confusion here. What is being offered is clear and obvious, as is what we were asking from the customer – their email.
And That's a Wrap
As always, we'll leave you with some more resources to check out at your leisure. Thanks so much for reading, and we hope you found some value here.
If you have any questions or stories to tell, share them in the comments!
If You Liked This Post, Then We Think You'll Love These...
Make more money with these product bundling secrets – The primary focus is to teach you the best e-commerce product bundling strategies and how to use them to increase your store's revenue.
5 Product Bundling Strategies You Need to Be Using in 2020 – Product bundling is a practice used by manufacturers from all kinds of industries, and this article covers 5 great ideas to make your bundling strategies successful.
7 Tips for Generating Leads with Contests – There are many benefits to using contests to help your marketing campaign, such as lead generation. This article has some insightful tips for tactics that work.
20 Contest Marketing Examples That Prove The Old Way Of Lead Generation Is Broken – This article has some fun ideas for contests that revolve around the holidays. Check it out!
69 Highly Effective Lead Magnet Ideas to Grow Your Email List – Lead magnets are one of the best ways to increase subscribers. If you don't have a lead magnet or don't have a good one, this resource could be a game-changer for your business.
11 Tried-and-True Lead Magnet Ideas and Examples – In this article, Hubspot reveals 9 different lead magnets you can create today by repurposing content you already have.