20 Ways to Build & Engage Your Business' Social Media Network
---
Podcast: Play in new window | Download
Subscribe Today Google Podcasts | RSS
Let's discuss how to build your social media followers and improve engagement using proven high-level tactics and strategies.
Black Friday is around the corner, and now is a great time to ensure your social media networks are optimized and used to their full, glorious potential.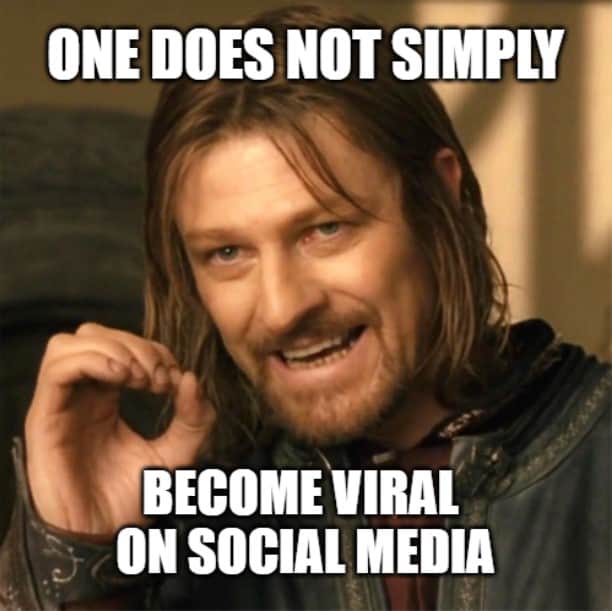 Check out the video or podcast above. Subscribe to our weekly live stream on Facebook, or take it on the go with a podcast on your platforms' choice. Keep up-to-date on news, trends, and tips in digital marketing and join in on the conversation.
What's New?
We've got a few new tools and features rolling out this week in the world of digital marketing, and the TikTok drama looks like it's cooling down. Check out the links for more goodness.
LinkedIn Releases New Guides for Marketers - LinkedIn has published three new guides designed to provide specific guidance on how brands can maximize their marketing efforts on the platform.
Search Console Explorer Tool - This dashboard offers different ways to explore (and extract) your Google Search Console data, and Google Data Studio's Interactions brings this to life.
Kevin Indig & Phil Nottingham on Long-Form Video - Phil Nottingham is the Brand & Marketing strategist at Wistia, a Youtube competitor. In this conversation, I speak with Phil about the power of long-form video, audience targeting, brand building, Shakespeare, and more.
Instagram redesign puts Reels and Shop tabs on the home screen - Instagram is putting its TikTok competitor Reels front-and-center in a redesigned version of its app by giving it the center position on its new navigation bar.
Facebook's Snapchat-like Vanish Mode Feature Arrives On Messenger And Instagram - Facebook introduces vanish mode on Messenger, which lets you send messages that disappear automatically.
TikTok Gets Reprieve As U.S. Puts App's Shutdown on Hold - The U.S. Department of Commerce said in a filing late Thursday that it would comply with a preliminary injunction that threw a wrench in the Trump administration's plans to shut down TikTok.
Spotify Grows Podcasting Ambitions With Audio Ad Company Acquisition - Spotify this week agreed to buy podcast advertising and publishing company Megaphone. The deal values Megaphone at $235 million.
What's Working?
Social media can be a daunting and confusing beast that is constantly changing and evolving. How do you keep up? Evolve with it, friends.
Learning to build your social media channels can be an effective way for smaller businesses with modest budgets to put themselves out there and get recognized in their community and worldwide.
With the rising demand for online shopping, it's never been a better time to double down on your digital marketing efforts and take advantage of the powerful tools that social media can provide to businesses of all sizes.
However, to build your social media account, you need a strategy. It's not as easy as posting some awe-inspiring content and watching everyone love it to death.
Suppose you're not paying attention to how the algorithms work or engaging with the communities you want to attract. In that case, few people will ever stumble onto your account to see those brilliant posts of yours.
With a bit of practice and learning, though, you can go from 0 to 1,000 much faster than you might think - and if you keep at it with determination and consistency, you'll have 10,000 fans before you know.
How does it all work? Let's start breaking it down into a magnificent list.
#1 Warm Up Your Accounts by Liking or Commenting on at Least 20 Posts
You can do little things every day that can make a world of difference, with minimal time and effort needed.
One of those things is learning how to warm up your accounts.
First things first - you want to make sure you're following relevant accounts that relate to your business and are of interest to your target audience.
This will give you a curated feed of posts you can like and comment on, and that will increase your visibility and allow you to connect with people who have similar interests.
You can do this by dedicating less than an hour a day.
While you're enjoying an excellent steamy coffee in the morning, log into your accounts and spend 15 minutes liking and commenting on at least 20 posts in your feed and the main trending feeds.
On Instagram, for example, here are 3 areas you can focus on.
From left to right in the image below: Explore tab (what's trending); Main feed (accounts you follow); Search tab > Tags (hashtag research).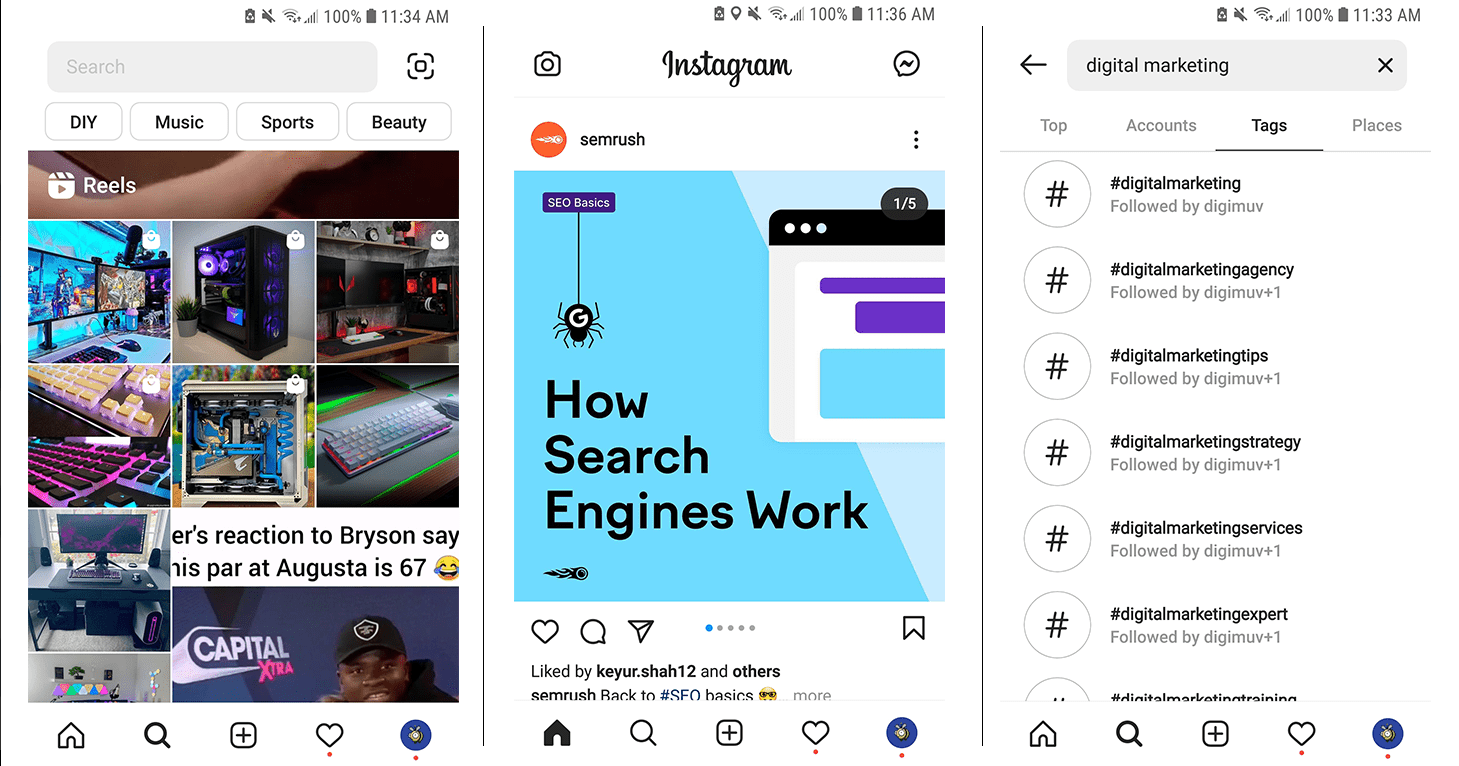 The goal is to engage in the communities that your target audience is interested in. It won't happen overnight, but over time people will start to recognize your brand more, and the more familiar you become, the more attention you will get.
#2 Turn a Blog Post into a Video
Blog posts can be a fantastic source for reusable content when you want to build your social media accounts. Why not repurpose a blog post by turning it into a video?
You could create a series of snackable clip videos if it's a longer blog post with a ton of content. You can take those videos and post them on your social media and link back to the blog to help drive traffic to your website.
If you do decide to make a series of videos, don't post them all at once. Take a drip-feeding approach and post one per day and tease the next video in the series to keep your audience piqued and coming back for more.
Check out these statistics on how well video performs on social media:
#3 Go Live To Build Your Social Media
People love to tune in to podcasts and watch live videos. There's that immediacy to a live broadcast that makes viewers feel a closer connection to the broadcaster since they are sharing the moment.
It adds an element of interactivity and allows you to communicate with your audience in real-time. Recently, with the quarantine restrictions, we've seen a surge in interest in webinars as an alternative to holding a public event.
A webinar is a perfect way to share valuable information with your audience while allowing them to engage with you directly. You can repurpose that content into snackable clips to share on your social media as value adds and thought leadership pieces.
At Honeypot, we do a live stream every Friday at 4:15 PM and use StreamYard to broadcast it simultaneously on Facebook, YouTube, and Twitter's Periscope.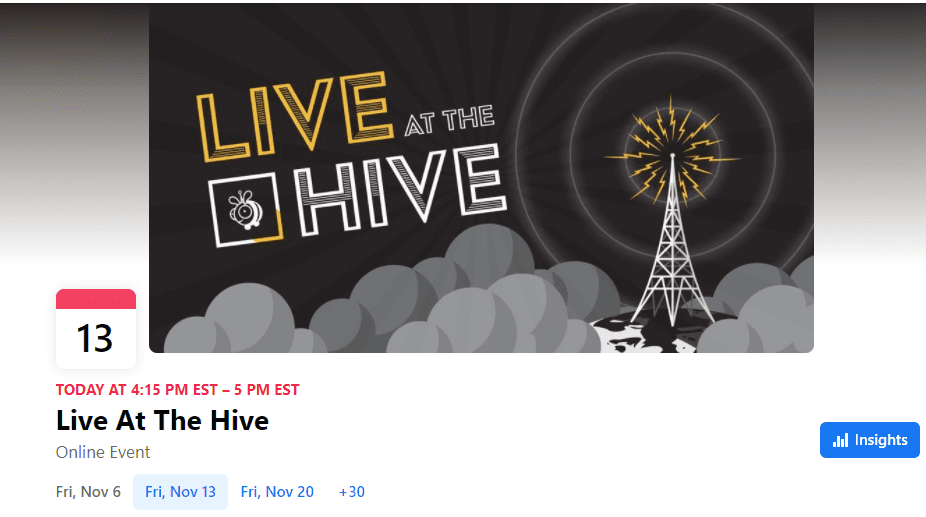 #4 Curate User-Generated Content
User-generated content (UGC) is any content - text, videos, images, reviews - created by people rather than businesses or brands.
UGC can be incredibly influential. It's genuine, authentic content that money can't buy, and it works in the same vein as word-of-mouth advocacy, which we know is one of the most potent forms of advertising we can use.
GoPro is a perfect example of using UGC to build its brand image. We talk about that more in a previous blog here:
Research. Strategize. Execute—3 Pillars of Building Your Brand Online.
It's all about creating trust. A whopping 92% of consumers trust recommendations from people they know, and 70% trust online consumer opinions.
You really can't buy that kind of genuine advocacy, no matter how much money you throw around.
#5 Poll Your Audience To Build Your Social Media
A great way to increase engagement when building your social media presence is by posting interactive content.
Creating polls is an ideal way to ask questions that require low effort answers and allow participants to remain anonymous - meaning people will be more likely to participate.
It's a great way to get instant feedback from your audience, whether it's to determine the popularity of a product or how a consumer feels about a purchase or event. The possibilities are endless, and if the internet has taught us anything, people like to share their opinions.
#6 Share Content and Engage With Facebook Groups
Sharing content is a great way to build your social media channels, and joining Facebook groups is a fabulous way to do that.
Joining and engaging with Facebook groups will widen your reach, and it allows you to invite anyone who has liked your post to also like and follow your page.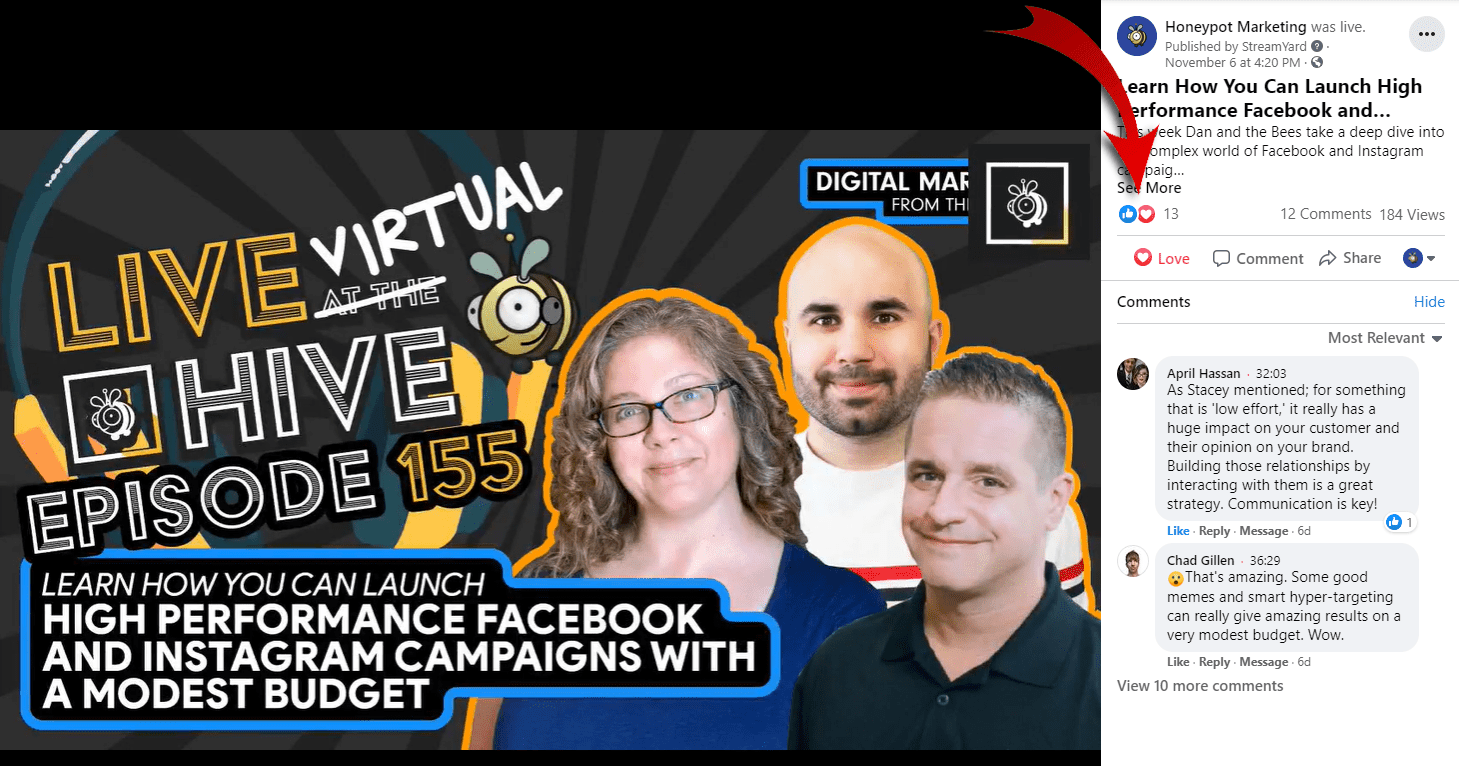 First, click on the "Reactions" icon counter, where the red arrow is pointing in the above image.
A window will pop up with a list of all people who have liked the post, and there will be an invite beside most of the names, as you can see in the image below.
The goal is to join and participate in groups relevant to your brand and interest to your target audience.
Don't wait for your audience to find you - get involved in the networks they're involved in, and you'll be much more likely to earn more qualified leads.
#7 Follow Hashtags You Use In Posts and Like / Comment on Posts
It's super important to remember that social media is more like a phone than a TV and avoid using it as a billboard for your ads; think of it as a live community to engage with and participate in.
When you're trying to build your social media, you want to do more than post and go. You need to participate.
For example, the following groups and sharing content on Facebook are a great way to engage with the community, as mentioned earlier.
On Twitter, leave comments daily, and retweet content from high profile accounts if it is relevant to your brand.
Instagram also has some great features that will help you build your social media.
Let's say you post some content and tag someone in the post.
You can go to that tagged profile and like and comment on 20 of their posts - not the first 20, though; try to like posts that appeal to you.
After you've done that, you can go to the Tagged tab on their profile and like and comment on 20 posts that they're tagged in on other accounts.
The image below is from a local Waterloo business we tagged in a post of ours. You can see the "Tagged" tab under the red arrow. Clicking on it will show more posts that this profile has been tagged in.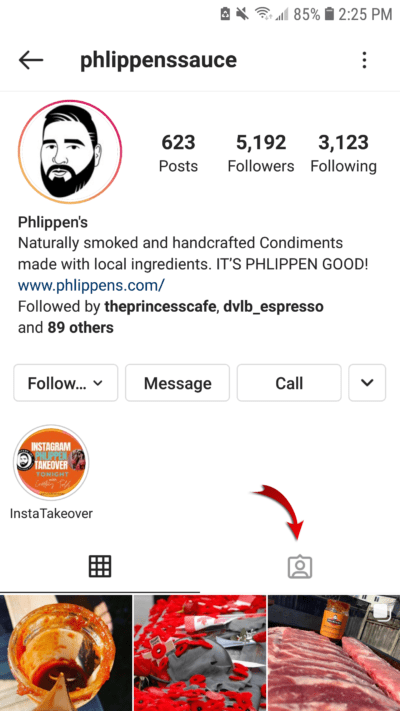 Next, you want to go through all the hashtags you use in your post and follow them. You can do this by clicking the hashtag and hitting the next screen button. Easy peasy.
One last step. Go through your feed and like 20 posts, and then go through the "Explore" tab and like 20 posts there, as well.
If you follow these steps every day, you will see growth in your account. It should only take about 15 minutes of your time, but it's a good idea to repeat this process a few times a day. Morning, afternoon, and evening type of thing.
#8 Use Fun Infographics to Tell a Story
Infographics are great; they can appeal with beautiful visual design, and they offer a wealth of information all in a single place.
Let's face it, who reads anymore? Ok, I do, and I enjoy it, but I digress - you get my point. There's a reason why video posts perform better than text posts.
The brain retains information better when it's visual content. Check out these statistics:
Colour in visuals increases attention span in viewers by 82%.

People remember 65% of the information they see in a visual instead of 10% retention from text or audio.

Researchers spend 39% less time finding information in a document with visuals, colours, and charts.

Reading comprehension increases by 70% when colour is used in visuals, and infographics improve reading comprehension by 50%.

Visuals increase learning and information retention by 78%.

50% of the human brain is used for processing visual information.
You might think that creating an infographic is hard, but check out this great resource from Visme, and you might change your mind!
How to Make an Infographic: The Ultimate Guide
#9 Ask Open-Ended Questions to Help Build Your Social Media
To build your social media, you need to engage with your community. But how do you get them to engage with you? Well, why not ask?
When writing copy for posts, try closing with an open-ended question that inspires readers to comment and engage with the post.
Close-ended questions are questions that can be answered with one word, like yes and no. Open-ended questions generally start with "why," "how," and "what if?"
What do? Ya, that, too.
For example, if you were to ask, 'What do you find the most valuable about this blog post?', it cannot be answered with a simple yes or no, and is, therefore, an open-ended question.
However, if I asked, 'Did you find this blog helpful or valuable?', it would be a closed-ended question.
Asking open-ended questions can help build trust and rapport, help you get to know your audience and their needs, and begin building a positive relationship.
It's all about starting a conversation.
#10 Participate in Trending Topic Conversations
Trending topics have a lot of reach and can be a great way to put yourself out there and get recognized in the crowd.
It's kind of like going to the popular local venues (back when that was an option) and meeting people and engaging in conversations.
Or you could think of trending topics as social media's office gossip at the water cooler.
The best places to find trending topics are on the "Explore" tabs on Instagram and Twitter. You can filter through topics that are more relevant to your brand, but you don't need to stick to that strictly.
Try liking and commenting on top posts that your audience is also interested in, even if it doesn't directly relate to your brand. Just make sure to maintain your tone and brand personality when posting.
Remember to keep two very key points in mind.
Don't fake it.

Don't get into fights.
#11 Use Closed Captioned Videos
If you're making video content, you want it to be accessible to as many people as possible. So much work is put into making videos, and you don't want someone to miss out on your content because you didn't make it accessible.
Given that roughly 80% of video online is now viewed with the audio muted, captioning / subtitling is an excellent way to ensure your message gets across.
Captions will also contain information about ambient sound and music cues for those who are hard of hearing (A phone rings, door slams, etc.), so it's essential to include them.
Subtitles are great for translating between languages, which helps even more people have accessibility to your content.
It's always a good idea to consider user choice. Users can enable/disable closed captions with the click of a button, and visually impaired viewers can usually choose a size for the text to display.
It's a win-win for everyone when accessibility is added to your video content.
#12 Post an Instagram Story at Least Once a Day to Reach a Larger Audience
About half of Instagram's monthly users are using Stories. That's 500 million people posting 1 billion Stories every day, and 62% of those people say they've become more interested in a brand or product after seeing it in their Stories.
Instagram Stories are full screen, with eye-catching visuals, animations, video, and interactive content. The amount of creativity possible with them is enormous and impressive.
It's a great way to share content and engage your audience. You can create polls, ask questions that have answer boxes people can interact with, use fun animations built into the platform, add stickers, and much more.
You can also add hashtags, locations, and tag profiles to help expand your reach beyond your follower list, and then hide those tags behind an image, animated GIF, or sticker to keep the design looking clean and uncluttered.
Stories disappear after 24 hours, but they don't have to. If you want to keep your content accessible on your profile, add your story to the Highlights Reel, and it will be displayed there permanently.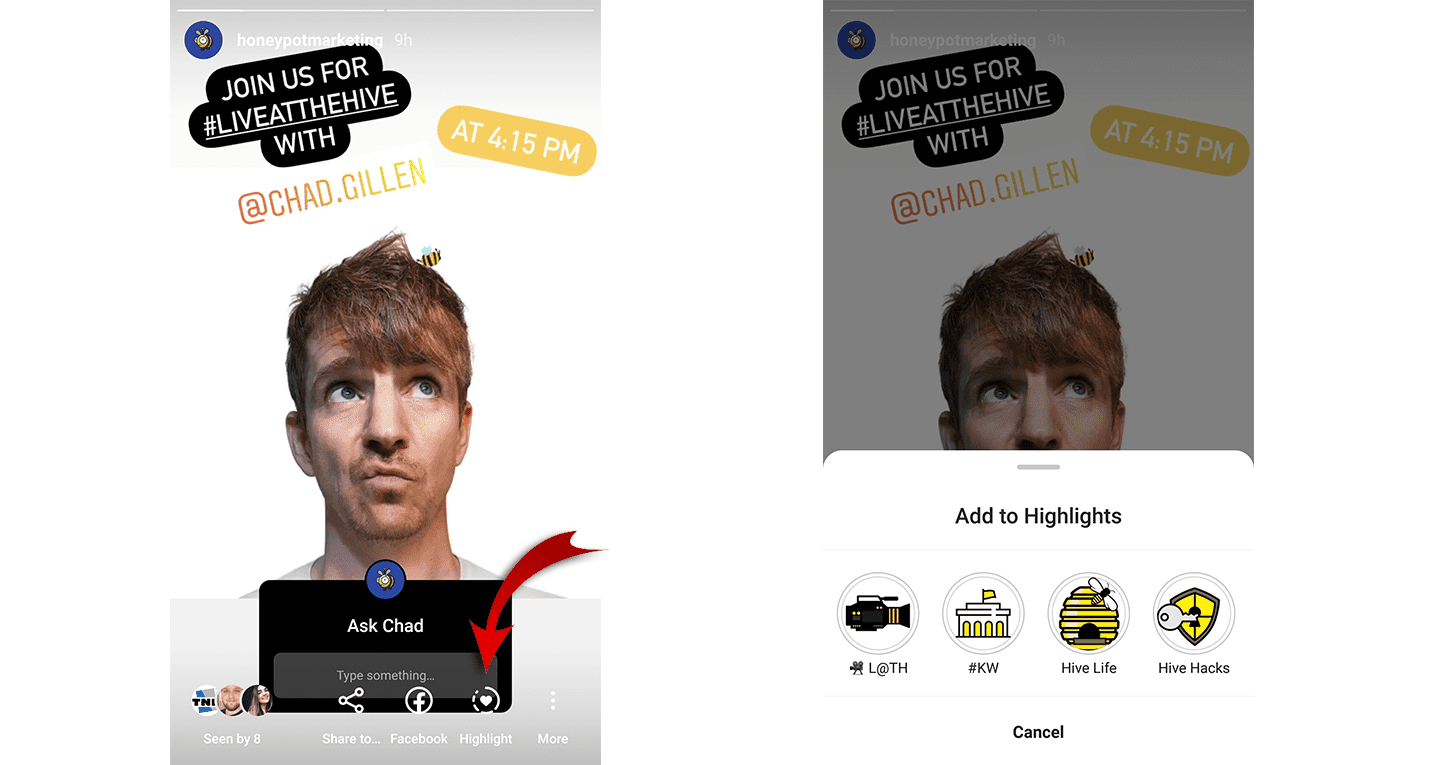 You can set up Highlights by category, as well. For example, if you want to make a series of stories that showcase your products, you can do that.
Want to showcase UGC from people tagging you or sharing your content? Make a category, show them off in your stories, and save them all in the Highlights Reel as evergreen content.
#13 Be Human and Make Sure Your Content Is Relatable
This is the most crucial point—lucky #13. On Friday the 13th. That's fine. It's fine.
I feel like I make this point in every blog, or at least I should. It always comes down to how you present yourself. How you convey your message.
People don't want fake. We don't want pushy. We want experiences. We want relationships.
Notice how I used 'we' there, rather than 'they'?
That's important. You're part of the community you're reaching out to. Write like that. Like you're having a conversation with one person. Have some fun with it. The more you try to be proper and 'professional', the less interesting you become.
#14 Develop 'Ask The Expert' Sessions
A great way to build your social media is by giving information, providing knowledge about what you do, or how you can help people.
People love a good 'Ask the Expert' series, and it's a great way to provide valuable information to your audience.
A great way to do this is to ask your audience to submit their top questions and then answer those questions in an "Ask the Expert' session.
You can even go live and answer the questions to a live audience that can engage with you.
#15 Ask the Opinion of Your Audience
As we mentioned when talking about Polls, asking your audience's opinion an excellent way to narrow down their pain points and how your brand can genuinely help them.
Developing an "Ask the Expert" session is another perfect way to get to know your audience better and determine what is of value to them.
Open-ended questions are another opportunity to initiate conversation and engage with your target audience.
With the previous example, you can see how asking closed-ended questions are good for getting a direct response, such as yes or no. If you want to facilitate more of a dialogue, open-ended questions are much more effective.
If I were to ask, "What is the most valuable takeaway from this blog, I would get a variety of answers from different people.
This would allow me to see what my audience values most and what they didn't find particularly helpful.
This is useful in narrowing down my scope to focus on only the most valuable topics, which, in turn, will make the content more beneficial to the audience.
#16 Collaborate With Influencers to Promote Your Business
When you think influencers, you probably think of the Kardashians type of epic fame. That's probably not what you want to look for when you're looking to collaborate with an influencer.
Ultimately, we're all influencers, to some degree, within our communities. This is where you want to focus on.
For example, if we wanted to collaborate with an influencer for chatbots and digital marketing, we wouldn't try to go to the biggest influencer out there. We'd look for industry professionals who are knowledgeable and have a modest following. In this case, someone at Mobile Monkey might be a perfect choice.
Gary Vee would not be a smart or realistic choice.
#17 Leverage the Power of Your Employees
For small businesses, there is no greater asset than your team. When you're looking for advocates of your brand, look no further than your own office.
If your employees believe in your business, it will encourage and inspire others to do the same.
When you build your social media channels, ask your employees to share your company updates/posts/articles with their networks.
The power of reach gets multiplied with every proactive individual in your organization.
There's plenty of ways to get your employees engaged, such as:
Games and challenges

Badges and leaderboards
The more often companies celebrate their employees, the more engaged those employees will be with their job.
#18 Make Sure Your Content is Accessible to Those Who Have Special Needs
With people having many different needs, it's essential to make sure your content is accessible to as many people as possible.
Something as simple as closed captioning on a video can make a world of difference. It can help expand your message's reach by making it accessible to anyone watching video without audio.
This becomes more important when you consider that 92% of people view videos with the sound off on mobile.
You can read more about accessibility here: AODA Resources.
#19 Ensure That You Have Updated Your Bio and Contact Information On All Your Accounts
When you build your social media channels, it's essential to optimize your bio and contact information.
Ensuring your information is easily accessible on your profile will help your business look more professional and trustworthy.
Your bio and contact information should be upfront and easy to find, and most importantly, consistent across all platforms.
#20 Boost and Promote Your Posts To Your Target Audiences
Adding a modest boost budget to a post can take an organic reach of 10 people and turn it into 10,000, with the right strategy and targeting the right custom audiences.
You don't need to spend a fortune. Try starting with a $20 boost, and if it performs well, bump it up to $50 the next time.
We went over this last week in depth. You can find the blog here: How to Create and Launch High-Performance Facebook & Instagram Campaigns With a Modest Budget.
And That's a Wrap
As always, we'll leave you with some more great resources to check out, and if you have any questions or insights to share, leave a comment below. Thanks for reading!
15 Tips to Building a Better Social Media Presence - Sprout Social has broken down the bite-sized tips any brand can follow to grow their social media presence right away.
11 Ways to Grow Your Social Media Audience - Looking to grow your social media audience? In this post, Social Media Today looks at 11 simple ways to grow your social media following.
How To Get Followers On Instagram – Step By Step Guide To 20k Followers 2020 - Instagram is naturally a great place for brands of all shapes and sizes to gain exposure. One of Hopper HQ's guest writers, Johannes, explains how to get followers on Instagram in this detailed guide.
The 21 Best Instagram Marketing Tips for 2021 (Cheat Sheet) - This Instagram marketing tips 2021 cheat sheet will help rev up your Instagram strategy, whether you're just getting started or you're already a seasoned pro.