How to Convert Traffic into Sales This Holiday Season
---
Podcast: Play in new window | Download
Subscribe Today Google Podcasts | RSS
This week we're taking a look at how to convert traffic into sales this holiday season.
With so many of us opting to shop online this year, it's shaping up to be a different type of shopping season, and we're here to help you prepare for it.
Check out the video or podcast above where Dan and the Bees have some great tips for eCommerce, attracting new customers, and increasing online sales that will help you end the year strong. 👆
Subscribe to our weekly live stream on Facebook, or take it on the go with a podcast on your platforms' choice. Keep up-to-date on news, trends, and tips in digital marketing and join in on the conversation.
What's New?
There's always something new happening. This week we've got a few articles for you to check out from the world of social media and digital marketing!
Set the Stage to Convert Traffic Into Sales
85% of consumers research a product before purchase. Now's your chance to introduce them to your brand. So ramp up your Google My Business page or About Us page. Make it easy for consumers to find you by adding your phone number, address, and trusted affiliations.
You can check out our handy guide on getting GMB set up here: How to Set Up Google My Business
When someone is searching online, they will pick the listing the seems to fit their needs best at a glance. Keep that in mind. The more content your listing has, the more appealing and reputable it will appear to searchers.
For example, when you're doing a search, and you have a list of companies to choose from, which one will you choose if one has pictures, contact information,  , and one is just the company name with little to no information added?
Organize Your Site By Product Type, Not Brand
Don't rely on users to find your products by brand name alone; by organizing your site by product, you will make it easier for users to find your offerings.
If you're researching a product, you're not likely searching by brand, but by category, so that you can see a selection of brands in the same category and choose which one appeals to you most.
Organizing your site by the brand will make it much more difficult to rank in organic searches, and make it more challenging for customers to find what they're looking for. You want to make it as easy as possible for your customers to find what they want.
Highlight Promotions
Make sure you highlight promotions on every page of your site. That way, no matter how a consumer finds you, they will be aware of the great discounts or promotions you offer.
Price is generally a major purchasing decision, so you want to keep your promotions front and center for your customers to see immediately.
You can do this in a variety of ways, such as:
Using static or rotating banners across the top of all pages.
A pop-up modal on a visitor's initial entry.
A flag in the corner or on the side of the page.
A banner that slides up and down from the bottom of the page.
Help Your Customers Choose
Always suggest another purchase. We often see suggested items to also consider below the fold or page. Amazon is a great example of this, showing what other customers have frequently purchased, as well as more suggested items based on your search.
By helping your customers choose, you're making it easier for them to find other items that they may not have considered before.
If a customer is not familiar with your brand, they can have trouble choosing the right item and won't likely search for products they weren't looking for - that where a bit of helpful direction can be a massive benefit for them and for you.
Consider things like:
Offering size guides.
Help icons.
Product comparison charts.
You want people to feel confident buying from you, so try to help them make informed choices and right fit them. You'll be happy you did when they share their experience with friends and become a repeat shopper and advocate for your brand.
People love to share great experiences and will happily promote your brand to their social channels if they feel they got a great deal or got the perfect "thing" they were hoping to find.
Add Product Reviews to Help Convert Traffic Into Sales
Turn any feedback you get into social proof. 91% of consumers will make a purchase decision based on a product review. So make sure you have these available on every product page and on GMB.
Another great feature of the free to use GMB is that you can publicly respond to reviews, which is invaluable, especially when addressing negative reviews.
You never want to delete a negative review. Respond to it, politely and professionally, and offer a resolution. It will help people see that you are proactive and engaged with your customers and want to help resolve problems - not bury them.
Word of mouth is ultimately the most valuable marketing you will ever get. People trust reviews and testimonials more than anything else, so it's essential to have an easy way for customers to leave reviews and feedback.
Product reviews are also a great way to get unique user-generated content, which not only serves as a trustworthy source for future shoppers. It also can help your product pages with SEO rankings.
Another great way to inspire trust is by using trusted symbols and logos such as Google star ratings, Trustpilot, Better Business Bureau, and industry affiliations.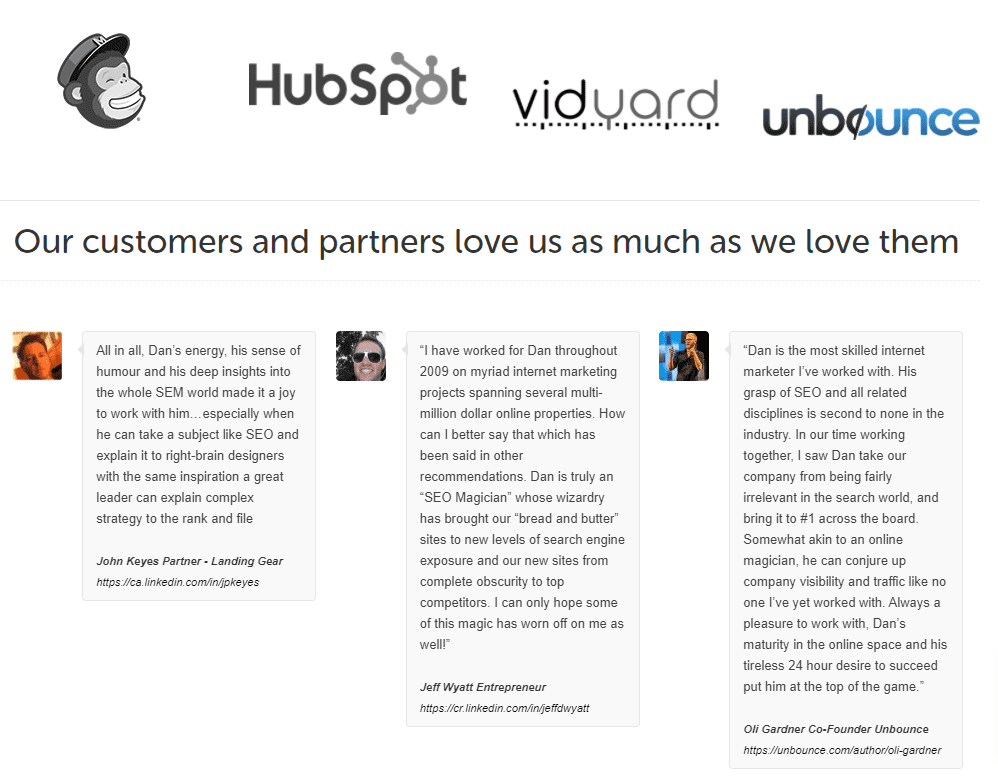 These features act as a stamp of approval, showing that you have worked with and are affiliated with other established brands.
Use Lead Magnets and Landing Pages to Convert Traffic into Sales
Using a landing page is a great way to gather leads and, using a solid funnel process, convert that traffic into sales.
A brilliant landing page, combined with a 'converting funnel,' is usually the backbone of a profitable online business.
When designing a landing page, even the smallest details can make a difference in converting traffic into sales.
Such as:
The number of fields required to sign up (Name, Email work best - the less, the better).
The colour of the CTA button.
The text on your CTA button.
Strong, high-quality images or videos.
A captivating headline.
Here's a great visual that maps out the steps of setting up a lead magnet and guiding leads through the funnel.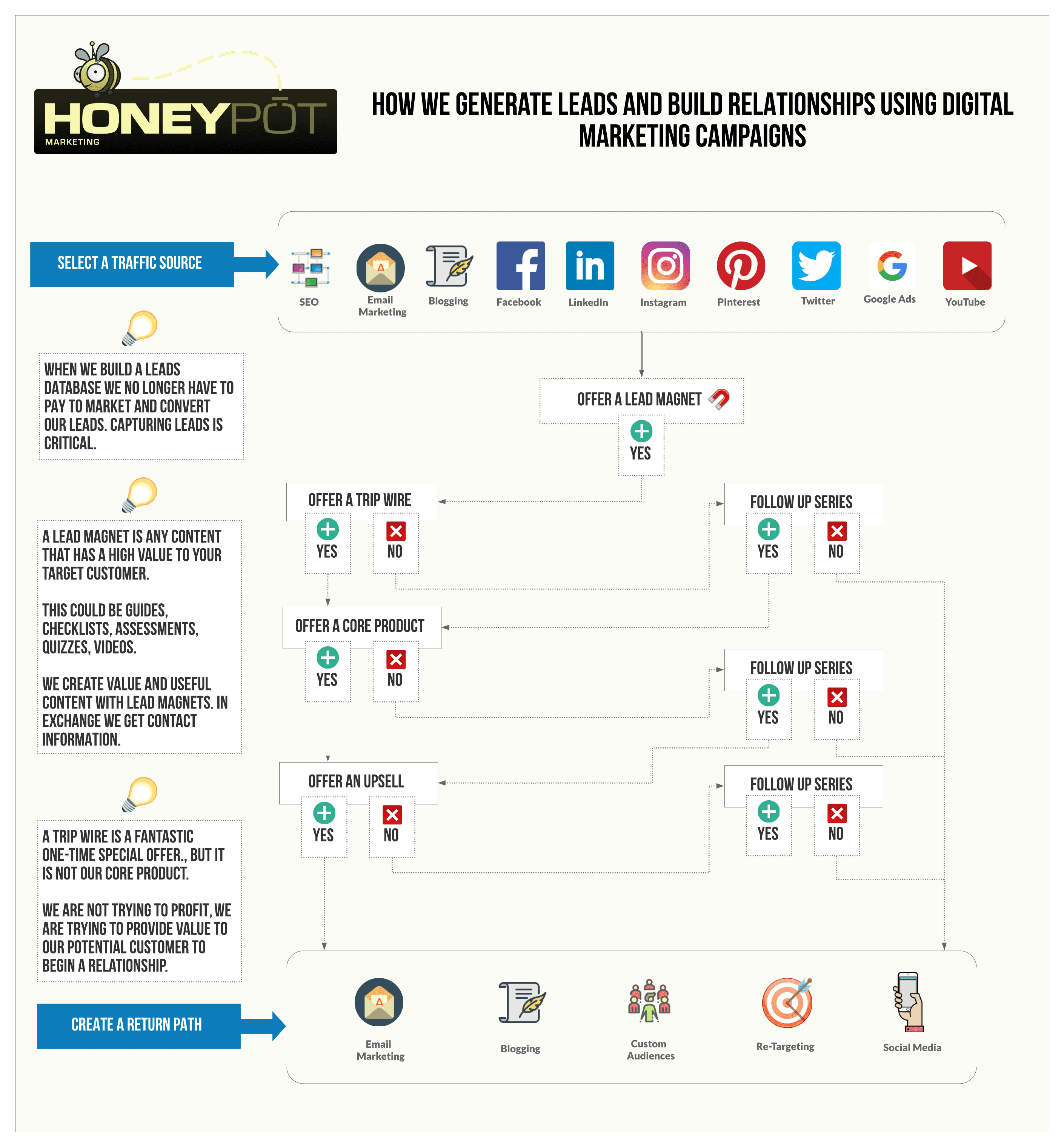 As you can see, a lead magnet can be anything that has a high value to your target customer; this could be guides, checklists, assessments, quizzes, or videos.
And it doesn't just end at the sign-up stage. You can automate follow-ups to offer core products and upsell, as well. Creating a return path is also critical to keep customers engaged and coming back for more.
And that's a wrap. We'll leave you with some more resources to check out, as usual. Thanks for reading!
Secrets For Converting Traffic Into Sales - 12 traffic conversion secrets that even a newcomer to Internet marketing can do.
PPC Solutions When You Have No Leads and No Conversions - 13 aspects you must focus on to create a smoother marketing funnel, which will help you generate more leads.
8 PPC Mistakes to Avoid If You Want Quality Leads - If you aren't seeing that success you expect from your paid search marketing campaigns, check to make sure you aren't making these critical mistakes.
12 Simple Rules to Boost Your eCommerce Conversion Rates - 12 rules to follow to create a shopping cart experience that'll grow your eCommerce conversion rates.
SEO: 5 Tips to Convert Visitors to Buyers - Search engine optimization focuses on driving consumers to your site. Use these five tips to convert more searchers into buyers.