10 Simple Tricks to Increase Facebook Brand Page Engagement
---
So, you've created your Facebook Brand Page. Now what? Has it been a week and you're not seeing much engagement? Don't get too frustrated, this stuff takes time. However, there are many things you can do to better your brand page and receive follower engagement.
Post Succinct Content
Posts between 100 and 200 characters (less than 3 lines of text) receive about 60% more likes, comments and shares than posts greater than 250 characters. Try to keep the novel writing to a minimum.
Post Photos and Videos
Rich media content tends to draw attention more than simple text - when you want to share something on your Page, consider what sort of media you can use to back up your message. Posting albums, a picture or video generate 180%, 120%, and 100% more engagement than the average post respectively.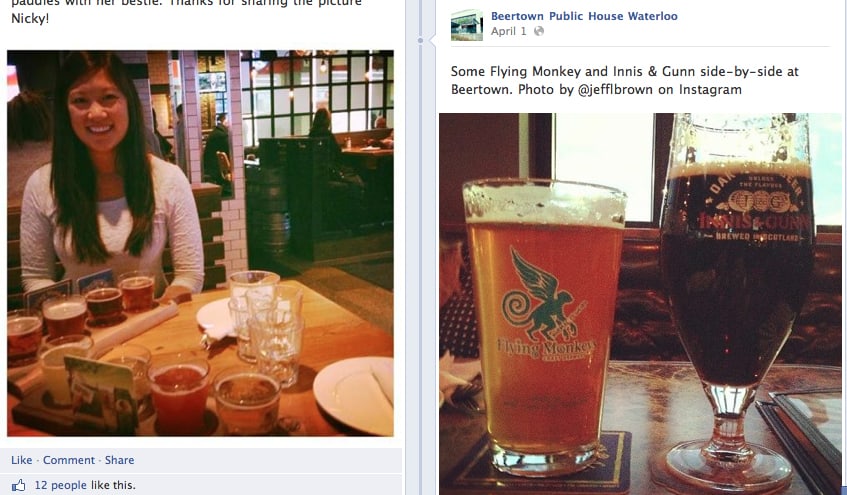 Post Regularly
Your fans will be more likely to engage with your content if you remain top of mind for them. With that being said, ensure that you aren't posting too much. If you clutter your follower's newsfeeds with content - you might find you're losing followers instead of engaging them.
Ask for Your Fans' Opinion
Your page should be a place for conversations between you and your fans - engage your followers and let them get to know the personality behind the brand. Use your page to gather insights and feedback about your market. Ten years ago, marketers didn't have the benefits of essentially a focus group at their fingertips.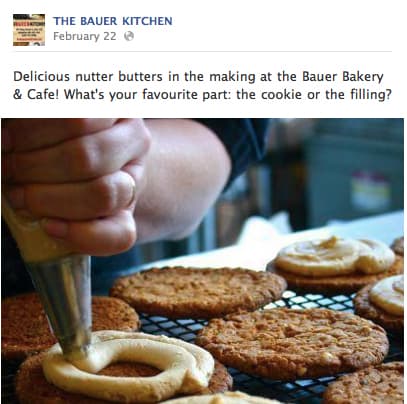 Ask Questions Using the Questions Option
With questions, fans can either agree with an existing answer with a single click, or they can add a different response. It makes it easy for your fans to answer, gather lots of responses, and display the most popular ones at the top.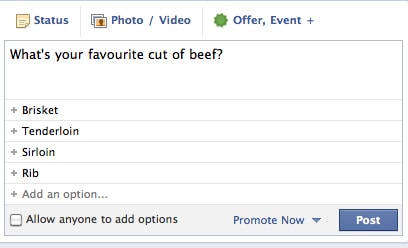 Try posting "Fill in the blank" posts
This can be tricky, with this tactic, you can come off very "Condescending Corporate Brand Page". Make sure that you're fill in the blank isn't overly simple and can actually start a conversation with followers.
Example of a bad post: "I take my coffee with ______."
Example of a good post: "My favourite place to get fresh fruit is ______."
The second one is better because it sparks a community discussion about something relevant and useful.
Give your fans access to exclusive information
As a reward for liking your page give your fans access to exclusive information to make them feel special. Everyone enjoys feeling like they are apart of something special and exclusive - and followers who are true fans of your blog will really appreciate receiving information before everyone else.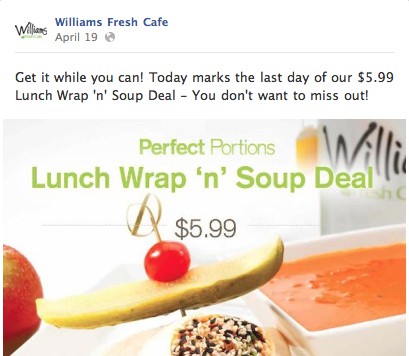 Reward your fans with deals and perks
You should not only promote your existing deals via your page, but also think about specific deals or perks that you could make available only to your fans. Offer a coupon which can only be found on your Facebook Page, or a "Come in to the store, and mention this post for a free coffee!" This will show your clients that following your Page is beneficial.
Also consider using Facebook's very own "Offers" tool. It will allow you to create a socially aware discount or value added offer, and because it is tightly integrated into a user's timeline it will put your business in front of fans you wouldn't normally have exposure to during the lifetime of your offer.
Be timely
Your audience will be more likely to engage with your posts if you are talking about topics that are already top of mind for them, such as current events, holidays or news.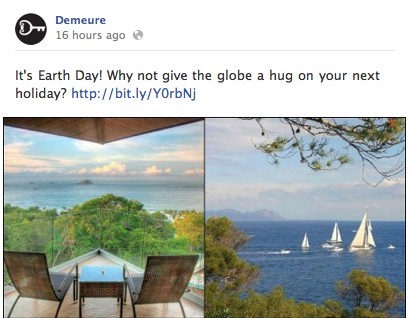 Localize your posts if they're only relevant to a specific audience
Facebook gives you the ability to use the geo-targeting feature in order to make sure that only the people who would find your post valuable will see it.
Don't get too frustrated. Building up a fan base and developing your content strategy takes time - and lots of trial and error. However, if you stick to these ten tips, you'll find you'll be engaging the followers you do have - which will then lead to content sharing and follower growth.