Simple Contests To Engage Your Customer – A UGC Case Study
---
Content plays an essential role in driving engagement through social networks as a marketing and communications channel. For most, outsourcing content can be a tedious and time-consuming task - this is where user generated content becomes critical. Developing a simple and engaging program that relies on user-generated content can provide rapidly-generated, original and relevant content, increase engagement, all while providing entertainment for your fans.
What We Did
This past holiday season, we decided to run a Facebook contest with Williams Fresh Cafe dubbed "The 5 days of Giveaways." A large prize basket of Williams products would be awarded to a selected winner every Friday until the new year, which was 5. To participate in the contest, all fans had to do was take a picture showing how they enjoy Williams this time of year.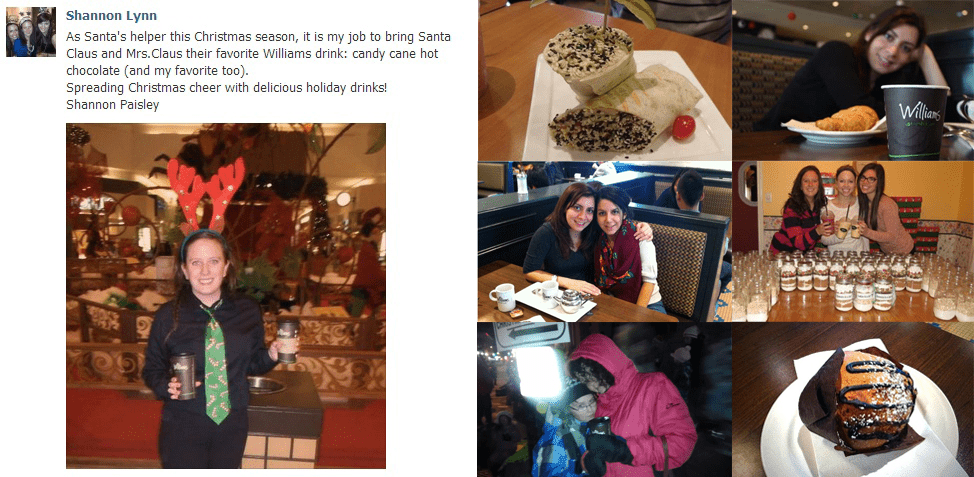 How We Did It
Throughout the duration of the campaign, we were focused on four critical elements: reminding users of the contest, displaying images of prize baskets, featuring individual items included in the prize basket and highlighting/celebrating user submissions.
By reminding users about the contest we were able to create steady interest around it. This helped keep interest constant throughout the campaign. It also aided in steady entrants each week of the contest.
By displaying images of the prize baskets on Facebook, we were able to provide incentive for people to participate in the contest. Fans were able to see what they could win, creating desire. They saw the value in the prize pack and this drove them to participate.
When we featured the individual items within the prize baskets, this provided further incentive. We were able to go into more detail about the product and how it could be used. Fans also appreciated seeing what goodies the prize back specifically contained. Giving this further details about the prizes drove fans to participate and become more involved in the contest.
The final tactic we used was highlighting user submissions. This was beneficial because it reminded fans what we were looking for in submissions and it was a nice way to show that we appreciate and enjoy looking at entries. It was also a great way to incite some friendly competitiveness. When fans saw we enjoyed a particular submission, they were determined to make their submission even better.
Why We Did It (Results)
This giveaway campaign enabled Williams Fresh Cafe to incite cafe purchases, reap the benefits of fan gifting, and obtain user-generated content.
By launching a photo contest where guests show how they enjoy Williams this holidays season, fans are encouraged to actually go into the cafes. If they are loyal cafe-goers they can easily participate in the contest by snapping a photo of their daily favourites. Even if there are fans that are only going in to take a picture for the contest, there is still a lot of value in these new customers.
Simply running a giveaway campaign has benefits for your fans, as well as benefits for you business. Giving away gifts will make your fans more loyal and appreciative. On social networks, fan gifting can help:
Strengthen the relationship with your brand's online community
Increase the level of traffic on your page
Increase the level of engagement on your page content
Broaden your online following
Perhaps the most valuable outcome of this contest was the user generated content. User-generated content is very powerful in the world of social media. It is virtually no cost content that is highly relevant to your business. It is also an immensely 'rich' content, with relation to your page as well as a strong link with your online community.
Additionally, when guests participate and submit their photos for the contest, they are more likely to share this across their other social media channels, creating free online promotion for your business.
User-generated content is a fantastic way to increase your online presence in the world of social networks.