Bootstrap Your Marketing : RM101 : Week 9
---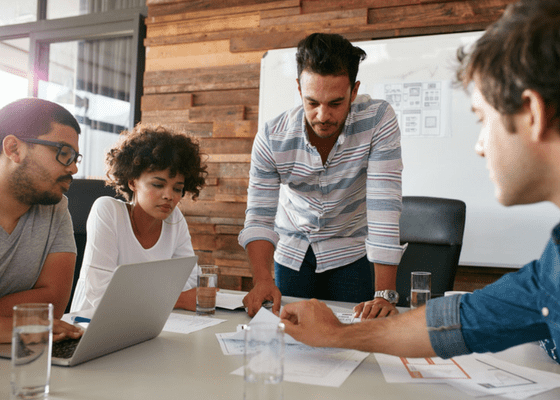 Before coming to Honeypot Marketing, I thought that the main function of a marketing agency was to run paid traffic for the client by using in-depth secrets on how to perfectly optimize Facebook and Google ads.
Although there's a lot of that going on around here, there's also a lot more straightforward—yet effective—things that we do for clients that don't involve spending money on ads. Some clients with large advertising budgets sometimes even prefer to use manual, inexpensive methods than run paid traffic, because inexpensive methods can still be very effective.
I think it'd be easiest to illustrate what I mean through examples, so here are the top four ways to bootstrap your marketing.
Social Media (The Smart Way)
If you aren't convinced of the power that social media has, read this blog post to hear how a couple of young students ended up building one of the most prominent wrist watch brands on the market, thanks to the way they capitalized on social media. It's powerful when used strategically.

So what should you be doing? Get on social media, start interacting with your target customers, and build a community. Host contests to spread awareness, promote social media exclusive discounts, and partner with other businesses to cross-promote to each other's audiences.
You're building a following for repeated remarketing, so don't be afraid to put some effort into acquiring followers. This is completely free advertising—take advantage!
Not sure how to scale your accounts? Check out my guide to gaining 10,000 followers within a year.
Use Hunter.io for B2B Sales
This one is for you B2B folks out there. At Honeypot, we use Hunter.io to locate publicly posted contact information for professionals, creating an opportunity to start a real one-on-one conversation.
Simply find your target customer online, paste their site URL into Hunter, and you'll be presented with a list of contacts from that company—but only if they've posted any contact information publicly already. From there, you can easily reach out to them and pitch your service or product, or just a chance to work together.
Although Hunter does cost money, it's inexpensive relative to the value of the leads it could generate for your B2B business.  It also has a free version for you to try out with limited features.
Good Old-Fashioned Social Outreach
Although it's good to message people on your social channels and pitch your product or offer them discount codes for engaging with you frequently, you can take it one step further.
Try seeking out relevant forums, Facebook groups, or YouTube videos to promote your brand.
For example, Honeypot could find Reddit forums where business owners are asking marketing questions, Facebook groups centered around learning the marketing basics, or YouTube videos discussing how to run Facebook ads, to promote the agency.
The point of this is to find the communities where your target customers are congregating, and present them with your solution to the issues they're discussing. There are a number of sites where your customers could be congregating, so think outside the box!
Affiliate Program
This one works best if you're an e-commerce business, but it can be extended to others as well. Set up an affiliate program that enables influencers to market your product in return for a commission.
By doing this, you'll have minimal upfront costs (you might want to send them free products for reviews), and will only have to pay them when they make a sale. If you're able to collect a group of loyal affiliates who persistently market for you, you've just secured more profits without having to spend anything up front.
I've actually written a blog post on how to scale a business using solely influencers and an affiliate program. Feel free to check that out here.
Conclusion
There you have four ways to boost your business through free marketing. As I mentioned, this isn't just for shoestring budget startups. You'll want to test these things even if you have a considerable marketing budget because they can be very effective.
Let this blog kickstart your brainstorming process; think of other inexpensive ways to promote your brand that could really boost your ROI. Comment a few down below to help other readers while you're at it!