Why Real-Time Messaging & Chatbots are the Key to Unlocking Customer Engagement
---
Podcast: Play in new window | Download
Subscribe Today Google Podcasts | Stitcher | RSS
Chatbots and real-time messaging have really blown up recently. Statistics show that 1.4 billion people are using chatbots on a regular basis. This is just one of many reasons why real-time messaging & chatbots are the key to unlocking customer engagement.
Who hasn't grown up with dreams of wanting a cool robot friend to talk to? Ok, lots of people probably, but I digress.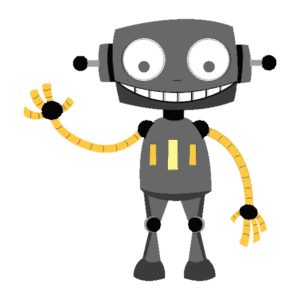 In this week's episode, Dan, Miguel, and April explore the fascinating world of A.I. and how chatbots and real-time messaging can be key to increasing customer engagement. What a time to be alive, right?
Be sure to ask the Bees any questions you might have about how to get started using chatbots, and how to work around roadblocks.
Check out the video or podcast above. 👆 Subscribe to our weekly live stream on Facebook, or take it on the go with a podcast, on your choice of platforms. Keep up-to-date on news, trends, and tips in the world of digital marketing and join in on the conversation.
What's New?
We've been seeing an acceleration of digital adoption and the way we communicate is rapidly shifting into this realm, as well. The major players in the industry have been quick to make changes and roll out new features to cater to this new surge in online communication.
Check out the links below to read more about new changes to Facebook Messenger and Google My Business.
If you don't have GMB set up yet, we very strongly suggest it. You can check the first guide of our thorough 3-part walkthrough here.
The Rise of the Chatbot
Conversations with A.I. are so common now that they almost seem normal. Siri, Alexa, Cortana, and Google are widespread and popular examples, and just a small slice of the thousands of chatbots we might potentially interact with on a regular basis.
When we think chatbots, though, we likely picture that small widget in the bottom right hand corner of many websites we visit these days.
Chatbots really started to surge in popularity back in 2016, thanks mostly to Facebook allowing developers to build chatbots on the Messenger platform - and within 2 years there were over 300,000 chatbots created.
More and more companies are turning to them to help field standard questions, start conversations, and provide relevant information to customers immediately, any time, 24/7.
Check out the graph below to see how much the market size has grown since just last year. The predicted growth by 2024 is just staggering.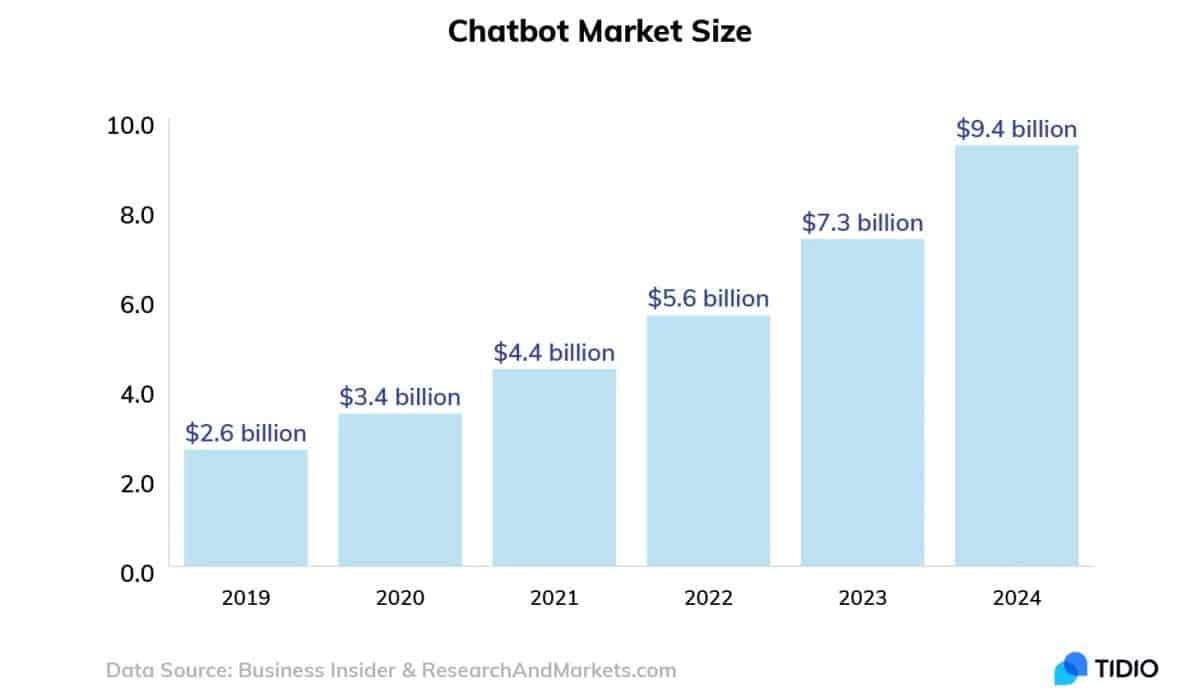 Why Use Chatbots?
Trying to keep up with the demands of customers online can be daunting. Businesses need to be available 24/7 to be able to satisfy every customer inquiry, which means customer service staff is needed around the clock to stay on top.
The global market is continuously expanding and developing new innovations to solve these issues, and this is where chatbots come in.
Just take a look at these statistics on some of the most common complaints about businesses online:
34% found sites hard to navigate.
31% said they can't get answers to simple questions.
28% said basic details about a business were hard to find.
27% said it takes too long to find services.
We've all had the experience of going to a website and having difficulty finding what we're looking for - or having questions to ask and no easy way to contact the business to give a quick answer.
To accommodate these needs, and the growing expectation of immediacy, businesses need to evolve their customer service methods.
Hiring an entire team to field questions as they come in costs big money, and uses up human resources that could be better utilized elsewhere.
Now take a look at this chart that shows many ways chatbots can help with these issues, and what people expect from them: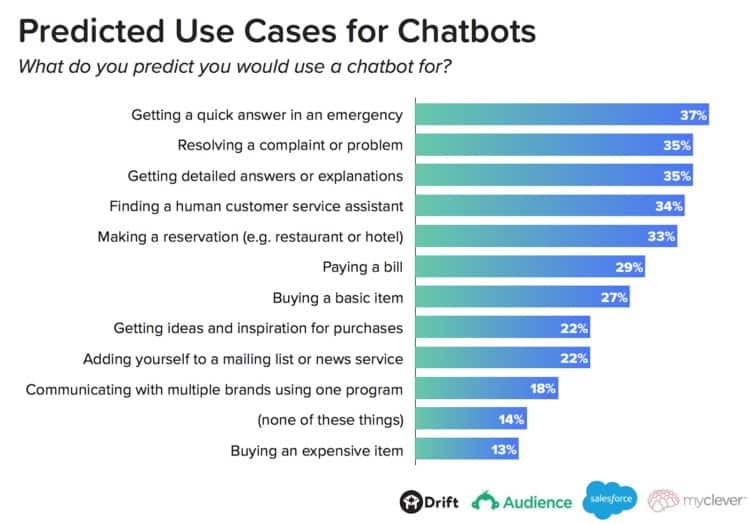 This gives a good snapshot of some of the many ways we can use chatbots to improve customer experience - and engagement with a business in general. No surprise that the #1 use is getting quick answers.
It's estimated that chatbots can answer 80% of standard questions people ask a business online. That frees up a lot of time for customer service reps to tackle more complex problems.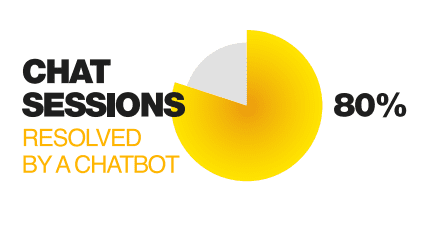 It's not just hours that are saved by the use of chatbots, though. According to IBM research, businesses spend $1.3 trillion on 265 billion customer service calls each year.
Chatbots, on the other hand, can answer thousands of questions at the same time and are always available to customers 24/7, which means costs are much lower than those astronomical numbers above.
With chatbots, the human support team does not get overwhelmed with requests, since the chatbots are handling all of the most common queries.
This makes daily operations much more efficient and cost-effective.
Here are some interesting stats to keep in mind:
Chatbots can reduce operational costs by up to 30%.
85% of customer interaction will be handled without human contact by 2021.
50% of businesses plan to spend more on chatbots than on mobile apps.
64% of internet users say 24-hour service is the best feature of chatbots.
37% of people use a customer service bot to get a quick answer in an emergency.
Why Use Real-Time Messaging?
Real-time technology was originally created for the stock market (fun fact of the day), and was quickly adopted by many sectors and is now integrated into apps we use on a regular basis, such as Airbnb, Instagram, Uber, Slack, and Facebook.
Features such as media sharing, multiple group chats, video and voice calls, and voice and video messages change how we approach communication and are a welcome upgrade from email and SMS messaging.
Fast forward to the future and we're looking at the number of messaging app users worldwide predicted to reach 2.48 billion by 2021.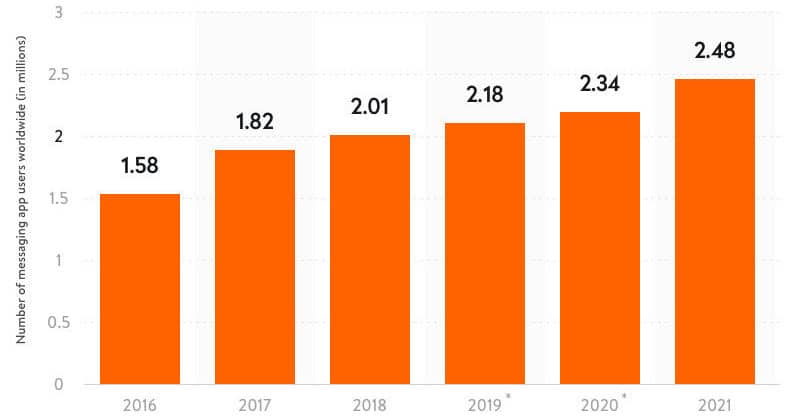 Now, chat functionality goes beyond chat-based apps and is being implemented in web and mobile products, as well. This enables smooth and convenient communication between users and allows users to communicate with a business.
This move toward live chat over call centers and other forms of customer support is surprisingly the preferred method of communicating with a business for the majority of consumers.
Just check out these 2 eye-opening stats from SuperOffice:
79% of customers are more likely to use live chat than other forms of customer support.
77% of customers won't make a purchase if there's no live chat support.
The ability for businesses to communicate with customers in real-time is a massive step forward in customer experience and has truly improved customer satisfaction and even retention.
Even Google My Business has implemented real-time messaging, allowing customers to get in touch with you in real-time from your Business Profile on Google when they do a search.
By adding a live chat feature for customers, queries can be answered within seconds, instead of having to wait for a representative to respond, minutes or even hours or days later.
One of the major benefits of real-time messaging over chatbots is personalization. Chatbot technology is rapidly improving and becoming much more sophisticated, but it still struggles in some areas, such as personalization and even understanding simple spelling mistakes.
Uber is an excellent example of real-time messaging.
They go beyond simple messaging, by providing a wealth of details, such as car make and model, license plate, driver photo, their star rating, and how far away they are, shown on a real-time map - all of this, as well as the ability to communicate with the driver in real-time.
Uber also sends push notifications to inform passengers that drivers are arriving soon (Push notifications are a handy feature in many real-time messaging apps since they can inform users about important events, pull them back to a service, and encourage them to use it more).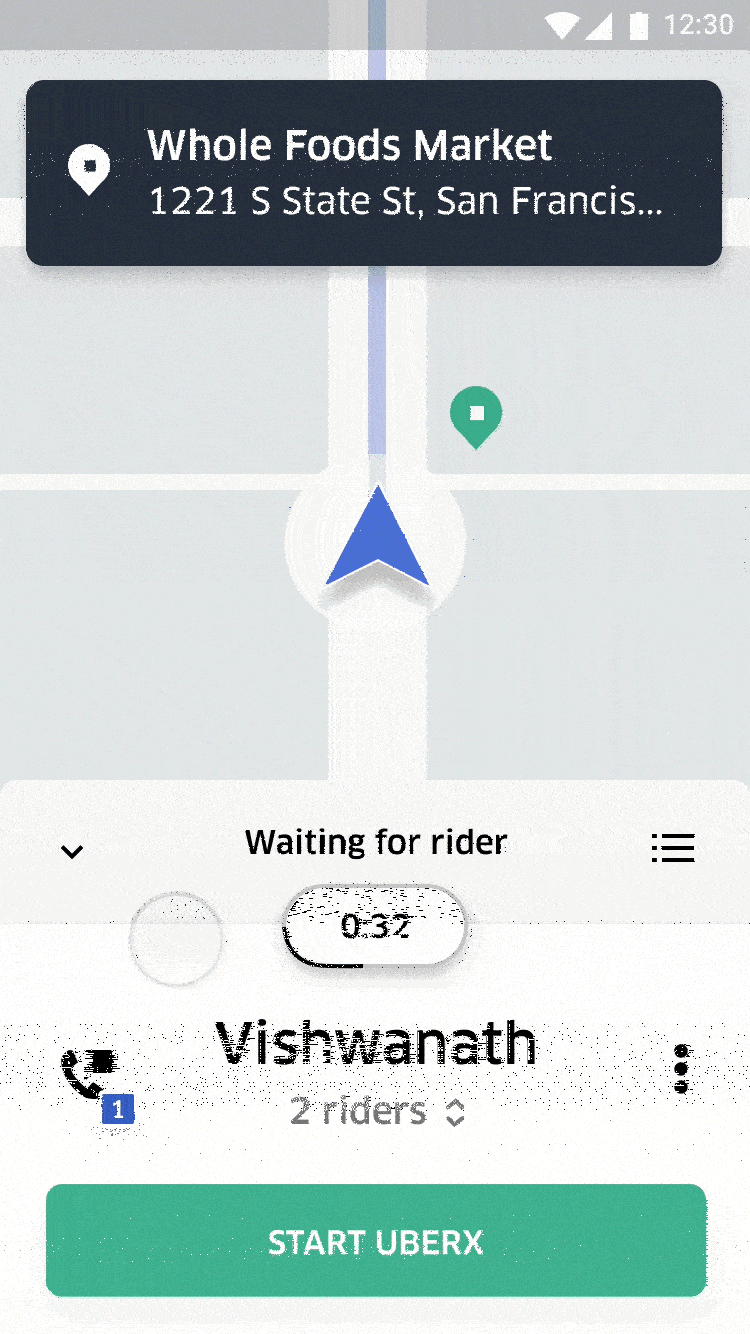 Real-time chat is a powerful tool for any business to stay in contact with their customers, allowing them to provide quick and personalized answers to questions.
Webinars and live streaming are also forms of real-time messaging that enable smooth and convenient communication between users and businesses, as well as providing access to useful information that can answer many standard questions people may have.
Think real estate and being able to live stream a house tour. Especially in these times, it's easy to see how these tools can be incredibly useful.
Here's a fun stat to help drive home the value of real-time messaging and live streams:
67% of an audience who watches a live stream has purchased a ticket to a similar event.
How Chatbots and Real-Time Messaging Can Improve Response Time for Customer Service
Having a chatbot or real-time messaging tools set up means that every potential lead that comes to your website, at any time or day, is engaged with immediately. If they have a quick question, it can be answered instantly.
No waiting in a queue for a customer service rep, no waiting on hold, and no barriers to prevent them from finding the information they want.
When we take a look at the average response times in a variety of industries, we can see that there's plenty of room for improvement, and how chatbots can be an enormous benefit.
Here is a chart that details just a few: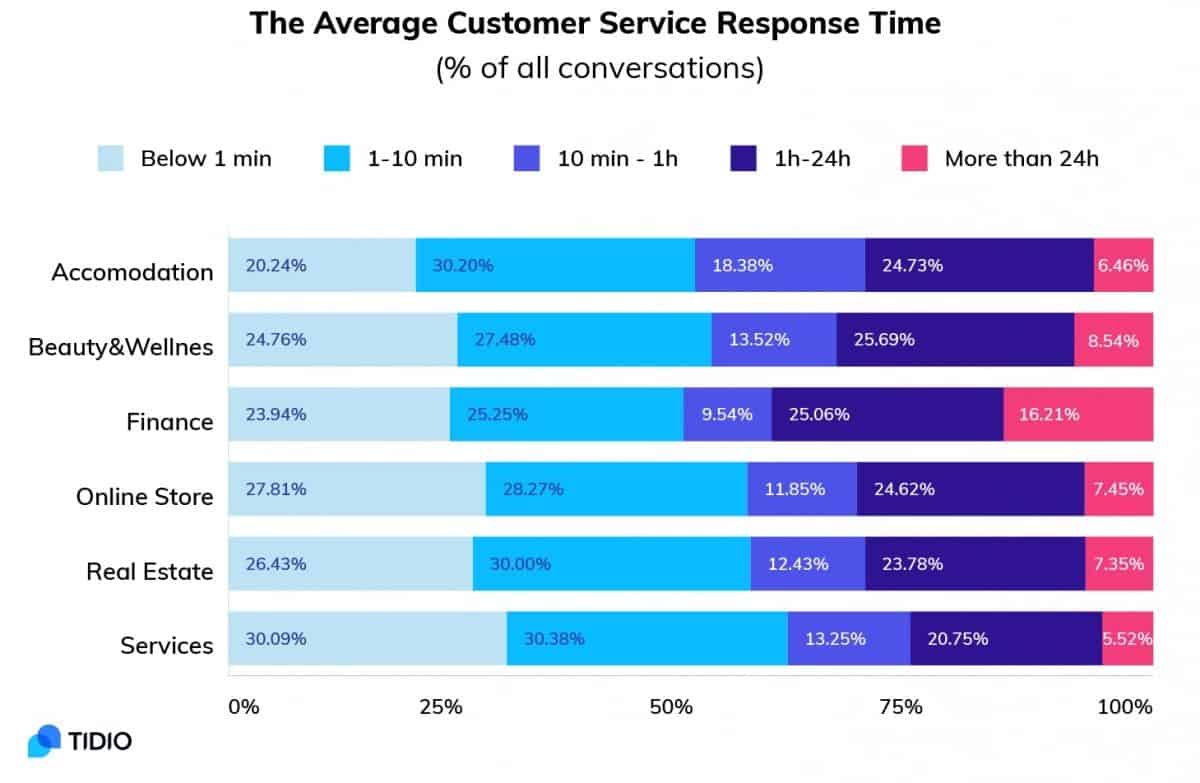 As you can see, nearly half of the response times are more than 10 minutes and sometimes up to 24 hours or more. Now, you might be thinking, 10 minutes isn't too bad, right?
Not in today's world of instant gratification. Most often, customers will turn to other options if they don't receive a response in less than 10 minutes.
So, if only 56% of the time, customers are getting a response within 10 minutes, that's a big potential loss of revenue for those not meeting the criteria.
Interestingly, the average response time for an e-commerce store without a chatbot is over 2 hours. You can imagine how many potential customers are moving on to the competition.
The Future of Customer Service and the Customer Journey
When you consider the abandonment rate for an e-commerce site ranges from 55% to 80%, you can see there is an opportunity there to win back customers who were clearly interested in your brand in some way.
With chatbots and real-time messaging tools, you can send reminders, ask if they need assistance finding anything or even offer to help save some money.  These small gestures can be enticing enough to renew their interest before they move on to a competitor.
Without these tools in place, you simply risk losing out on potential business.
We have higher demands than ever and need immediate answers to our question. This means a business needs to be everywhere at all times to be able to offer the most optimal customer service.
Chatbots can help will this and more. For example, they can help:
Retain visitors.
Increase conversions.
Turn visitors into brand loyalists.
Collect data and identify potential customer needs and improvements.
Provide 24/7 customer support.
According to a Wavestone study, one of the 3 main features that encourage online purchases is "access to very detailed information on a product or a service". A chatbot is an effective way to help users navigate your site and easily find the information they're looking for.
You can even take it a step further and set up a chatbot to proactively trigger to help overcome objectives, by offering a coupon code, displaying customer reviews, or providing information on payment methods.
All these methods will help move the user through the customer journey more smoothly, removing roadbloacks such as availablity of staff to handle all inquiries.
This paired with the cost-effectiveness of chatbots make it a no brainer for deciding if you should add one to your site. Just do it already.
Will Chatbots Replace People?
Chatbots were created to bridge human limitations, not to replace us. Yes, they will take over many jobs previously done by humans, but there's many benefits to that, such as freeing up more time for those people to take on more important roles, which quite often leads to more innovation and progress.
As sophisticated and responsive as chatbots can be, they still have many limitations and require human monitoring and intervention to ensure smooth operation.
Take a look at this comparison chart to get an idea of the differences between a chatbot and live chat.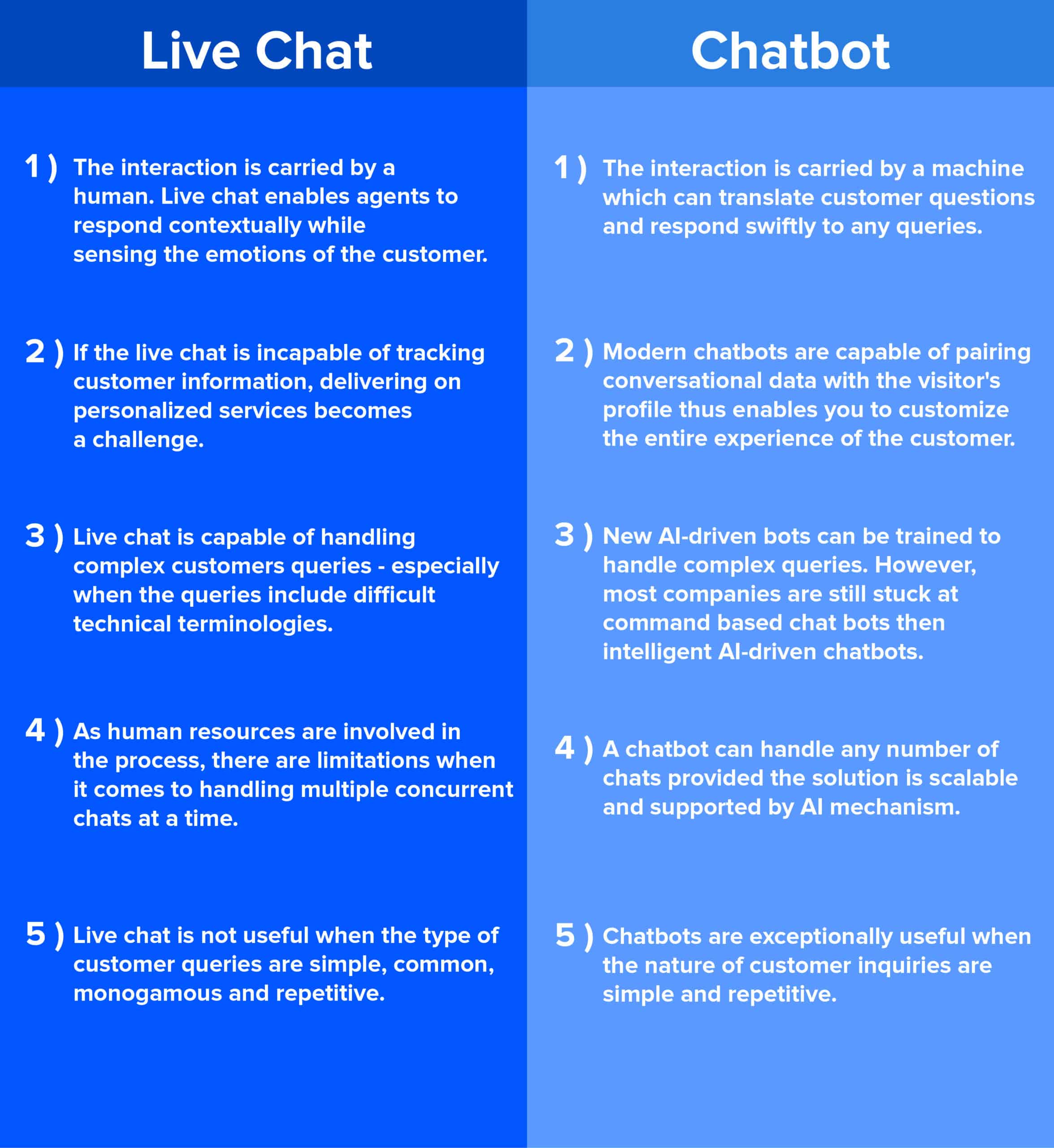 It's not the scary future of Skynet that movies like to warn us about. It's just another step in the evolution of technology and how our tools shape and enhance our lives.
The possibilities are intriguing and exciting and could open up whole new worlds of options for us to explore and expand upon.
It's hard to go wrong with a chatbot's ease of use, cost efficiency, availability, and response time. It's easy to see why so many websites are adopting these adorable little robot friends.
The Dark Side of Chatbots
When doing anything online, cybersecurity is always a concern. It could be argued that chatbots create another door for hackers to gain access to, but in reality there have been no significant chatbot hacks to date.
The dangers of chatbots are not nearly as dramatic as that headline may have you believe. It's more about the little things.
Like, what happens when there's an error, or when the chatbot cannot compute your request, or the general lack of individuality that creates that generic conversational tone that appeals to no one.
It's not a fear that chatbots will take over the galaxy, or they will break free from the limitations of their programming and become all-powerful machine gods. They sometimes just screw up and hit a roadblock they can't get past on their own.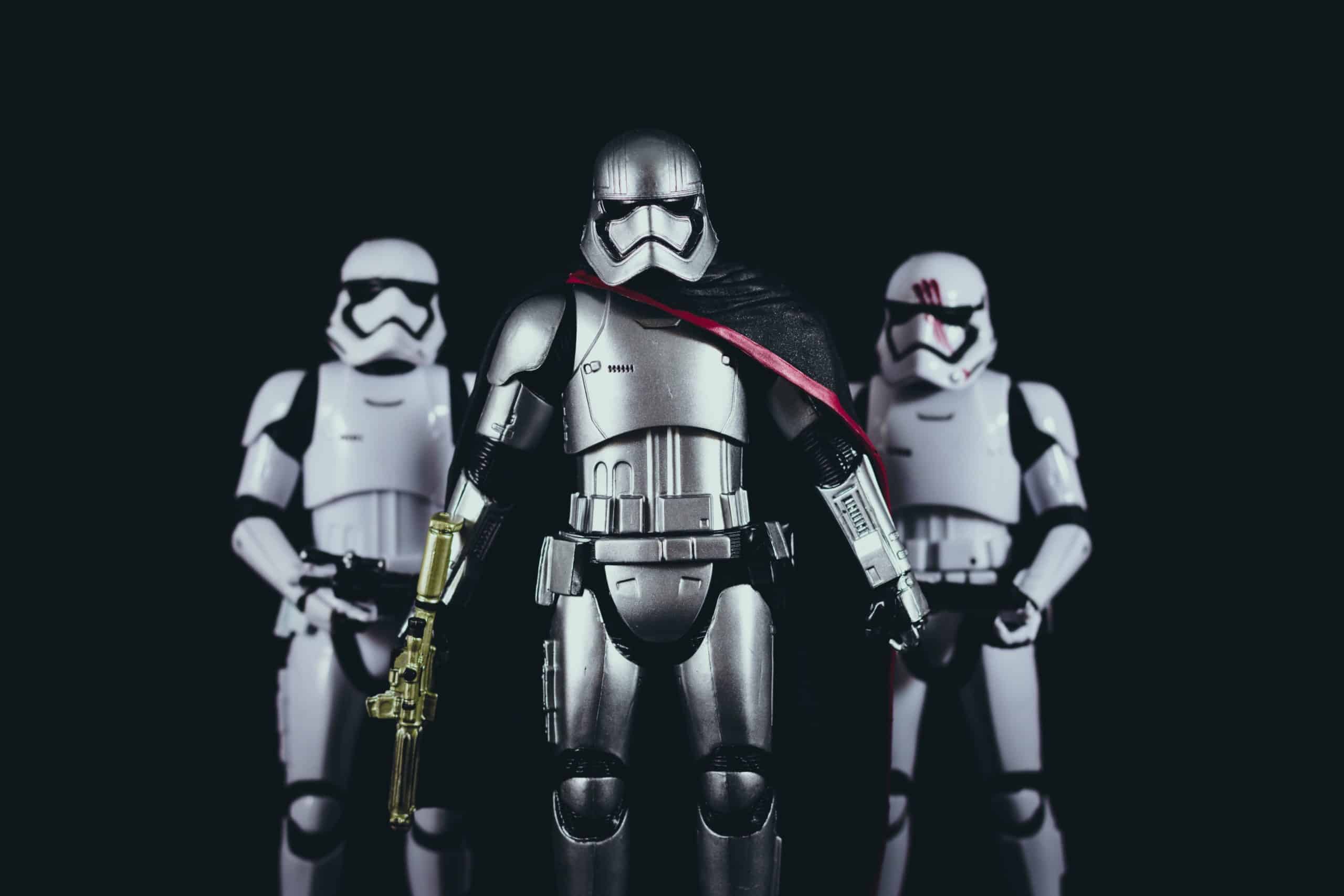 In reality, Miquela Sousa is as dark as chatbots get right now, and that's not dark at all. Just some super weird uncanny valley candy for us all to be amazed by.
Innovative Chatbot Examples From Top Brands
To close off, we'll leave you with some links to some examples of awesome chatbots from top brands around the world:
Also, Mobile Monkey has some great tools to help you build your own friendly chatbot on your site!
And some more resources that we 💖!