Non-Linear Customer Journeys and How to Implement Them
---
Podcast: Play in new window | Download
Subscribe Today Google Podcasts | Stitcher | RSS
What is a non-linear customer journey, and how do you implement one into your marketing strategy?
A customer journey map is a great tool and a visual way to represent a somewhat complicated process - the path each customer takes as they interact with your company.
Understanding that journey is the first step to fixing roadblocks or capitalizing on advantages.
Check out the video or podcast above. 👆 Subscribe to our weekly live stream on Facebook, or take it on the go with a podcast on your chosen platform. Keep up-to-date on news, trends, and tips in digital marketing and join in on the conversation.
What's Working?
How do we provide customers and prospects what they need/want at any given time on a personalized level?
Customer Journey Mapping.
Creating a non-linear customer journey map helps visualize the interconnectedness of modern cross-channel customer experiences.
Businesses that use customer journey mapping to manage buyer and customer journeys average a 79% increase in cross-sell and upsell revenue.
The ultimate idea behind customer journey mapping is to understand our customers better.
The task of merely tracking what actions your customers take is brutal, and to put them into a linear journey is nearly impossible.
And that's why we're talking about the non-linear customer journey!
Let's get to it.
Why Do You Need a Non-Linear Customer Journey?
Back in the day, we looked at the customer journey in a much more linear way. It looked like this:
Elements of this funnel are still intact in today's non-linear customer journey. Even the number of touchpoints has dramatically increased, and the order in which things happen can differ from one customer to another.
The new path to purchase is much more complicated than the old linear way.
Customer touchpoints can now include a wide variety of channels, such as:
Email 

Online Ads & Promoted Social

Offline Ads / Content

Social Media Networks

Recommendations

Website & Content

Webinars
Simply put, the customer journey does not happen in a linear path anymore. The many touchpoints available to customers creates divergent paths that break away from the traditional linear funnel.
Now, a non-linear customer journey looks more like this:
Now, let's look at the different types of non-linear customer journey maps you can use.
3 Core Approaches to a Non-Linear Customer Journey
There are many ways you can create a non-linear customer journey map, whether it's a complex maze of pathways or a simple chart.
We'll be taking a look at 3 types of mapping you can use, depending on your situation.
Empathy Mapping

Experience Mapping

Customer Journey Mapping
Whatever model you choose, remember the "5 W's": Who, What, Where, When, and Why.
Let's use a case study example to walk through.
Paul Sanders is a marketer and wants to learn how to develop an integrated marketing strategy. Experience has shown that many digital marketing sites were not as helpful as had hoped. He finds Marketer Knows during his research and goes through the process of signing up.
Marketer Knows is a community of digital marketers, marketing managers, business people, and entrepreneurs.

A 

free-to-join community

 that individuals can join to learn about Digital Marketing.

Helps you achieve your marketing goals by mastering digital marketing with 

roadmaps

, 

courses

, 

guides

, and 

more

.
Now, before we get into the mapping, let's figure out who Paul Sanders is by developing a customer profile.
What is the Customer Profile?
A customer profile lists pain points, interests, buying patterns, and demographic characteristics of a company's customers.
You can't be all things to everyone, but you can create a customer profile to learn more about your ideal customer, who they are, and what they do.
Building a customer profile can help you run better marketing campaigns that increase your profits.
With all that useful information, you can decide which strategy to implement and which ones to avoid.
The customer profile is NOT the persona, but it will eventually integrate into the process.
You can read more about personas in our blog here: Research. Strategize. Execute. 3 Pillars of Building Your Brand Online.
Let's take a look at 3 different types of customer profiles:
Example #1 – Scorecard
This customer profile uses a scoring system to determine if a customer is a right fit for this course.
It assesses the prospect on five different criteria and gives them a score for each ranging from zero to two.
If the total score meets a preset benchmark, your company can consider targeting this individual.
Example #2 – Profession
Each customer type is broken down by demographics, core values, and preferred communication channels.
It includes a summary describing how the marketing team should advertise to these individuals.
You can work alongside your team to turnout effective campaigns that resonate with each segment of its customer base.
Example #3 – Persona
Creating buyer personas will help you determine your marketing strategy. It showcases who the buyers are, their current obstacles, and the goals they are trying to accomplish.
It creates a roadmap for success by diving deeper into customer personalities helping you understand the individual, and listing all the essential information we need to know about this customer type.
This includes background data, demographics, and behavioural identifiers.
Think of it as a living document that you can continue to refine, using real data from your actual customers, to develop your personas' accuracy further.
Empathy Mapping - Why Is This Effective? What Is It?
Empathy maps provide a glance into who a user is as a whole, serving as a collaborative visualization used to explain what we know about a particular user.
Empathy mapping also:
Externalizes knowledge about users.

Creates a shared understanding of a customer's needs.
Aids in decision making.
Traditional empathy maps are split into 4 quadrants (Says, Thinks, Does, and Feels), with the user or persona in the middle.
SAYS: What the customer says out loud—verbatim and direct quotes from research.
Example:  "I want something reliable."
THINKS: What the customer is thinking throughout the experience.
Example:  "This is really hard to understand."
DOES: The actions that the customer takes. What physical actions are the customers taking?
Example:  Shops around to compare prices.
FEELS: The customer's emotional state. What are they worried or excited about?
Example:  Confused - Too much misleading info.
Empathy mapping is all about understanding the customer on a deeper emotional and relatable level.
The KPIs you'd want to measure for this includes:
Life Cycle – Conversion Rate, Up-Selling Rate, Renewal Rate, Customer Lifetime Value.
Numbers & Rates – Bounce Rate, Click-Through Rate, Customer Complaints, Direct Traffic.
Satisfaction – Customer satisfaction Index, Intention to Repurchase, Satisfaction with Interaction.
Examples of Empathy Mapping
Let's take a look at a couple examples of what empathy mapping looks like: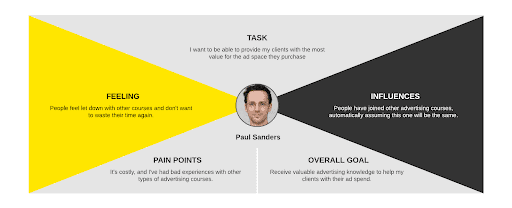 Experience Mapping - Why Is This Effective? What Is It?
An experience map focuses on a general, high-level understanding of human behaviour to achieve a particular goal.
An experience map is a product and service agnostic.
Experience maps are typically used before you even start designing a product.
This helps you identify opportunities in your design to smooth out and solve painful experiences.
Why use Experience Mapping?
To understand general human behaviour.
To create a baseline understanding of an experience that is product/service agnostic.
When to use it?
Before a customer journey map to gain an understanding of general human behaviour.
When converging multiple experiences (tool and specific user agnostic) into one visualization.
Now let's take a look at an example:
Paul Sanders wants to learn how to develop an integrated marketing strategy.
Experience has shown that many digital marketing sites were not as helpful as had hoped.
He finds Marketer Knows during his research and goes through the process of signing up.
Here are 5 great reasons to use an experience map:
It helps you see the big picture of your customer's journey to understand their needs and pain points further.

It makes collaboration between designers, developers, and managers easier, effective, and focused.

It facilitates desired outcomes by pinpointing and minimizing negative customer experiences.

Identifies the reasons for churn, addressing them, and creating the opportunity to bring users on board again. 
Some of the most common KPIs that are used to measure performance include:
Net Promoter Score (NPS)

Retention Rate

Churn Rate

Customer Lifetime Value (CLV)

Customer Acquisition Cost (CAC)

Customer Effort Score (CES)

Customer Satisfaction (CSAT)
Customer Journey Mapping - Why Is This Effective? What Is It?
Customer journey mapping a visual story of your customers' interactions, or touchpoints, determining the stages where customers become aware of your brand.
At each stage of the journey, it depicts what customers are thinking, doing, and experiencing.
Touchpoint aligning is achieved by comparing how customers interact with your brand today versus the ideal customer journey - to find areas of opportunity.
Why use it:
To create a strategic approach on how to optimize the customer experience based on how they feel.

Allows you to adapt more personalized and specific marketing tactics as you gain more insight into a customer's pain points and feelings throughout their journey.

Crucial for optimizing the customer experience.
When to use it:
Ongoing - it should be treated as a living document that is updated periodically. 

When your customers make the first contact with your business.

Now let's take a look at an example:
As you can see from the example above, this method:
Takes into consideration the 

non-linear nature

 of a customer journey.

Tracks how their experiences make them feel

, the touchpoints involved, and actionable steps to improve their experience.

It does not end with a purchase

; it includes a follow-up and can be updated past the purchase point.
The KPIs you'd want to measure include:
Net Promoter Score (NPS)

Customer Satisfaction (CSAT)

Engagement with calls to action (CTAs)
Other KPIs that can be used to optimize the journey
Uptime, page speed, and mobile optimization

Organic keyword traffic to your support site

Abandon rate and bounce rate
And That's A Wrap!
Customer Journey Mapping can be a beneficial tool, helping provide a deeper understanding of the customer and their purchasing journey.
This, in turn, will improve your marketing efforts by providing insights into your customer's needs, pain points, and interests, allowing you to communicate with them more effectively.
Just remember, if ever you find yourself lost, stop, and check the map.
We hope you were able to find some value here! Now take that knowledge and go forth into the world and share it with everyone!
Here are some more resources for you to check out at your leisure. If you have any feedback or questions, drop us a comment below!
Thanks for reading!
Stay safe. Stay healthy.
Customer Journey Mapping - Customer journey mapping is a great tool that sits at the intersection of user experience design, customer experience management, and design thinking. It is also useful for mapping out the way that a company's various marketing touchpoints connect.
Attribution is More Important Than Ever in Today's Non-Linear Customer Journey - You will use this information to strengthen the experience of each future customer by providing a better, more refined way to develop a relationship with your brand in a way that is optimal for them.
15 Powerful Customer Journey Maps - To guide your journey map efforts, here are 15 great examples!