How to Create Effective Content Marketing Machines
---
Podcast: Play in new window | Download
Subscribe Today Google Podcasts | Stitcher | RSS
This week we're breaking down how to create effective content marketing machines and how to repurpose content! We'll be dissecting a single piece of evergreen content and repurposing it in some fun and creative ways!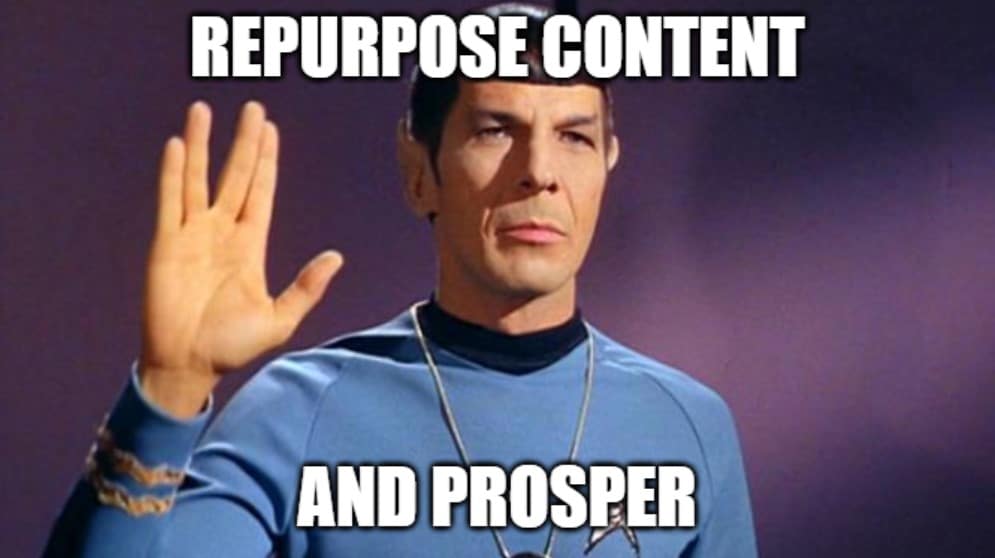 Check out the video or podcast above. 👆 Subscribe to our weekly live stream on Facebook, or take it on the go with a podcast on your chosen platform. Keep up-to-date on news, trends, and tips in digital marketing and join in on the conversation.
What's New?
This week we have some interesting news in the worlds of Google Search and Influencer marketing. Check out these articles for more info!
How Influencer Marketing Will Evolve as Gen Zs Sway Grows - The latest evolution of influencer marketing may see brands approach already loyal customers and give them incentives to partner on social content, a new CreatorIQ report forecasts. Read on!
Google Search May Be Showing Featured Snippets Less Often - Starting around February 18, 2021, Google seems to be showing fewer featured snippet results on the search results page. Most, if not all, of the tools that track the Google search results, show significant declines in featured snippets showing up.
What's Working?
If you're not using cornerstone content to deliver ongoing growth, there is a good chance that you're missing out on valuable search traffic.
When it comes to powering organic search growth, not all types of content can contribute to success in the same way. That's why it's always a good idea to diversify!
Your consumers are all different, and thus, will respond and absorb content in their own ways.
And think about the hard work you put in to make that great content. You don't want it to get buried! Repurposing that content helps it continue to be relevant long past its publication date.
So, let's dig into how to repurpose content!
Creating Cornerstone or Anchor Content
Cornerstone or Anchor content usually forms the backbone of a successful strategy and is perfect when considering how to repurpose content.
There are always people wanting to consume content around these topics.
The information in cornerstone content pieces is always fresh for readers looking to answer a question or learn more.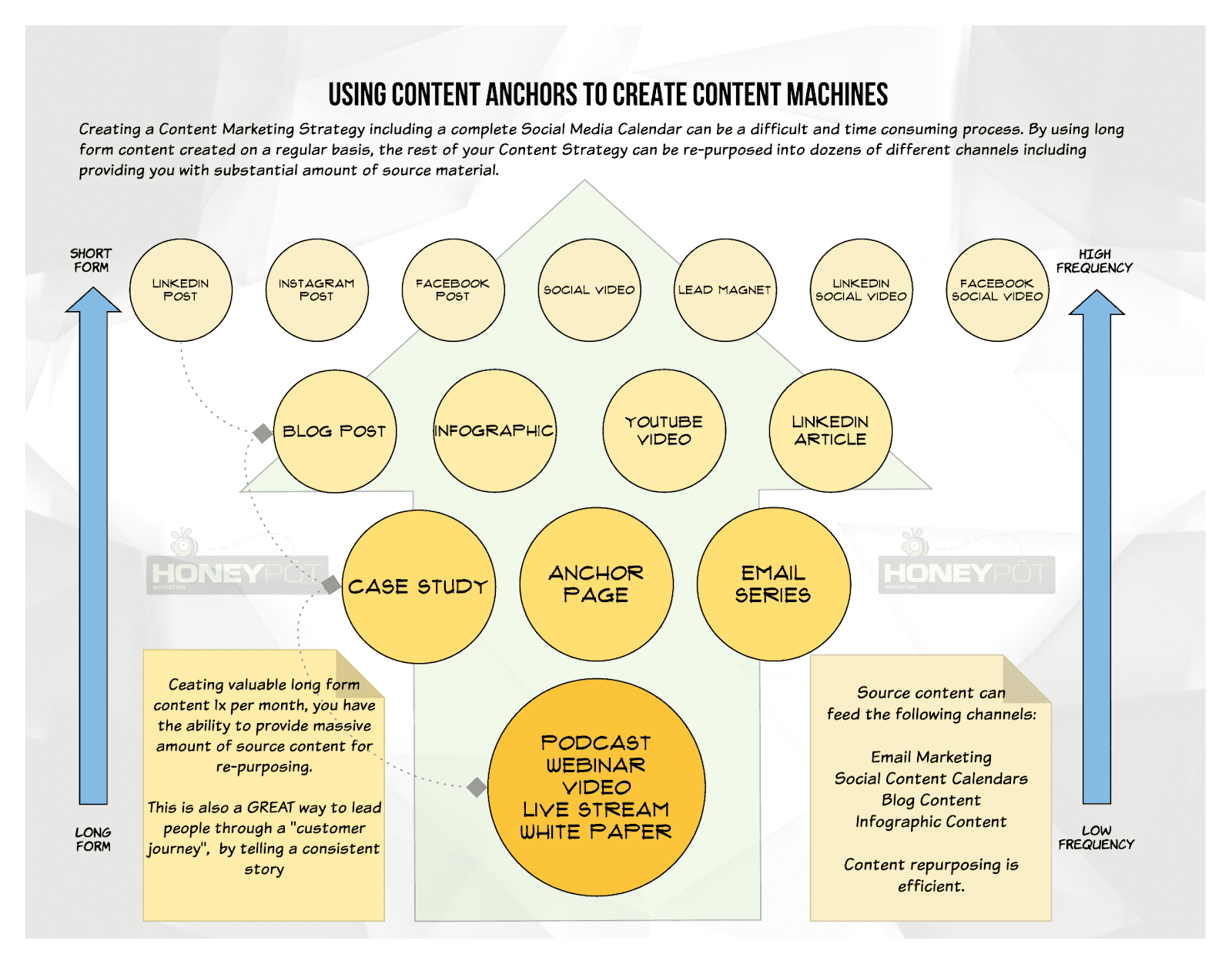 This is an example of taking a single piece of content and breaking it into multiple different types of content pieces.
There are hundreds of nuggets from your existing content that you can take from it to create fresh content pieces.
The same content can be used in several different ways, giving your consumers a refresher while presenting it in a new and fun way.
The list of possible types of anchor content is large; some great ones include:
How-To Guides

Tips

Interviews

FAQs
Our Live at the Hive weekly streams are a great example, and we'll use one as an example throughout this blog.
First, we create a presentation that can be given to our audience as a pdf slide deck. Then we have the live stream. That content becomes evergreen and a great source for repurposing content.
From the video alone, we can pull the audio and create podcasts; we can create small snippets of video and share on our social channels, and we can create quote posts for the content we really want to zero in so on.
Then we write a more long-form blog that takes an even more in-depth approach to the content. Once the blog is published, we now have another piece of cornerstone content that we can repurpose even further.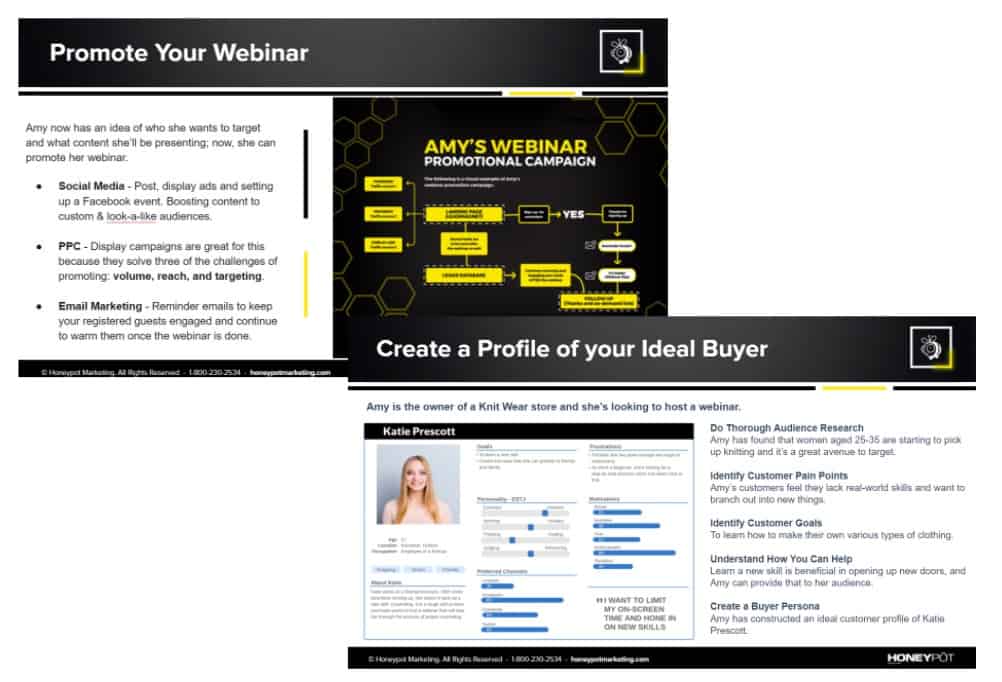 So, let's break down a presentation we put together and take a deeper look at what we're talking about.
Create a Live Video
By taking your presentation and turning it into a live video, you'll be able to reach a broader audience, as you can discuss and expand on ideas.
Video content brings traffic to your business, creates engagement, and holds the attention of your viewers.
Let's look at how to repurpose content from a live video.
Types of platforms for live videos (these are the ones we use):
Facebook Live

YouTube

Twitter & Periscope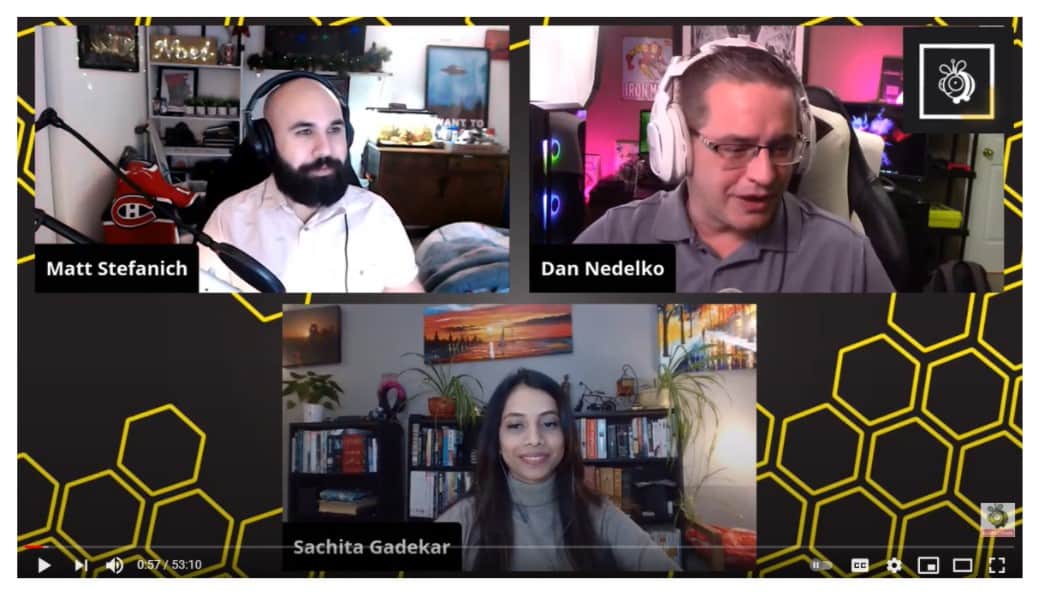 We do this at Honeypot every week with our Live at the Hive series. Our audience can tune in to the live stream and ask us their most burning questions or find the video later at any time to watch on YouTube at their own leisure.
We can then take the video and make even more content from it.
Create a Podcast
Now that we have video content from the live stream, we can also turn it into a podcast.
Podcasts have become immensely popular over the years, especially now. It's a great way to costume content while on the go or just while lounging around.
There's a large audience-base that listens to podcasts while running errands, working, or hitting the gym, and that audience continues to grow.
Some people prefer auditory over visual, which is the perfect medium, and it's also great content for the visually impaired.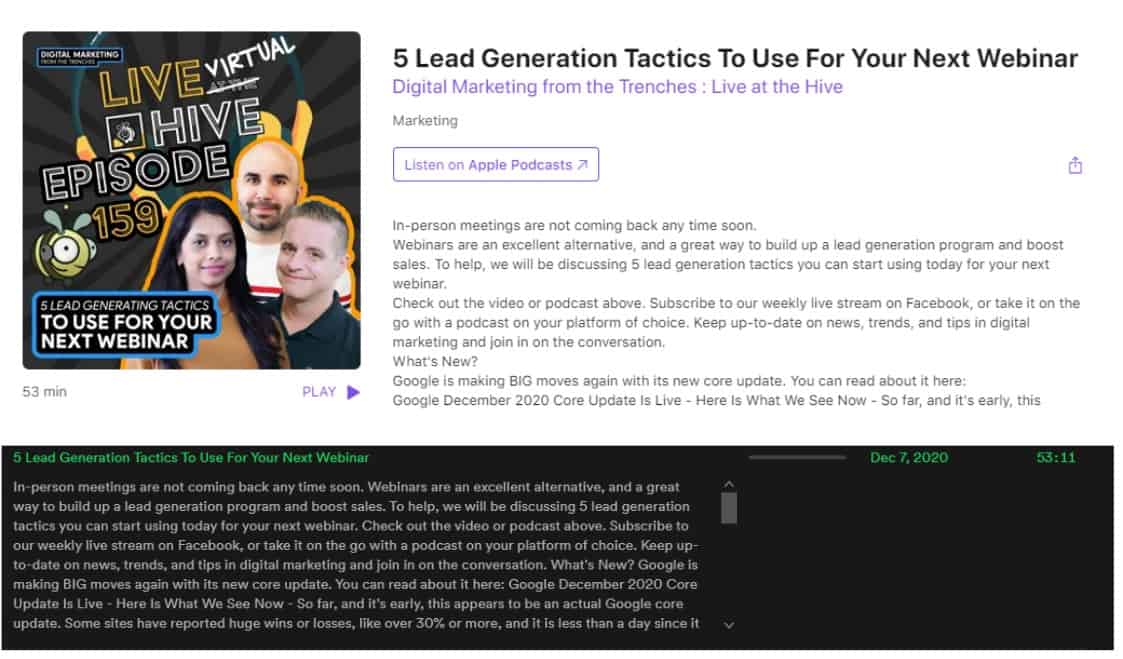 Develop a Blog
With Live Video, you have visual; with Podcasts, you have auditory, but what about the consumers who prefer reading?
You can turn your presentation into a blog, just like we're doing here! It's a great option when considering how to repurpose content.
Blogs are great long-form content for an audience looking to take an in-depth look at the content you're discussing.
It's easier for people to read, take notes, and absorb the content at their own pace, and you can expand on the most important points that you want to touch on.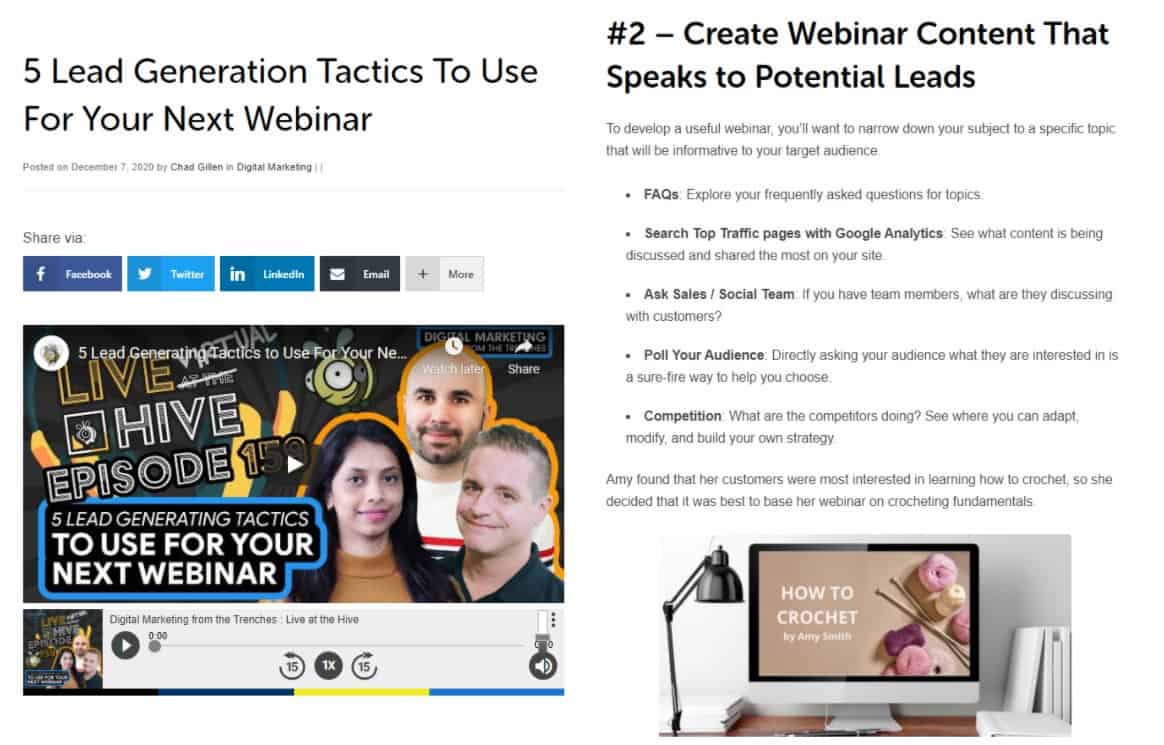 Just don't set and forget your blog.

Once you've created your cornerstone content, don't bury it on your blog. If you publish your content and "set it and forget it," you just won't get the results you want.

You need to make an effort to highlight your valuable anchor content so that it's immediately seen and accessible by site visitors.

You can:

Highlight your blog posts in the sidebar of your blog or a banner on your homepage.

Refresh top evergreen posts on your blog periodically.

Build a social media campaign around your content.

Share Your Blog on Social

As mentioned previously, you don't want to forget about your blog. One way you can attract some traffic is by sharing on your social platforms.

Each of the available platforms has unique visitors specific to that channel.

Create social posts on each of the appropriate social platforms. Keep in mind the audience on each. Alter your copy to fit.

Not all platforms may work for your content, so choose ideal ones.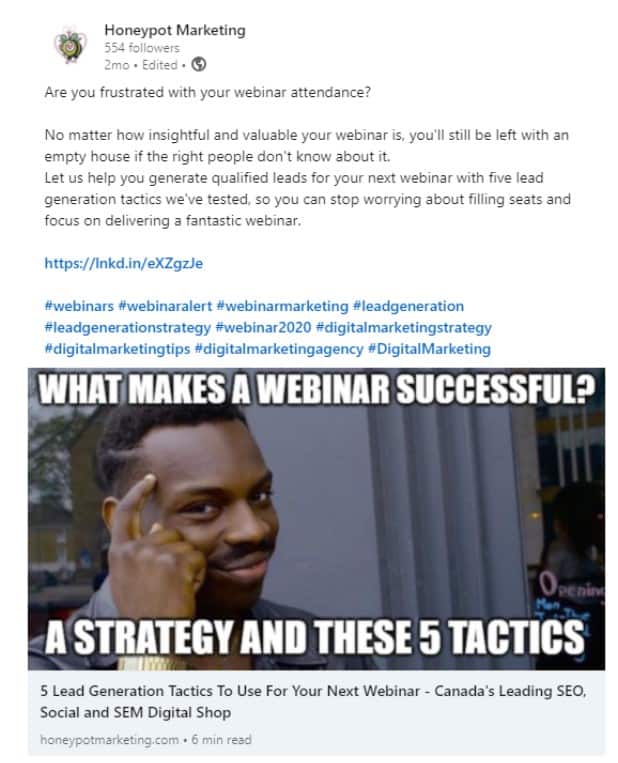 Share Video Content on Social
Now that you have a live video recorded, what else can you do with it after the stream?
Create short, snackable clips for your social media channels!
It's no secret that video content performs incredibly well on social, and it's easier than you might think to make short clips from your live video stream.
Why Is Video Content So Important?
Social media posts with video have 48% more views.

Viewers retain 95% of a message when they watch it in a video, compared to 10% when reading it in text.

72% of customers would rather learn about a product or service by way of video.

YouTube has the best ROI for video content, followed by Facebook and Instagram.
Remember to alter your content for different platforms. What works on Instagram may not work on LinkedIn.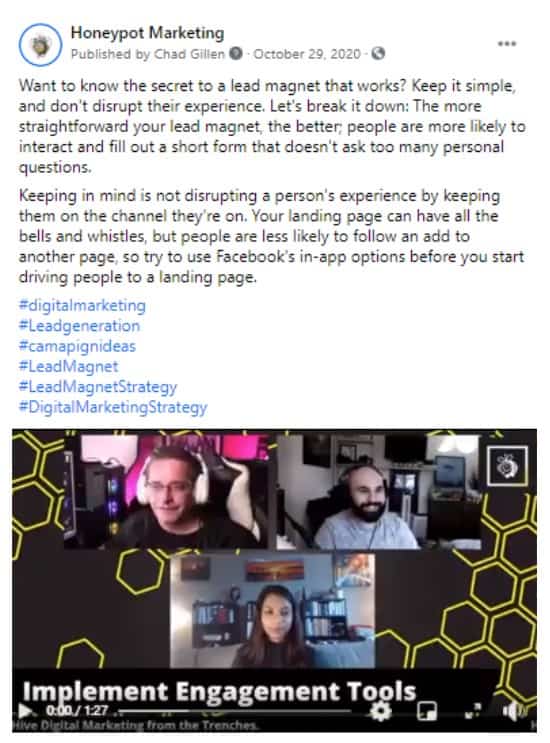 Share Infographics on Social
Infographics are Perfect for Visual Storytelling!
It's a great way to make content that is:
Visually Engaging.

Memorable.

Easy to Understand.
Colour in visuals increases the attention span of viewers by 82%.
Instructions with visuals create a 15% increase in productivity than instructions with only text.
Infographics improve reading comprehension by 50%.
They can help us:
Amplify our most important messages.

And make them more memorable to our audience.
Infographics can improve your reader's productivity by helping them access your content insights in the most effective way possible.
When you have important information for your audience, infographics help convey that message effectively by adding visual aids to enhance understanding.
That's a Wrap
These are some effective strategies when considering how to repurpose content.
Repurposing your content into different pieces on different channels helps maximize your content strategy and showcases your content's value in different forms.
People consume content in different ways, so having the content available on multiple platforms will maximize your reach and allow the audience to consume and relate to your content at their own level.
Thanks for reading, and we hope you found some value here. If you have any questions, comments, or stories, sound off in the comments below or hit us up on our social! Until next time.