Creative Ideas to Build Your Brand on Instagram and Tiktok
---
Podcast: Play in new window | Download
Subscribe Today Google Podcasts | RSS
This week we're looking at some creative ideas to build your brand and community on Instagram and TikTok. Instagram and TikTok have become marketing powerhouses, releasing new, interactive and fun features that keep audiences engaged.
It's getting to the point where the limitations are just your imagination.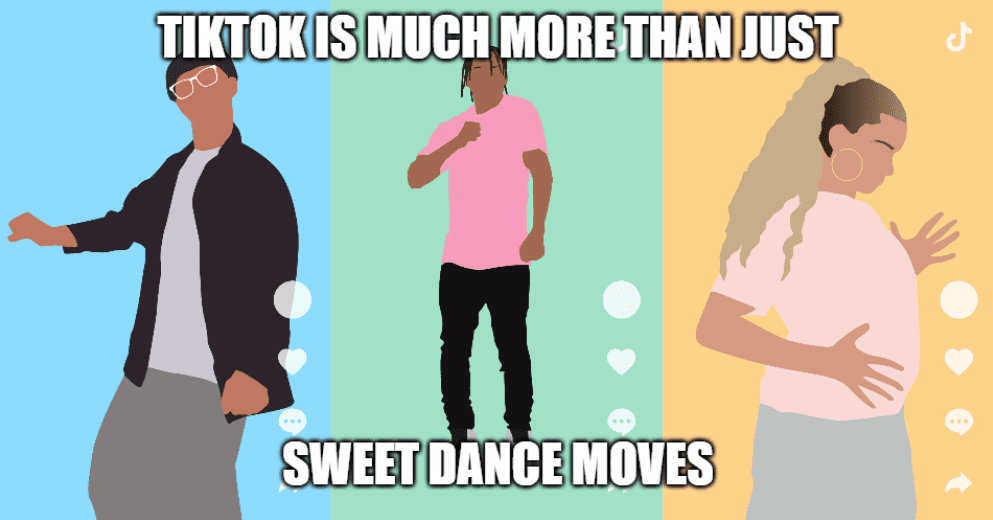 Check out the video or podcast above. 👆 Subscribe to our weekly live stream on Facebook, or take it on the go with a podcast on your chosen platform. Keep up-to-date on news, trends, and tips in digital marketing and join in on the conversation.
What's Working?
Your brand identity is the public face of your company.
Quality and consistency are vital for developing trust and familiarity. This is why it's crucial that your brand remains consistent across all platforms.
There are lots of creative ways to achieve this using the many tools available on social channels.
Let's break down what we'll be looking at:
How to Build your Brand in 2021
Creating a Mood Board
Building your Instagram Brand
Creative Ideas for TikTok
Creative Ideas for Instagram
Influencer Collaboration
Before we dig in, take a look at this chart of the most popular apps downloaded in January 2020. We thought it was important to share because there's a common misconception about social media, and Tiktok in particular - that it's just for kids and not the right place for business.
This chart clearly shows that Tiktok is more than a silly dancing fad. It's a legitiment and incredibly populated channel.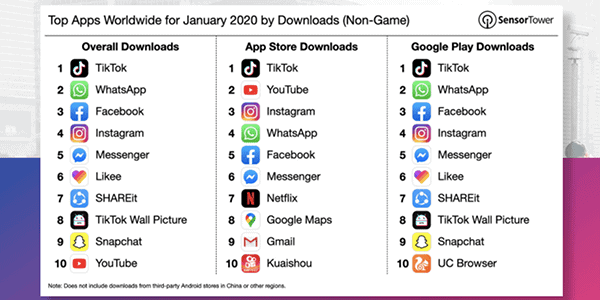 The bottom line here is, if you're ignoring Tiktok, you're ignoring a ginormous audience (hmm, I've never actually tried to spell that word. Looks weird, even for a fake word).
How to Build Your Brand in 2021
Things have changed. Building a brand in 2021 requires an understanding of the needs and moods of the community. It's about collaboration more than ever.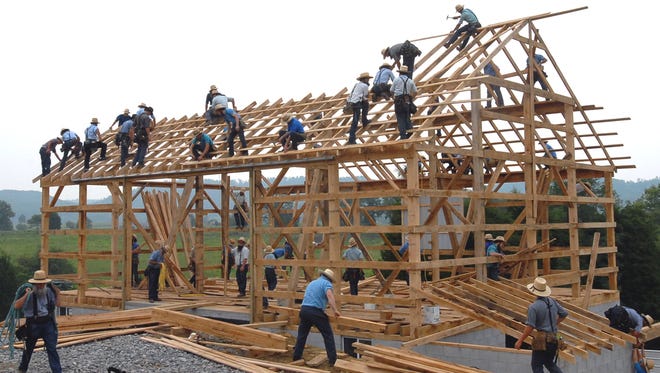 You can't rely on the same old ideas to build your brand from days past.
So, where do we start? With a list, of course. 🤔
Create a mood board.
Discover the purpose of your brand.
Research your audience and competition.
Create a buyer persona.
Create a logo to give your brand's personality a face and aesthetic.
Know the things to avoid.
Create a Mood Board
Mood boards serve many purposes, starting with organizing your brand's inspiration.
They're a valuable resource to help keep the style and aesthetic of your brand consistent with your goals and expectations, and an excellent way to refine your brand's style before diving into the actual design process.
You DON'T have to be a designer.
It's about exploring elements that represent your ideals and goals, and bringing those elements together to create an aesthetic that will make your brand attractive and recognizable.
Here is an example for Tiktok:

And here is an example for Instagram: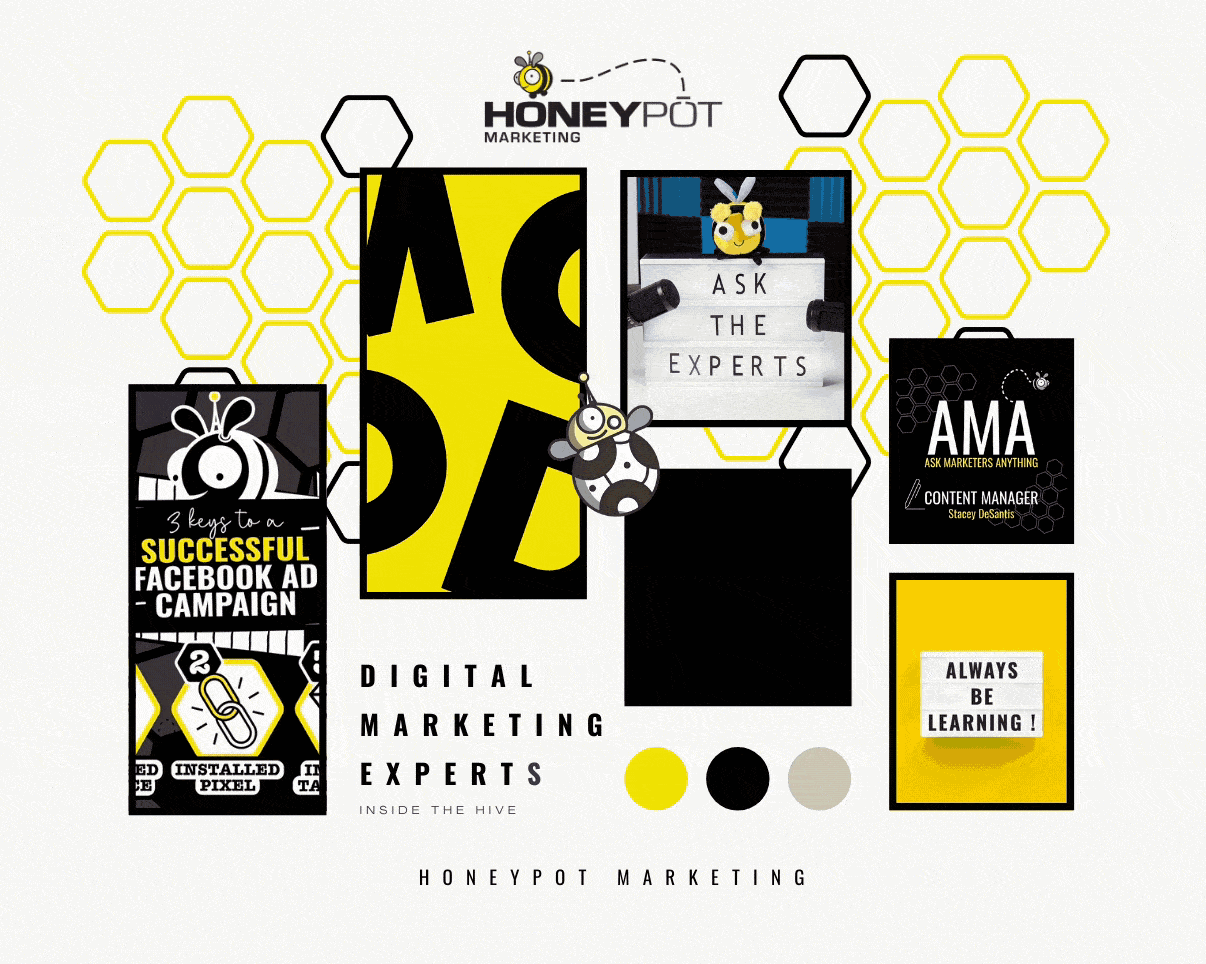 The designs for each are different, but they share a similar theme and are immediately recognizable as the Honeypot Marketing brand.
Discover the Purpose of your Brand
Every brand jumps into the market with a great purpose. It's that purpose that fuels them to reach their goals.
If you're trying to define your brand's purpose, ask yourself these questions:
Why does your brand exist?
What problem does your brand solve?
What differentiates your brand from others?
Why should people consider your brand?
These ideas will help you lay the foundation of your branding through slogans, tagline, story, messaging, and more.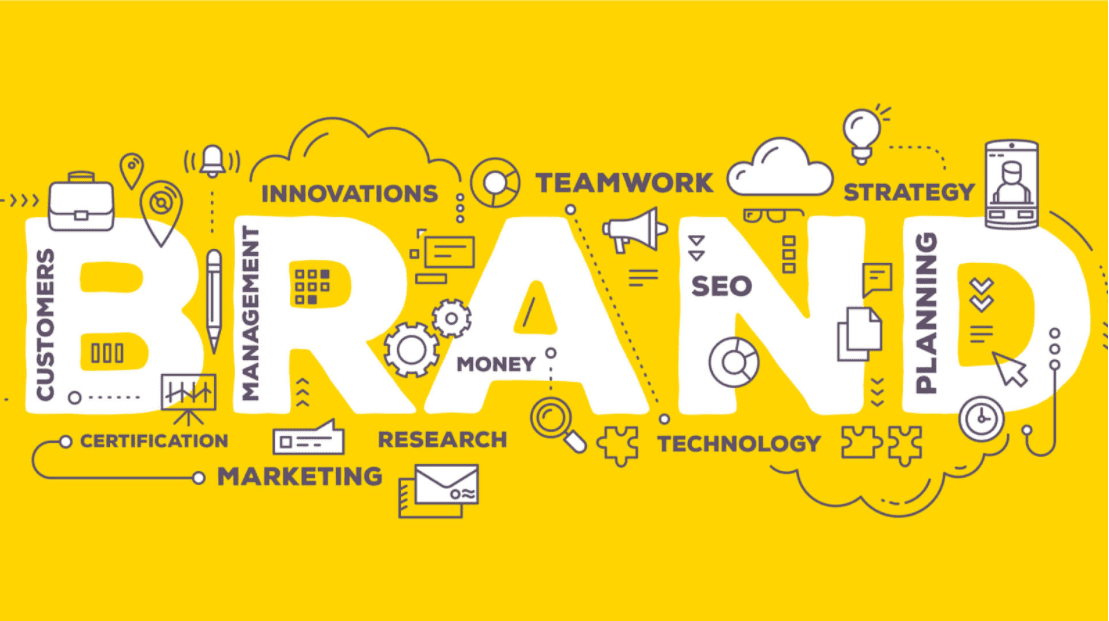 Research your Audience and Competition
Another step to creating a brand identity is to research your market. The market is packed with different people wanting different things.
You cannot target a business executive the same way you would target a product to a gamer.
Learning and knowing what customers want from a business is essential to create a brand that people will like.
Create a Buyer Persona
All brands exist through their customers' existence. If there are no customers, there will be no brand.
Knowing the right target audience for your products/service is crucial, as it will benefit your brand building process.
Knowing the ideal audience will affect your digital branding strategies.
We talk about this more in depth in this blog here: Non-Linear Customer Journeys and How to Implement Them
Create a Logo
The most important part of brand building is possibly creating a tagline and logo for your business.
A logo is the face of your company, and the tagline is the vision or promise. These are the things that will stick with people when they think of your brand.
The logo will be visible on everything related to your business. It will become the identity of your brand.
Your logo is how your business presents itself, your mission statement, products, and more. It tells your story.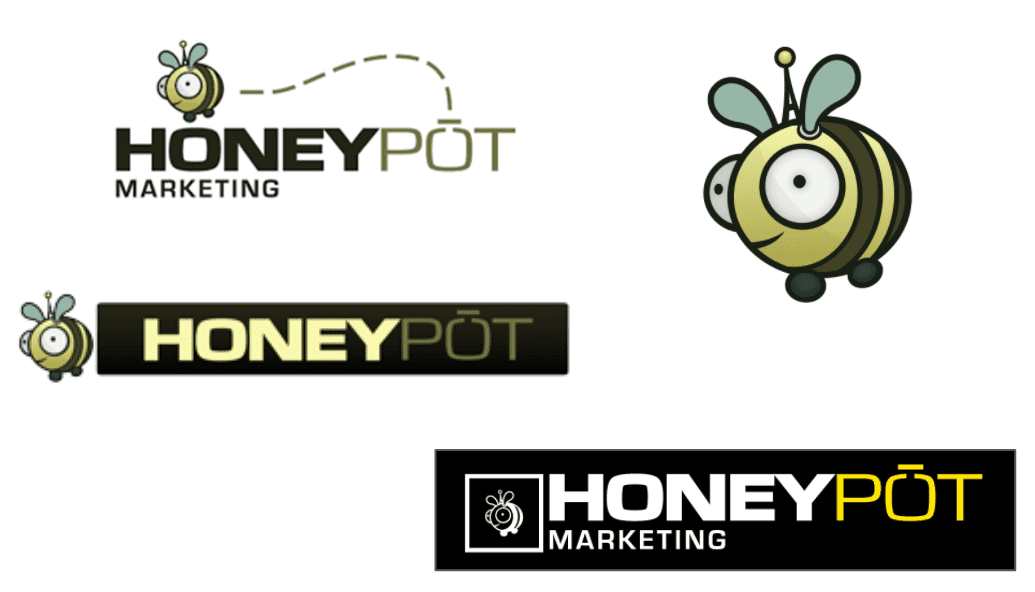 When Building Your Brand...
Don't convey mixed messages to your customers.
Keep your message clear and know what exactly you want to communicate.
Use appropriate tone and language for every message you send.
Just because you like it doesn't mean your customers will also love it.
Avoid copying your competitors.
Keep consistency between your online or offline branding.
Now, let's take a deeper look at what it takes to build your brand on Instagram.
Building Your Instagram Brand
How do you start?
Define the target audience

that your business wants to reach.

Perform research

on

aspirational brands

and what type of content your audience finds engaging. 

Analyze competitors

and other community profiles.

Build a visual identity

for your brand.

Optimize your profile

and brand information.

Create a content plan

with a

posting schedule

.

Take advantage of Post and Profile Insights.
Define Your Target Audience
These are the people that you're trying to serve with your product, service, or any other offer.
Consider your ideal follower, where they are in life right now, and how you can bring value to them.
When building target audience profiles for Instagram:
Determine demographics that fit a large portion of your target audience.
Make a list of their potential needs, goals, problems, and other relevant characteristics.
Think of possible solutions that your brand can offer them.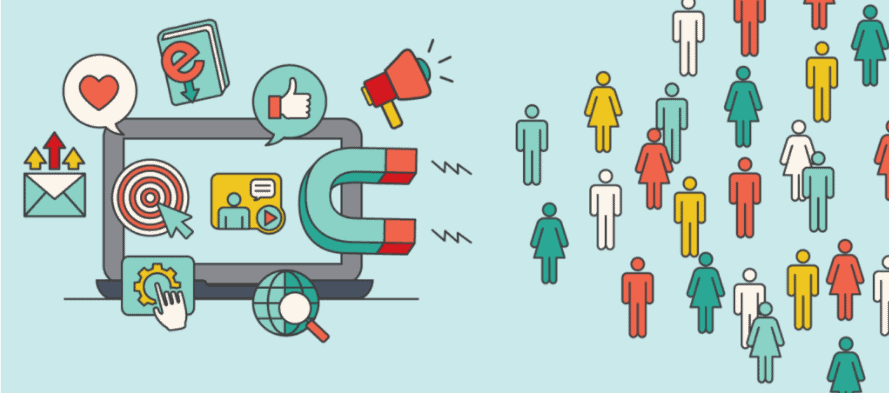 Research Audience Content Needs
Your potential audience is already using the app, so you just need to find a way to reach them.
Spend some time researching the behaviour of your potential audience.
Here are some things to look for:
The type of profiles they already follow.
The hashtags they follow and use.
The language they use on post captions and comments.
The profile description in their bio.
Analyze Competitors
After you have a good idea of who you're trying to reach, it's smart to take a better look at who you're competing with.
Examine:
The most popular and established profiles in your niche.
The type of content that they post.
The difference between your brand and others.
Build a Visual Identity
Your followers need to get to know and understand who you are, so they can connect with you.
It's not only about the profile picture and description, but you also need to dig deeper to find a purpose behind your brand.
Consider the visual elements that you'll be using. That includes your brand colours, logo, fonts, and other visual elements that contribute to your brand's aesthetic.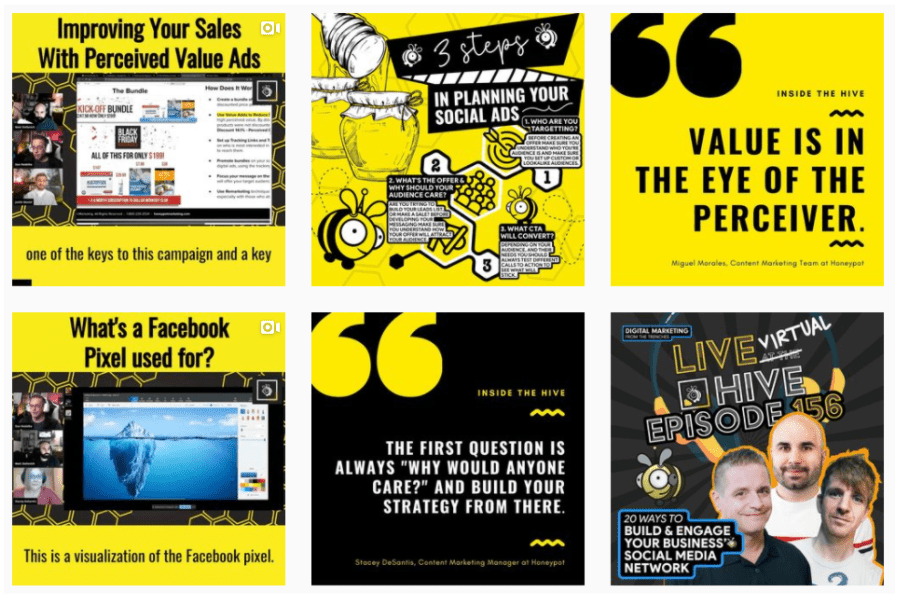 Optimize Your Profile
A good profile will help users understand what your brand stands for and how you will help them if they click follow.
Choose a username that reflects your brand name.
Go for a profile photo that showcases your identity.
The bio description is important to describe your brand.
Enter a website where people can look for more information.
Enter an email or phone number for contact information.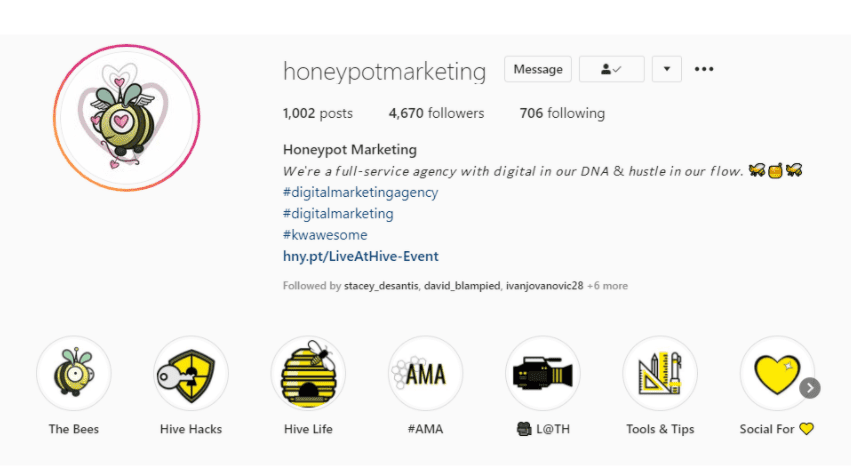 Create a Content Plan
Create a content plan with a posting schedule to outline what you will be posting and when it will go live. Tools like Smartsheets and Hootsuite are useful in organizing your content calendar.
Make sure your profile has a nice flow in terms of content and images.
You want your profile to be consistent with your brand identity, but also have a mix of different content and graphics to ensure your profile is visually appealing and catches the audience's' attention.
Post & Profile Insights
By analyzing data, you can measure the outcome of your posts, and see what works best for your brand to create better content.
Profile Insights can tell you how many accounts you've reached in the past period and the actions that people take on your account.
Single Post Insights give you stats on how many people saw and interacted with a specific post.
As you grow, you can use tools such as Iconosquare.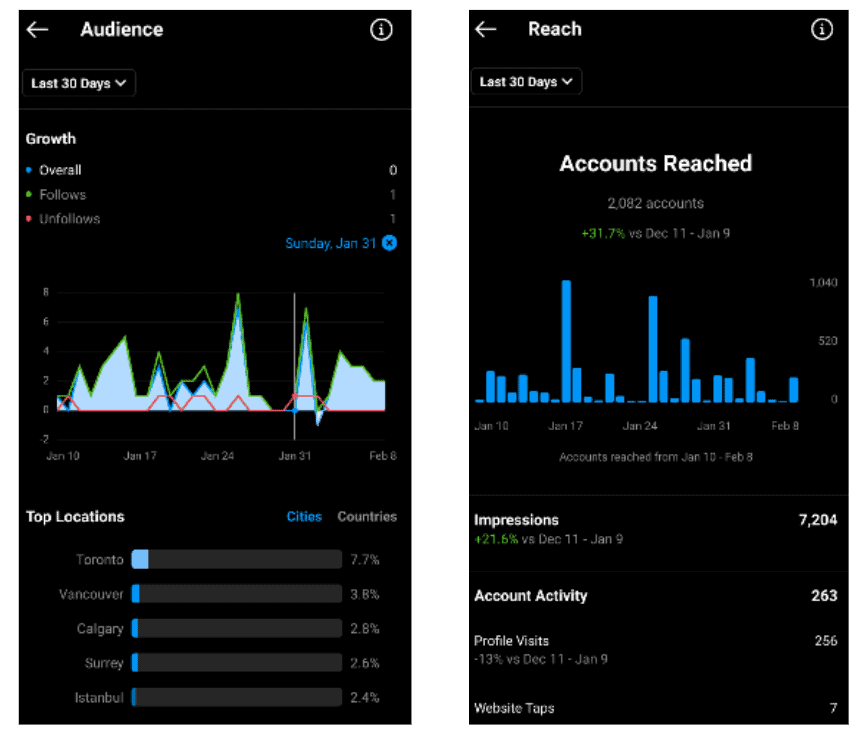 Creative Ideas for Instagram
Instagram is about about visual presentation.
Creating a flow with diversity in your posts helps create a recognizable and appealing visual identity.
Use your brand colours and fonts to align with your brand aesthetics.
Stories are a great opportunity to position your brand as a thought leader by creating polls, quizzes, and tips and tricks.
Collaborate with influencers your audience will resonate with, and run contests to encourage engagement.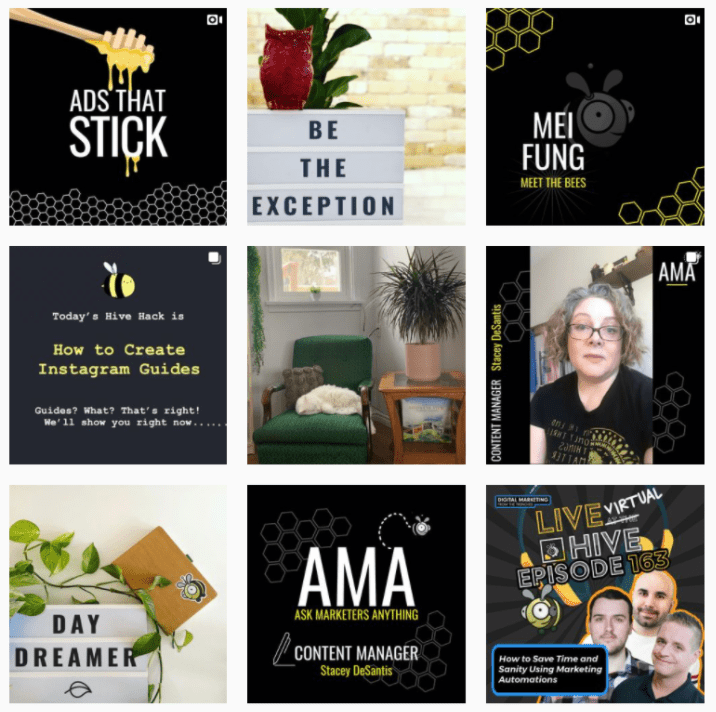 Conduct a Poll
Polls are a great way to engage your audience and build your brand.
A great way to start a two-way conversation.
You can gamify your Story by quizzing your readers on different topics, or conduct easy customer research by giving your followers an option of two products you might release soon.
Conduct a Quiz
The interactive quiz feature allows users to engage with their followers by asking them multiple-choice questions.
This a great way to quiz your audience on specific aspects of your business which can help them learn more about your business.
Thought Leadership
Your Instagram Story is a great place for your brand to present some thought leadership.
Doing so will build engagement and position your brand as a trustworthy source of information.
Contests and Giveaways
The prize can be anything from a free trial of your service, some samples of your product, or an hour long consultation call from you.
You can require your followers to do something to take part. Some common ones are requiring participants to:
Share your Instagram Story and / or post.
Tag someone in the comment section.
DM someone your Instagram Story or post.
Use a branded hashtag.
Like your post.
Creative Ideas for TikTok
Define your niche.
A specialized focus will get much better results than trying to target a general audience.
Tiktok is much more than dancing videos.
It's a powerful platform for businesses to showcase their brand in unique ways.
From real estate tours, to medical advice, glorious recipes, or graphic design tips, there's an audience for everyone.
Perfect for video tutorials & educational videos.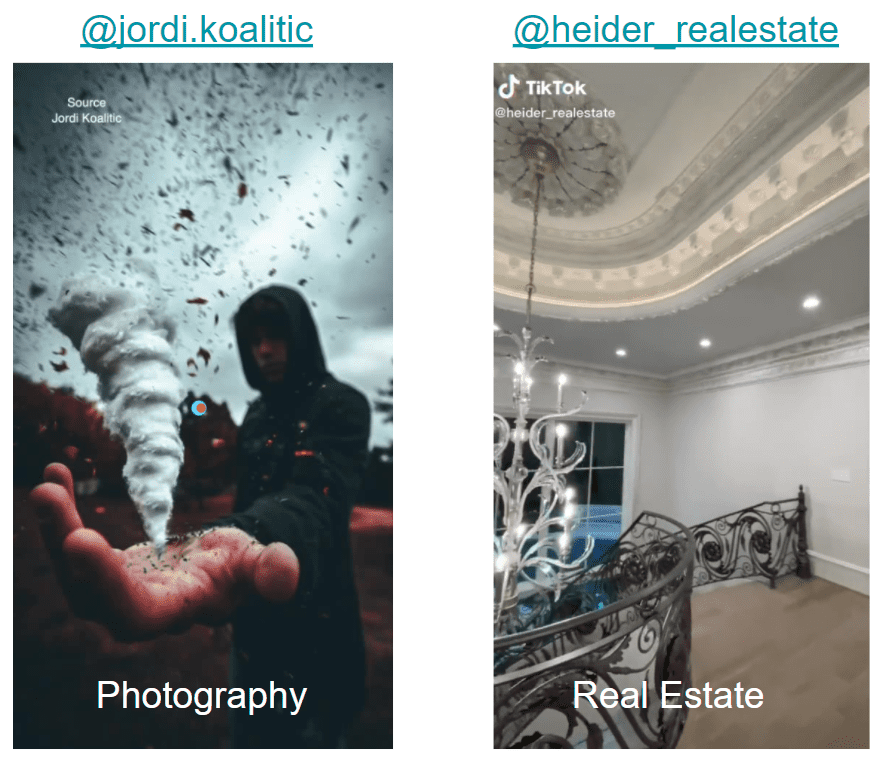 Create a Branded Hashtag Challenge - Challenges use specific hashtags to encourage users to create videos on a theme, as part of a campaign, or viral trend.
Share an Educational Video - It's an amazing platform for sharing informative content in an approachable, easy-to-digest format.
Create a Tutorial - Tutorials of all varieties play well on social media. Everyone wants to learn something new, especially if you can break it down into 60 seconds or less.
Run a Contest - User-generated content boosts your credibility and trust, especially when it comes from trusted creators.
Influencer Collaboration
An influencer can be anyone in your industry with a voice and a following.
Ultimately, we are all influencers in our own networks.
The number of followers should be somewhat close to your own. Grow together!
Their ideals and goals should be closely aligned with your brand.
It's better to develop long term collaborations than one-off events or sponsored posts.
Don't be afraid to be a micro-influencer.
You can find an influencer for any niche.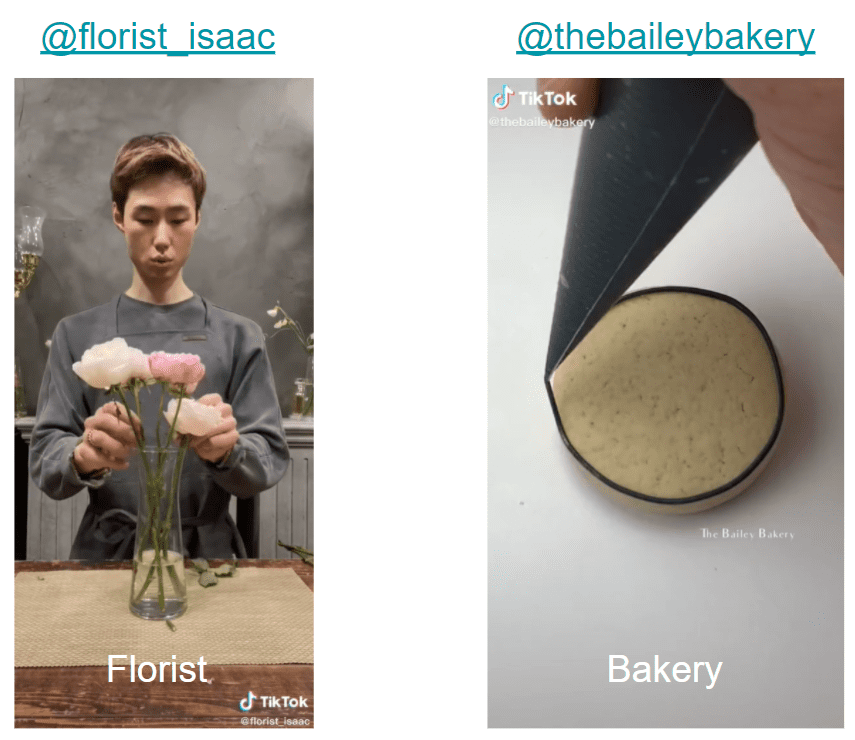 Engage with TikTok-First Influencers
You should consider working with influencers who started on TikTok.
They won't have such high pay expectations.
They are likely to be savvier about the ins and outs of TikTok as opposed to those who are focused on multiple different platforms.
Find influencers using TikTok's Creator Marketplace
This platform allows brands to search for and collaborate with influencers.
Once you're granted access, you can search through the TikTok creator catalogue.
You can search through: Country, Topic, Reach, Average Views, and Ecommerce Anchor.
Ask Influencers for Advice
Ask the experts for their insight on what kind of sponsored TikTok videos will perform best with their audience.
Work with them to create a message that's authentic and fits with TikTok's somewhat unconventional approach.
The key is to be flexible and allow influencers to provide feedback to your strategy.
Give influencers Creative Freedom
Successful influencer marketing campaigns on TikTok will require brands to relinquish some control.
Rather than trying to push specific brand messages, capitalise on the format of TikTok content by allowing users to take your idea, hashtag or filter and make it their own.
That's a Wrap
Your brand identity is how your audience recognizes you.
Consistency shows that you have a focused and unified vision and helps develop trust.
Social media channels can help build a visual identity for your brand.
The creative tools available on social media platforms are constantly evolving. If you haven't already, consider adding TikTok and Instagram to your strategy.