Ecommerce Strategies for Success in 2021
---
Podcast: Play in new window | Download
Subscribe Today Google Podcasts | Stitcher | RSS
This week we're going to venture into eCommerce strategies to show you some great tactics you can start using today. We're reaching a point where eCommerce is no longer a "nice to have" but a MUST.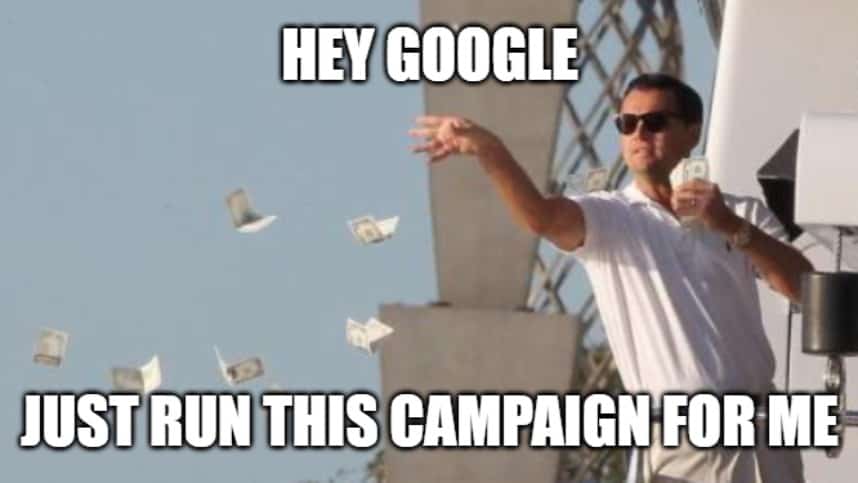 Check out the video or podcast above. Subscribe to our weekly live stream on Facebook, or take it on the go with a podcast on your chosen platform. Keep up-to-date on news, trends, and tips in digital marketing and join in on the conversation.
What's New?
Do we have a hot new social platform hitting the scene? How have the current world events affected our shopping habits? Check out these great reads to see what's new in the world of digital marketing.
Will Clubhouse Be the Next Social Media Platform for Marketers? - Clubhouse, an invite-only audio chat app with a reported $1 billion valuation, is quickly becoming the talk of the tech world. Check out this article to find out why!
Digital-First Commerce Boosts Shopify's Earnings - The research also indicates an opportunity for brands to acquire new customers through eCommerce experiences, with 74% purchasing products from retailers new to them. Fascinating read! Check it out.
What's Working?
Ecommerce has become essential for the survival of many businesses. Consumer adoption of online shopping has accelerated dramatically in the past 12 months.
Social Media Marketing, Email Marketing, and Landing pages are core strategies for eCommerce success.
But there's more.
Since we've covered these topics recently, we're going to dig into some less apparent strategies this time.
If you missed our previous blogs, check out these links below!
Creative Ideas to Build Your Brand on Instagram and Tiktok
How to Test and Optimize Facebook Campaigns for eLearning and eCommerce
How to Create and Launch High-Performance Facebook & Instagram Campaigns With a Modest Budget
Beyond the Welcome Email: 10 Ways to Improve Your Email Marketing Today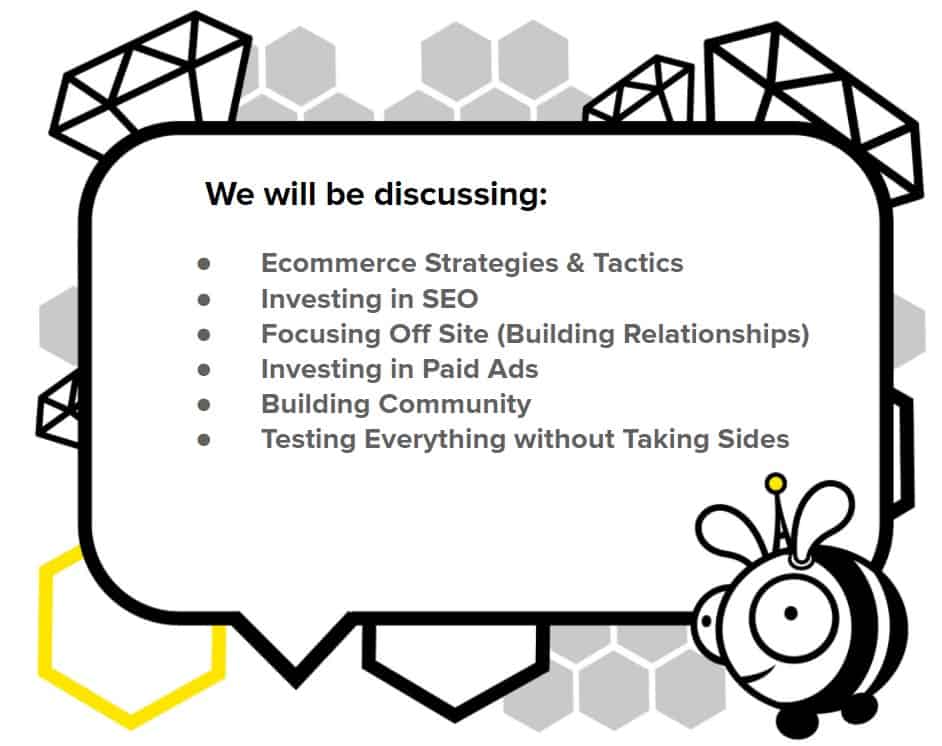 Let's dig in.
Investing in SEO
When getting started with your eCommerce strategies, SEO is an essential first step.
You want search engines like Google to display your products before they display your competitors.
Being on the first page can be a massive boost to your traffic and SERP.
Truly effective eCommerce SEO requires reviewing your site and optimizing for SEO.
Technical SEO for eCommerce websites tends to be much less commonly understood.
Common technical SEO issues include:
Slow load times.

Broken links.

Duplicate content.

Security Issues.
Fixing technical issues will improve your site's SEO health and help you rank higher in the SERPs.
Your eCommerce SEO audit assesses the keywords you are targeting, but there are also the ones you are not targeting.
Targeting new keywords and search terms is a great way to grow your audience with zero ad spend.
To know what new phrases you should be targeting, you need to perform eCommerce keyword research.
How does a search engine assess each page on your site? Is your product clear?
The best on-page SEO for eCommerce involves optimizing:
Meta Descriptions:

 should always include primary keywords.

Images:

 File names and alt-text should always include keywords you're trying to target.

Page copy:

 Is the content on your page original? Does it contain all the keywords?
As this is likely where the bulk of your time and effort will be spent, on-page SEO for eCommerce sites is critically important.
Focussing Off-Site (Building Relationships)
Focussing off-site refers to everything you do outside of your website.
This includes:
It helps search engines understand what users think about your products and website.
Having a few links from quality and relevant sites with high authority levels dramatically increases your chances of ranking higher in the SERPs.
When other sites link to you, this indicates to search engines that your site is trustworthy and authoritative, and your SEO will improve as a result.
Off-page SEO for eCommerce sites tends to involve various link-building strategies.
When your eCommerce SEO strategy strengthens the world wide web's strands that link to your site, you'll be rewarded by better search positioning.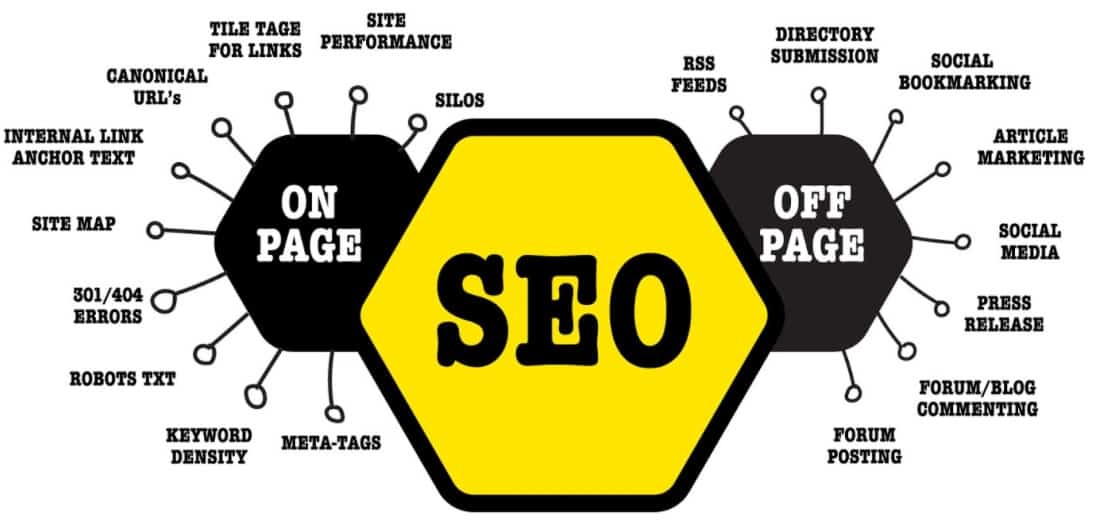 Investing in Paid Ads. No Free Lunch.
PPC is essential to your eCommerce strategies and a great way to get your products in front of users.
Buying ad space can ensure that people searching for relevant terms will see your products and be directed to your site or landing page.
An effective eCommerce PPC strategy considers these:
Keyword Strategy.

Search Ad Copy.

Retargeting Campaigns.

Ongoing Optimization.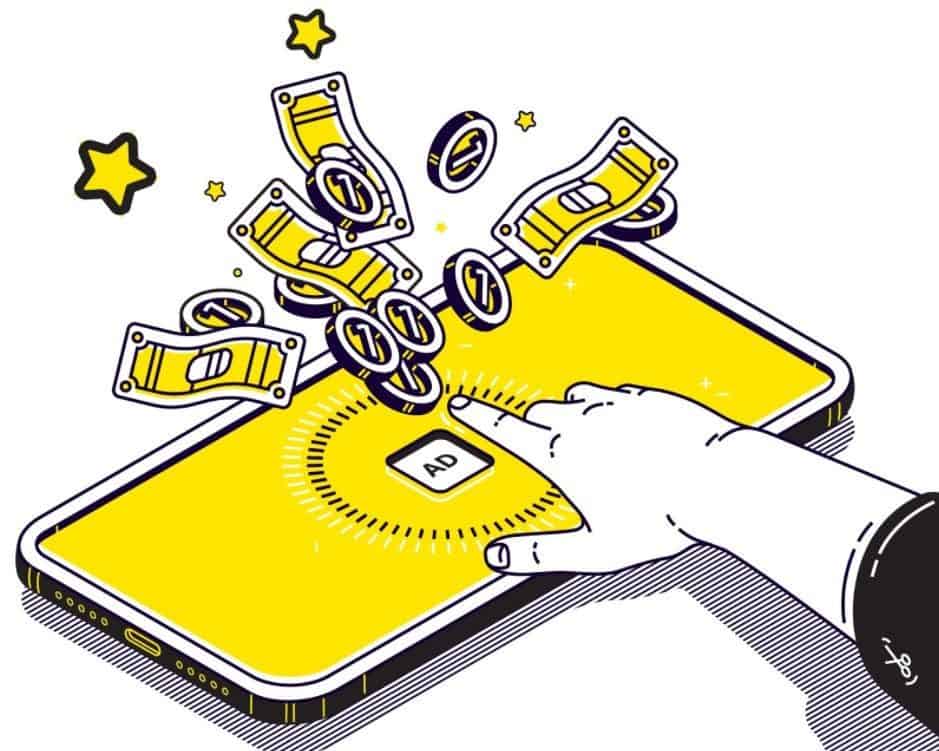 Google Shopping Ads can be highly effective with your e-commerce strategies.
When a user searches for a product on Google, in addition to the regular search results, they will see:
More detailed product listings, including images, pricing, and shipping info.

These ads will take them directly to product pages when clicked.

Shopping ads appeal most strongly to people with immediate purchase intent, and they have better ROI than other PPC ads.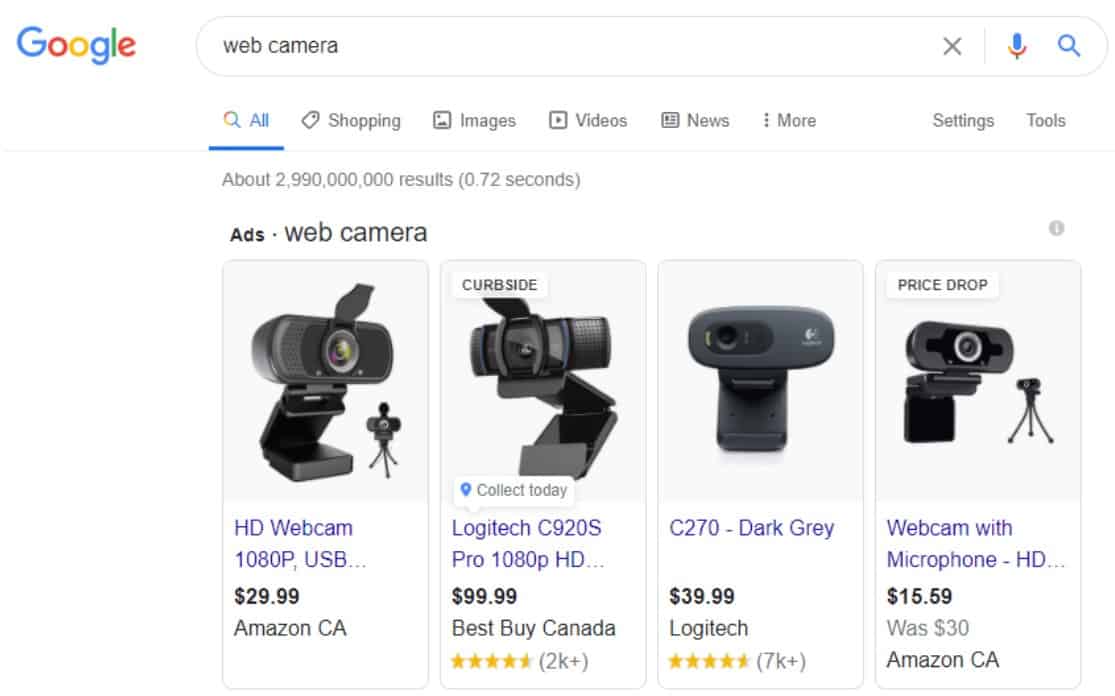 If you're trying to sell your products, you can't ignore Amazon.

Amazon offers three main types of ads to its users:

Sponsored Product Ads

 - Ads for individual products that appear within the results.

Headline Search Ads

 - Appear in the banner above the product listings and lets you sell three items at once.

Sponsored Display Ads:

 These ads are the "sponsored" images that display on product pages themselves.
This is an example of the 3 types of ads available on Amazon. Sponsored Product Ads, Headline Search Ads, and Sponsored Display Ads.
Keyword Strategy
Think about the keywords you're targeting when developing your e-commerce strategies:
What will people be searching for?
What are the problems they're trying to solve?
Through proper use of single keyword ad groups (SKAGs), you can target keywords that are high-traffic.
You can include negative keywords, to help you avoid related searches that are unlikely to lead to clicks or conversions.
For example, if you're selling camping equipment and want to promote hiking gear, you could exclude words like "tents".
Ad Copy
Ad copy can make or break the success of your e-commerce strategies.
Your ad copy should be evocative but informative. Space is limited, so make use of the small character count. Get creative.
Expert copywriters can help distinguish your products from your competitors, who may also be targeting these same keywords.
Retarget to Build Relationships
Ecommerce retargeting is the PPC version of the abandoned cart email: An effective way to spend your money.
A retargeting campaign shows ads to people who have already seen your ads, visited your site, or put items in a shopping cart.
Using dynamic retargeting in a shopping feed can be incredibly effective.
Devoting some PPC resources to getting your products into this feed will have a significant return on investment.
Building Community
It's essential to build a foundation of trust between your brand and the potential consumer.
Shoppers need to trust your brand, or they won't convert.
Social proof helps to showcase that your brand provides real value to real people.
If current consumers obtain value from your brand, then potential customers will too.
Some things to consider when building out your e-commerce strategies:
Customer Reviews and Testimonials
Can be turned into videos and used for marketing content purposes.

Adds a human element to your marketing strategy.

Facebook Groups
Facebook is already a trusted community within itself, and you can use that to your advantage.
Join groups and share valuable content that group members can relate to. This can also be a great way to expand your reach organically, helping get your brand out there.
The more people who see your content, the more familiar they will become, strengthening trust.
Influencer Endorsements
Influencers showcasing that they use your products for themselves will help build trust among the influencers' fans.
Their followers trust their opinion, which will translate to your brand if they are talking highly about it and endorsing your products.
Social Media
Are people using your product and posting about it on social media? Customers showing off your product is excellent social proof.
User-Generated Content (UGC) is the golden goose of marketing.
If people share your content or show off your products in their networks, there's no better way to build trust.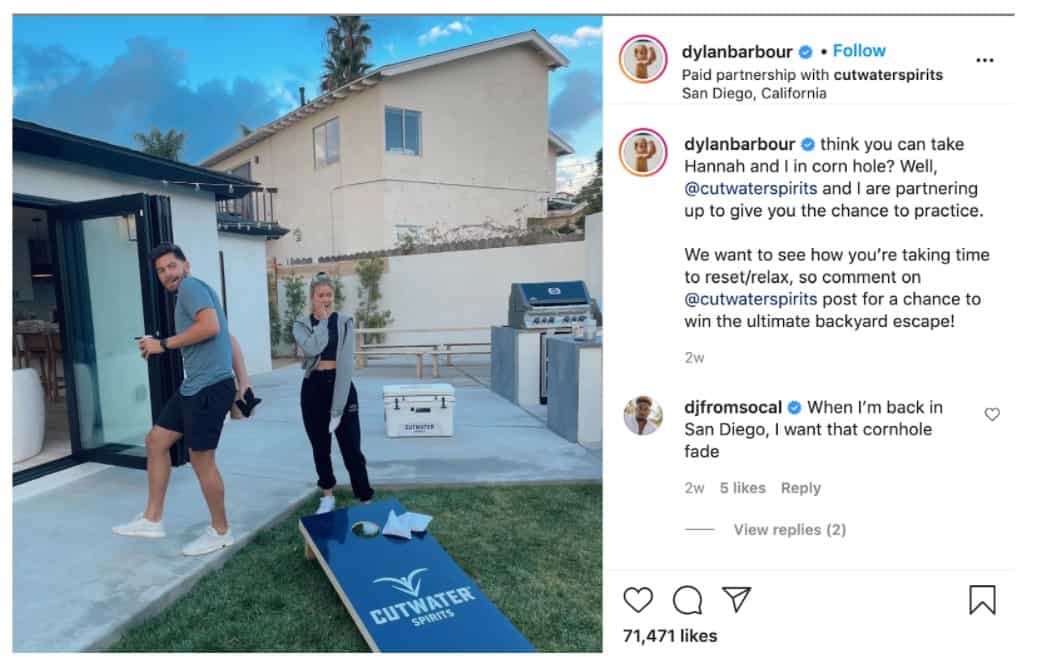 Test Everything Without Taking Sides
It's vital to the success of your marketing efforts that you test everything constantly.
Whether you're:
Creating ads.

Creating content.

Optimizing your website.

Structuring your products page.
You should constantly be testing and evaluating what is working and what is not.
Always continue testing, even when you've found a winning combo that's performing well.
It's also essential not to take sides. Just because you like, or prefer something, doesn't make it the best choice. Sure, you might like that blue colour, but if it's not working, it's just going to hurt your brand and your bottom line.
Don't make assumptions. Test. And test again. Never stop testing.
User Experience is Everything!
UX is something that many companies do not test enough, and it can be the difference between a new customer and an adverse reaction before you even got the chance to start.
Websites should be user-friendly and encourage people to convert.
Test everything and make sure it all runs smoothly and efficiently, and the path to purchase is easy for the customer to navigate.
Harmful UX will make users more likely to leave and will create users who stay less likely to convert.
It's Never "Done"
Never "fire and forget" when it comes to your ads because you could be wasting money! Constantly monitor your ads for performance.
If some ads aren't performing well, different test keywords, copy, or creatives to see if you can get better ROAS.
You can also consider other search engines to help reach an untapped audience.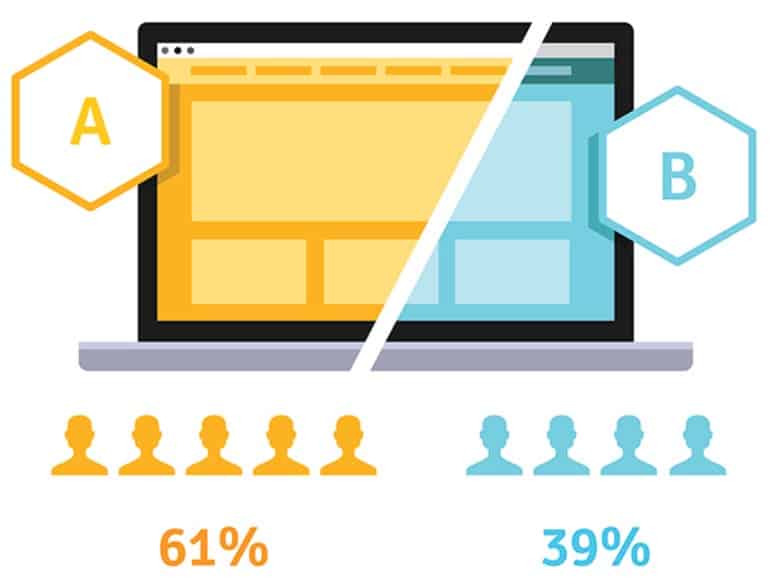 That's a Wrap
Ecommerce is the way forward for many businesses, and a good strategy is necessary to navigate this new business landscape.
Consumer adoption of online shopping is at an all-time high, so now is the time to leverage this opportunity.
Thanks so much for reading, and we hope you found some value here. As always, if you have any questions, feedback, or stories to share, drop a comment below, or hit us up on our social media.
Cheers.