Promoting Live, Hybrid, and Virtual Events Effectively in a Social World
---
Podcast: Play in new window | Download
Subscribe Today Google Podcasts | Stitcher | RSS
Over the past couple of years, all events have been virtual; now that things are opening up, many businesses are opting for Hybrid events.
Why?
There's an added flexibility for your customers and prospects who may not be able to attend in person. It also adds a new revenue stream for lower-cost virtual attendees if your events are paid.
The challenge is, getting and keeping the attention of your audience. Especially in the noisy social media world we now live in.
Today we'll be talking about driving interest and registrations to your webinar, hybrid or live event.
What's working?
Promoting your events effectively can be the make or break of a successful outcome.
We'll take you through our See, Think, Do, Care strategy to help you take control and build your desired event.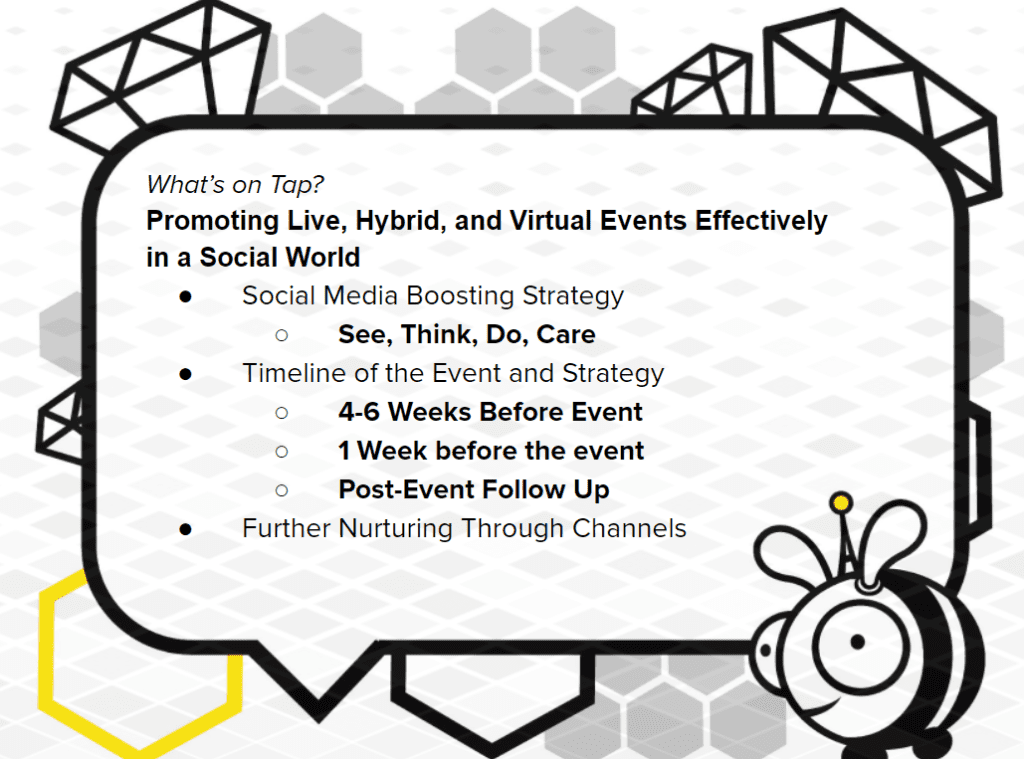 Let's dive in!
Webinar Promotional Timeline - 2 Sides to a Coin
4-6 Weeks Before Event:
Generate buzz via organic and boosted social media posts, announcements, reminders, promotions, etc.

Confirm existing ticket holders and nurture new registrants to avoid attrition 
1 Week to Event:
Keep the energy going- send reminders to registrants leading up to the event 

Announce once the event is live
Post-Event Follow Up:
Gage outcome with follow up emails

Share photos & memorable moments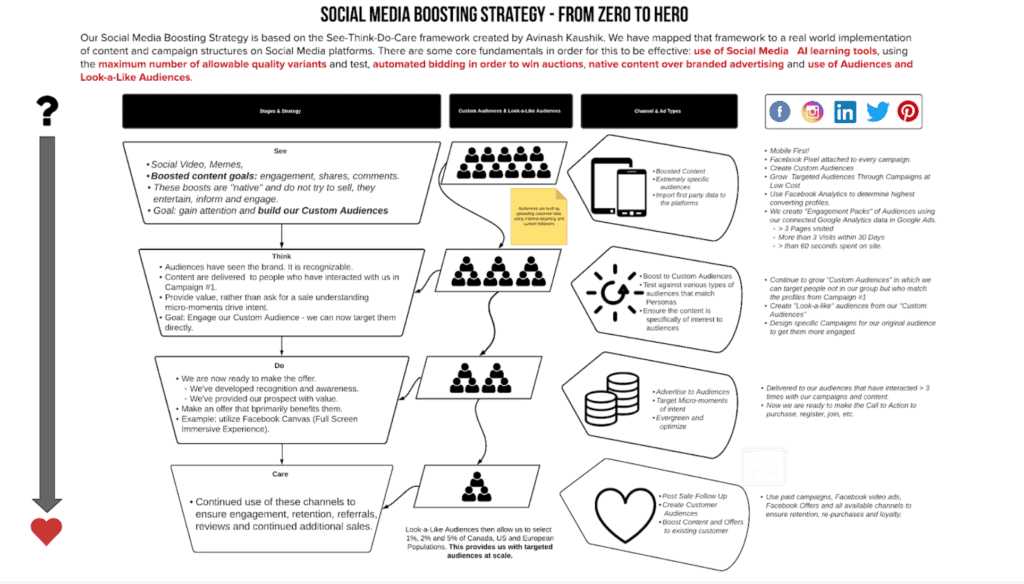 Promotional Email Marketing Plan (Leads)
Make an offer that directly benefits your audience.
Send out an email Reminder 24 - 48 Hours before the event.
Send another email that the event is live.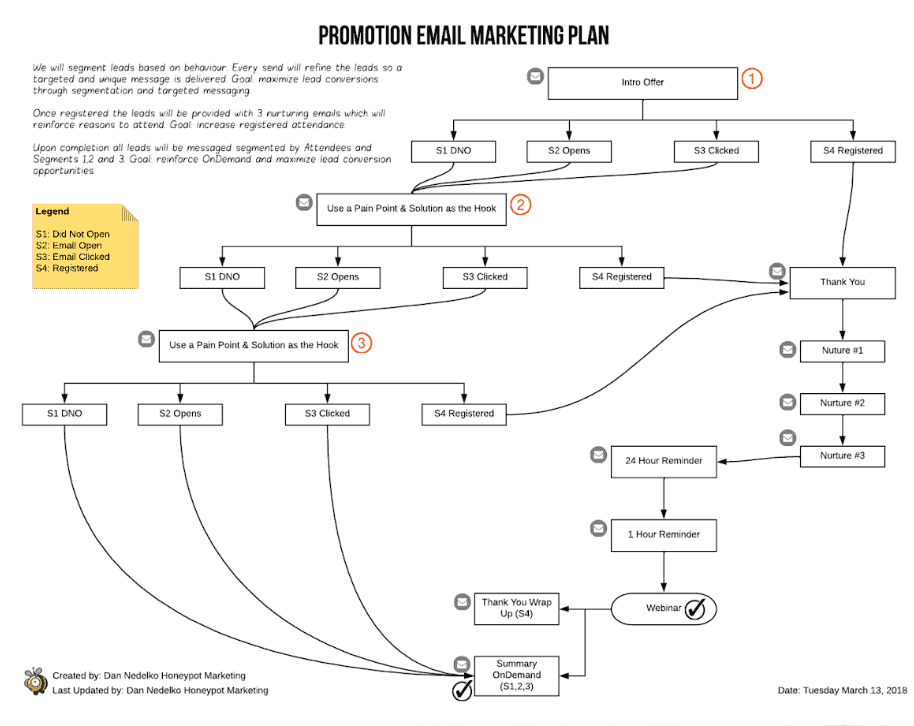 Create quality social media posts to increase awareness and remind people about the upcoming event.
Social Lead Engagement Nurturing – 4-6 Weeks Before Event
Upload your leads and create custom audiences




Boost relevant and "nugget" style content on social for engagement

Nurture and convert leads into your custom audience with Calls to Action

Create first send off emails with engaging CTAs

Offer incentive and urgency for attendees to join your event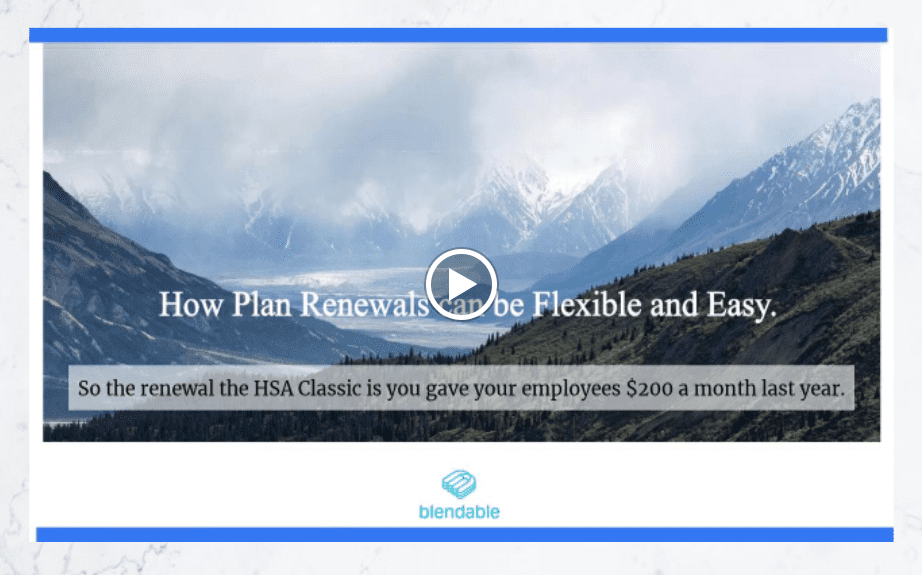 Lead Nurturing Email – 1 Week Before Event
Send reminder emails to the unregistered people

Offer Exclusives

Show Off Your Best Event Details

Promoting on social media with incentives 

(contests, live streaming)

Accept on Day Registrations 

Offer value to people who registered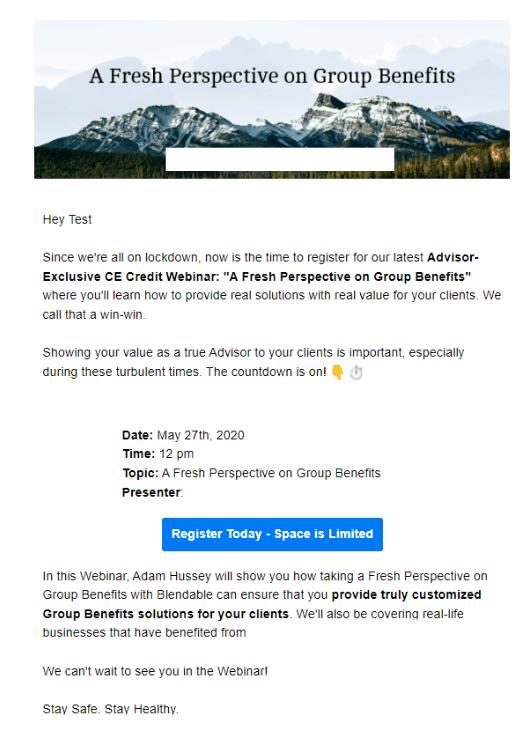 Lead Nurturing – Post Event: People Who Attended
So your event went great; now what? 
Continue the conversation by following up with attendees and those who couldn't make it! 
1. Thank everyone involved
2. Ask for event feedback
3. Send a round-up email to those who couldn't attend 
4. Offer coupon codes for future events
5. Create social media highlights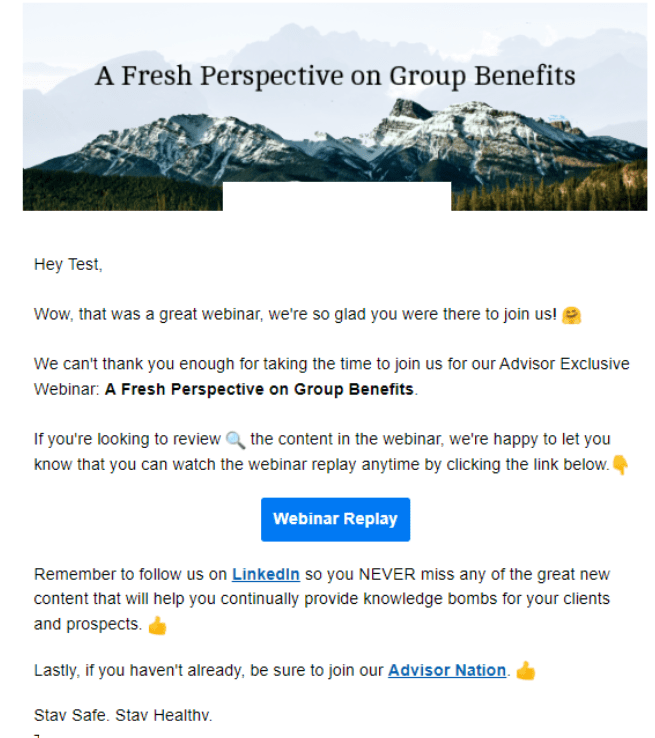 Lead Nurturing – What About People Who Didn't Attend?
Don't give up on them!

Follow-up with an

On-Demand

version

Provide a flexible way for your leads to consume valuable content

Create

snackable social videos

from your event

Promote and boost your social media audiences we discussed earlier

This keeps your content and engagement fresh (and can reactivate cold leads)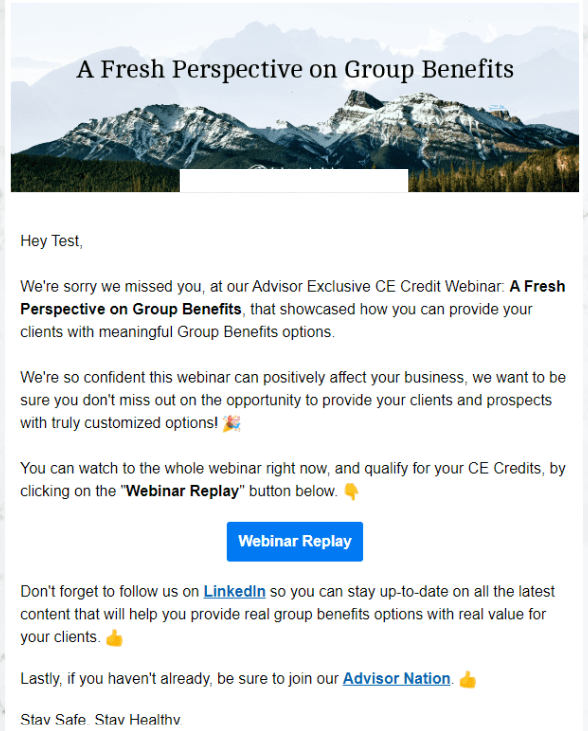 Further Nurturing With Continued Use of These Channels
Continue to use these channels to ensure you're getting:
Engagement

Retention

Referrals

Reviews

Additional Sales
You can start to create custom audiences and boost content and offers to your existing customers.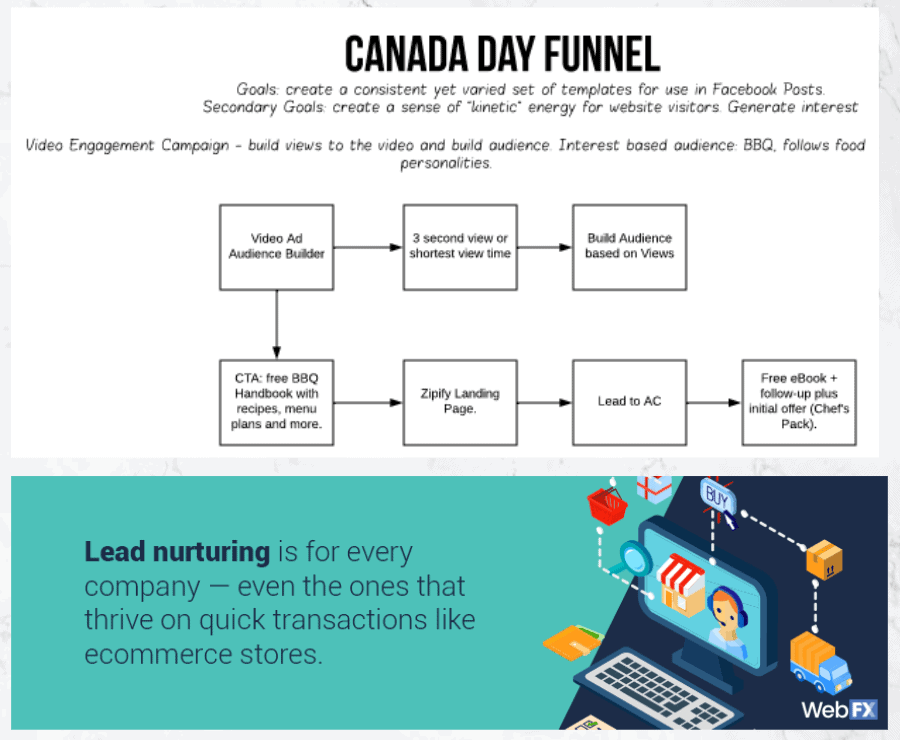 Paid campaigns and Facebook Boosted Videos that will increase awareness and retention.
That's a Wrap!
Ensure you're nurturing your leads from start to finish.
Provide them with an intro offer that they want and follow up continuously with pain points and solutions.
Have your webinar planned out ahead of time with exclusive content throughout the journey.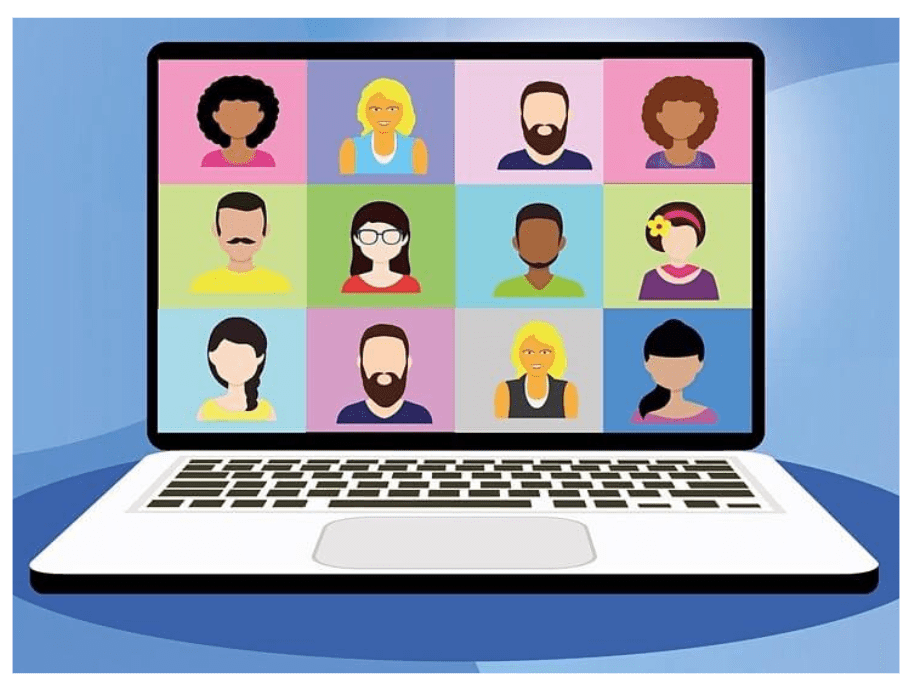 Remember, this is only the beginning. Keep on nurturing.
We hope you enjoyed learning about Promoting Live, Hybrid, and Virtual Events Effectively in a Social World. If you're looking for more great content, check out some of our other reads below:
Unleashing the Power of TikTok for Your Business – How to Get Started and Grow
Boost Your Shopify Sales Using Social Media eCommerce Features
Top Social Media Hacks to Drastically Boost Audience Engagement & Views