Social Media Customer Service Strategy: 12 Reasons You Need One in 2020
---
Podcast: Play in new window | Download
Subscribe Today Google Podcasts | Stitcher | RSS
Not long ago, customers called a business, submitted a ticket,  or went to the brick-and-mortar location when they had issues or questions, and the idea of social media customer service didn't even exist.
Now it's the main channel for most customers to communicate with a business or brand, and it's something you can not afford to ignore.
According to Conversocial, 95.6% of consumers are affected by other comments on a brand's social pages - so, that's pretty much everyone.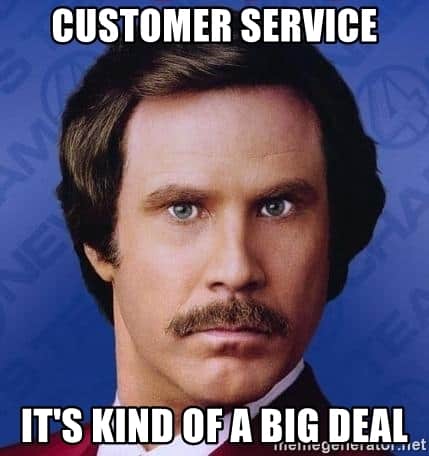 Check out the video or podcast above. 👆 Subscribe to our weekly live stream on Facebook, or take it on the go with a podcast on your platforms' choice. Keep up-to-date on news, trends, and tips in digital marketing and join in on the conversation.
What's New?
Online communication has been growing for years now, but 2020 accelerated the shift to digital and the need for social media customer service.
Over the past 6 months, if your business has not been online or actively engaging on social, well, you're probably not open anymore, unfortunately.
So much has changed, including how we communicate, the way we shop, and even what we expect from brands.
What's Working?
So, how do you provide excellent social media customer service?  Chatbots, responding to reviews, and engaging with posts and comments on social media are some excellent places to start.
Ultimately, you want to be present and active.
In a world where instant gratification has become the norm, timeliness is incredibly important. If you're not available to respond to customers within a reasonable time frame, they will go somewhere else - most likely, one of your competitors.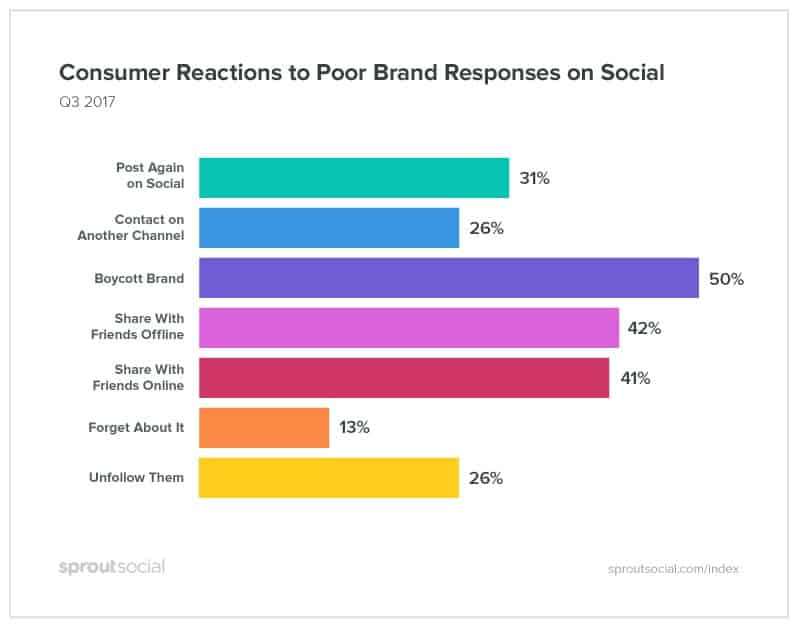 As you can see from the chart above, half of all customers will boycott a brand for inadequate social media responses. That's how important social media customer service is.
Just as importantly, nearly half of all customers will share their bad experiences, both online and offline. We've mentioned before how powerful word-of-mouth can be, and it is worth repeating.
People are far more likely to listen to a friend's opinion or any old stranger online than they are to anything a brand has to say.
Even if you're already in the social media game, this small infographic below makes us think we could all be doing a bit better, maybe?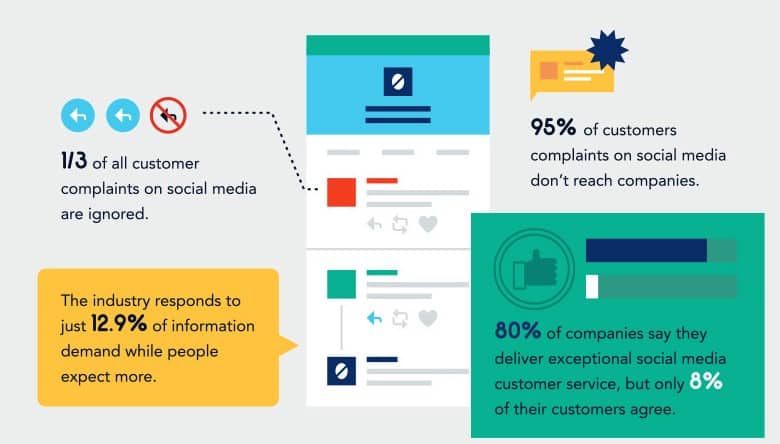 That 80% of companies claiming to deliver exceptional social media customer service versus the 8% of their customers that agree tells a very eye-opening story.
Apparently patting ourselves on the back doesn't deliver results at all.
OK. Let's dig into those 12 reasons you need social media customer service.
#1 Understand your Community's Voice
Get involved in conversations that your customers are interested in, and pay attention to what they're saying and what they're responding too.
Take the time to understand your brand's tone of voice, so your customers have a consistent experience when engaging with your business - and add this as part of your strategy.
Doing this will help you understand the right tone of voice to connect with your audience and show you what interests your customers and motivates them to engage on social media.
This information can help you determine where your focus should be by looking at how many:
Comments were written in frustration after a bad experience.
Questions are technical or account-specific questions.
Provide feedback, whether positive or negative.
Can be resolved using existing links to FAQ or help sections.
It can also help determine what time of day your customers are most active on social media, which will help make sure you have the resources and staff available at peak hours.
By collecting this information, you'll know if you'll be able to handle the majority of issues directly through the social channels, or if you'll require a process for directing social media users to another line of support.
#2 Education
We all need little help and guidance sometimes. No one knows everything, and you want to be available when someone has a question concerning your brand.
By providing social media customer service, you can educate your customers on your products or services at any time from anywhere. Ensure your team has been onboarded to all product offerings and set up a training schedule to onboard new team members.
The majority of the time that people reach out to a brand on social media, is because they have questions or an issue they need help with.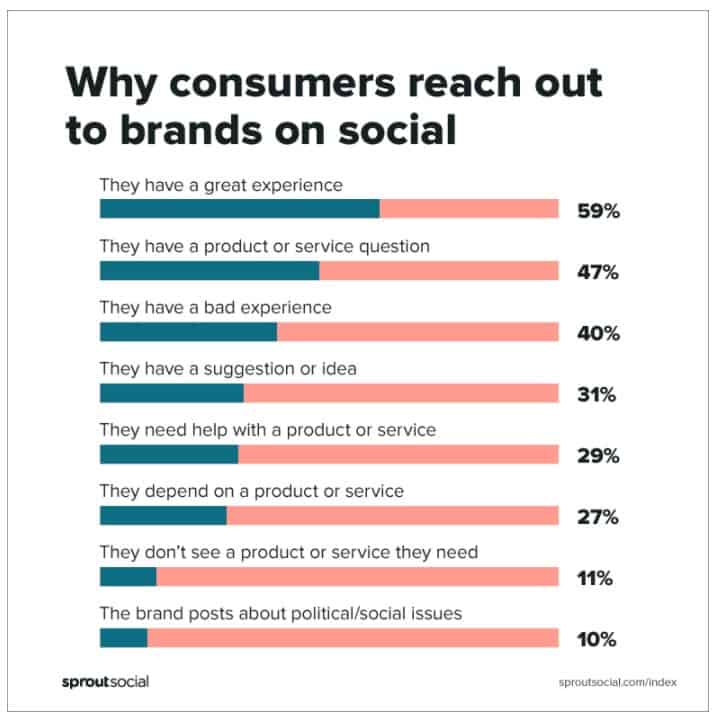 It's interesting to see that a great experience triggers the #1 reason for reaching out to a brand. There's some positive news for you! Take that 2020, go home, you're drunk.
Think about the last time you reached out to a brand on social media. Why did you do it? Were you looking for answers to questions, saying thank you, or f%#$ you, or just, you know, striking up friendly conversations?
Your customers have the same general encounters as you on social media, so think about your own experiences and what you expect from a brand. We're all in this together.
#3 Assess Reviews and Optimize
Reviews can be incredibly helpful for your brand, whether negative or positive.
Negative reviews can highlight problems that may have gone under the radar, and it allows you the opportunity to resolve them - so don't get too down when you get them.
You will get them. You can't please everyone. We've all heard it a thousand times. It's how you respond to the negativity that matters.
Positive reviews are the best free advertising you can get.
There is nothing more powerful than a happy customer that wants to advocate for your brand simply because they love it.
Be sure to train and educate your customer service team on analyzing and assessing customer feedback and reviews. That way, even when the reviews are negative, you can understand areas of opportunity for your business to improve and ensure these are communicated to other departments properly.
#4 Show Empathy
Customers are people. People have feelings. People like it when their feelings are acknowledged. This year more than ever, people are stressed and on edge. Showing empathy can make a world of difference to someone. It can make or break their day.
1 out of 100 customers will take the time to leave a review or comment on a social account. Good or bad, always thank them for taking the time to comment and activate your active listening skills.
We all like to think we're doing our best, but if I can draw your attention back to that chart above, 92% of consumers don't agree that they're getting exceptional customer service.
Can you relate to that? How many businesses did you engage with last month? Did any show empathy and treat you like a person, and give you exceptional customer service? How many were flat out bad, or just that neutral no effort zone?
Think of your target persona and imagine asking them these questions:
Why do you need my product?
How does using my product make you feel/think/do/say?
What are some stressors/fears in your life?
How does my product help you reach your goals?
How do you think they would answer these questions? Not sure? Ask them. That's what social media is for - having conversations.
Questions like this will help you understand your market and how your product fits into their lives. Activate those social listening skills and get to know your customers.
#5 Reduce Churn
One of the best ways to reduce customer churn is being present, active, and accommodating to your customers. If you ignore them, they will leave.
When customers are unhappy, they stop doing business with you. It's that simple.
According to Forrester, it costs 5 times more to acquire new customers than to keep an existing one, and 16 times more to bring a new customer up to the same level as an existing customer.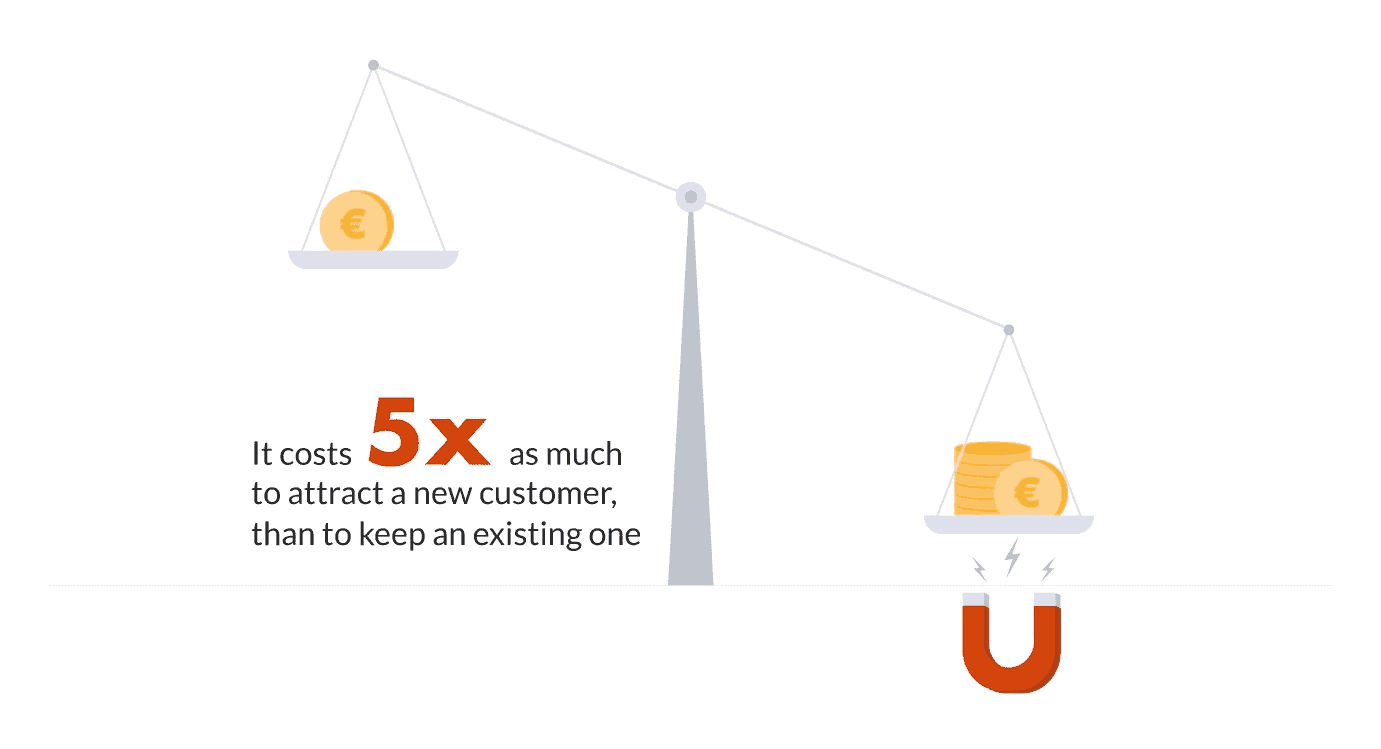 Strangely, 2 out of 3 businesses don't have a strategy in place to prevent churn.
Here are a few ways you can get the ball rolling:
Analyze why churn occurs
Engage with your customers
Educate the customer
Offer incentives
Target the right audience
Pay attention to complaints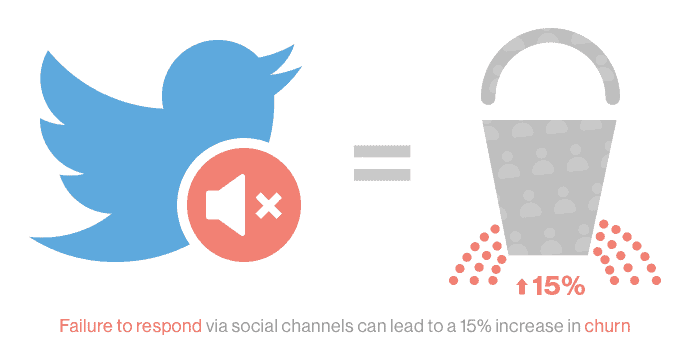 The bottom line: engagement is crucial if you want to reduce churn, and yes, you want to.
#6 Customers Expect Social Media Customer Service
Gone are the days of customers calling you or visiting your brick and mortar store.
Social Media customer service for any brand is expected, so don't disappoint and make sure you provide them with easy ways to get the answers they need, no matter the time of day.
Social media has opened up the possibility of two-way engagement between businesses and consumers, and consumers are happy about that.
They want to talk to the brands they love. They want an easy and convenient way to ask questions and solve issues, and they want to tell their favourite brands how much they love them without any hassle or roadblocks.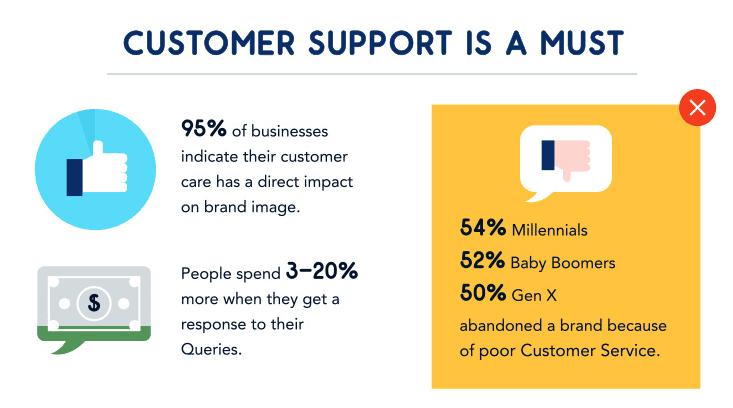 Social media is the new main channel for communications globally; it only makes sense that the best place to provide customer service is through these channels. This is where people are going when they are looking for information, or if they need an answer quickly.
#7 Crisis Management on Social Media
Every brand should have a crisis management plan, and this plan should include how you will respond to social media.
Ensure you have a reliable process in place, so your company is always perceived as helpful and responsive.
Some examples of social media crisis could be:
Undermining of Customers
Inappropriate Marketing Messages
Distasteful Comments From an Executive
We put together a Challenge-Response Guide that any company can use as a reference. You can check it out here:
A challenge-response guide is a good place to start when setting up a crisis management strategy. That way, responses are unified and easier for everyone on the team to follow, and of course, will help keep the tone consistent.
#8 Customers Are Already Engaging With Your Brand on Social Media
Your customers are already on social media, and they are most likely already leaving reviews about your product or service.
So, should you be there to respond? Yes, you definitely should.
Ensure you understand which social channels your brand is actively receiving comments and reviews on and tackle those first.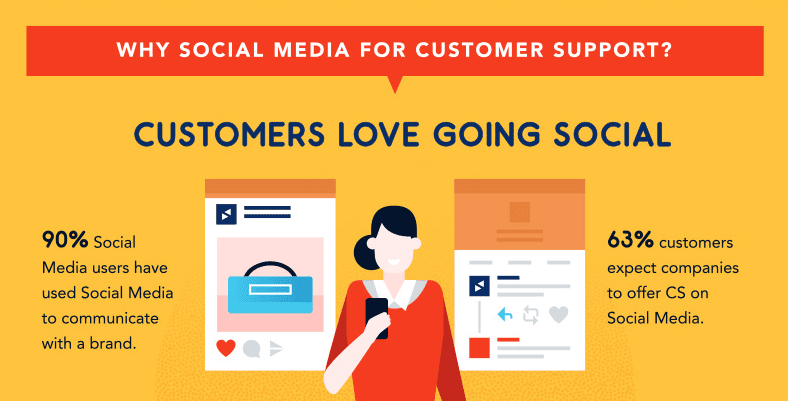 The majority of the world uses social media now, and 90% of those users have used social media to communicate with a brand, so it's easy to see why it's not something you should be ignoring.
There are more than 1.6 billion active social network users globally right now if you had any doubt.
#9 Know How and When To Respond Publicly On Social Media
It's essential to know when and where to respond.
For instance, if you request customer contact information, you would use a DM versus a comment on the page.
If someone leaves a negative comment, you'll want to ask them to send you a DM to help resolve their problem.
If it's a sassy comment, have some fun with it.
Check out this great example from Red Cross after an off-brand Tweet was posted on their Twitter account.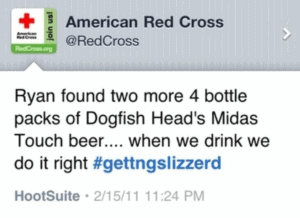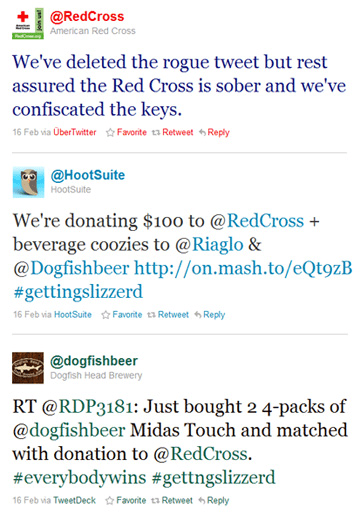 It's a great example of a timely brand, not taking themselves too seriously, and preventing a potential crisis on their social media.
#10 Be Timely With Responses on Social Media
Don't make your customers wait.
Make sure you set up a strong cadence, so your team reviews the accounts several times a day. Your customers are expecting a response as soon as possible.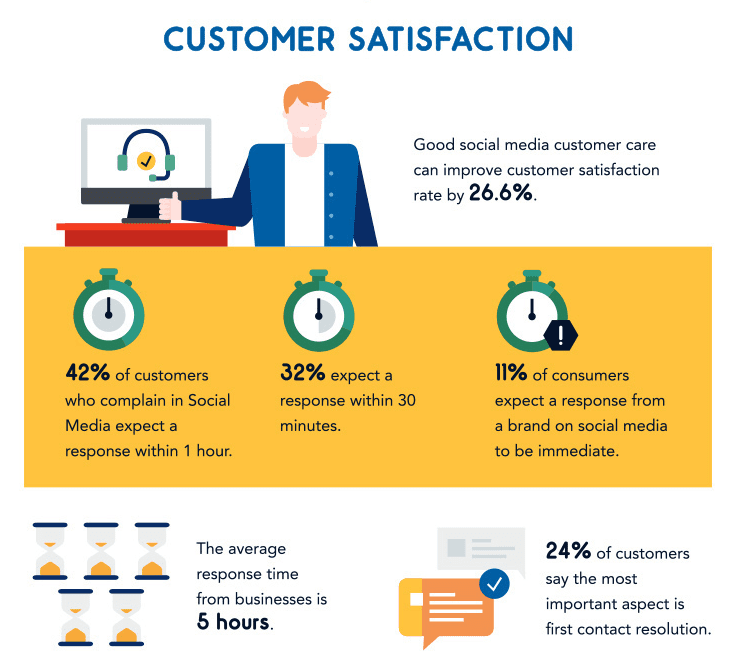 As you can see from the graphic above, customers expect near-immediate response times, and hitting these targets can massively improve your customer satisfaction rate.
It's not always easy to be available at all times, but there are many tools in place to help us out, such as chatbots and setting up robust FAQ sections that customers can be directed to.
The average response time from a business is far from what customers expect, which shows that there's room for ample opportunities for those brands that truly want to give their customers exceptional customer service.
It will pay off not only, but it will help your business stand out, which is becoming more and more important as the tremendous amount of choices we have are increasing exponentially.
#11 User Experience is Key on Social Media
Don't make it hard for your customers to leave reviews, comments, or messages.
This is especially true when you may be sending them to other departments for help. Make sure your team and your strategy list out whom to talk to and for what issue. Is it technical? Is it branding?
By categorizing these, you will make it a positive user experience for your customers by making the process simple and easy.
This area can be easily overlooked, but it can be just as important as responding promptly in the right tone for the situation.
Think of the times you have had trouble finding what you're looking for on a website or a brand's social media.
If you couldn't find what you were looking for right away, did you keep on digging further, or did you leave and go somewhere else?
How does it make you feel when you can't find an easy way to contact a company? Do you trust the brand less? I do. Do you feel like your opinion doesn't matter to them? Yea. This is not how you want your customers to think about your brand.
Make it easy for your customers, and they will thank you for it.
#12 How and When to Use Chatbots on Social Media
Chatbots are very useful and can help you offer customer service 24/7 on your social accounts.
However, they require a strategy. You need to know when they should be used and develop user flows that make sense, so you are always providing a positive experience for your customers.
We also wrote an entire blog on these cute little robot friends of ours, so if you'd like to dig deeper into the world of chatbots, check it out!
Why Real-Time Messaging & Chatbots are the Key to Unlocking Customer Engagement
To wrap it up, here's a handy infographic with all 12 reasons why you need a social media customer service strategy.

And as always, we have some more resources for those of you still hungry for more:
7 Best Practices for Providing Better Social Media Customer Service - Mobile Monkey has a ton of great content, and this article addresses some of the most invaluable practices for providing awesome customer service. Check it out!
Social Media Customer Service: Everything You Need to Do it Well - There are some really great insights here, and they go through 11 tips to help make social media customer service work.
8 Tips for Social Media Customer Service - This article has a great infographic to check out with some eye-opening stats and good tips.
2020 Report Reveals Consumer Expectations for Social Media Customer Service - A great article with some interesting statistics that will help you improve your social media customer service.
Best Practices for Great Social Media Customer Service - An interesting read that details best practices and why social media customer service needs to be a priority.
6 Key Elements of Using Social Media for Customer Service - An insightful read with some real-world examples of how brands communicate on social media.