How to Test and Optimize Facebook Campaigns for eLearning and eCommerce
---
Podcast: Play in new window | Download
Subscribe Today Google Podcasts | Stitcher | RSS
This week we're discussing the complex world of Facebook for Business, and how to test and optimize Facebook campaigns for eLearning and eCommerce.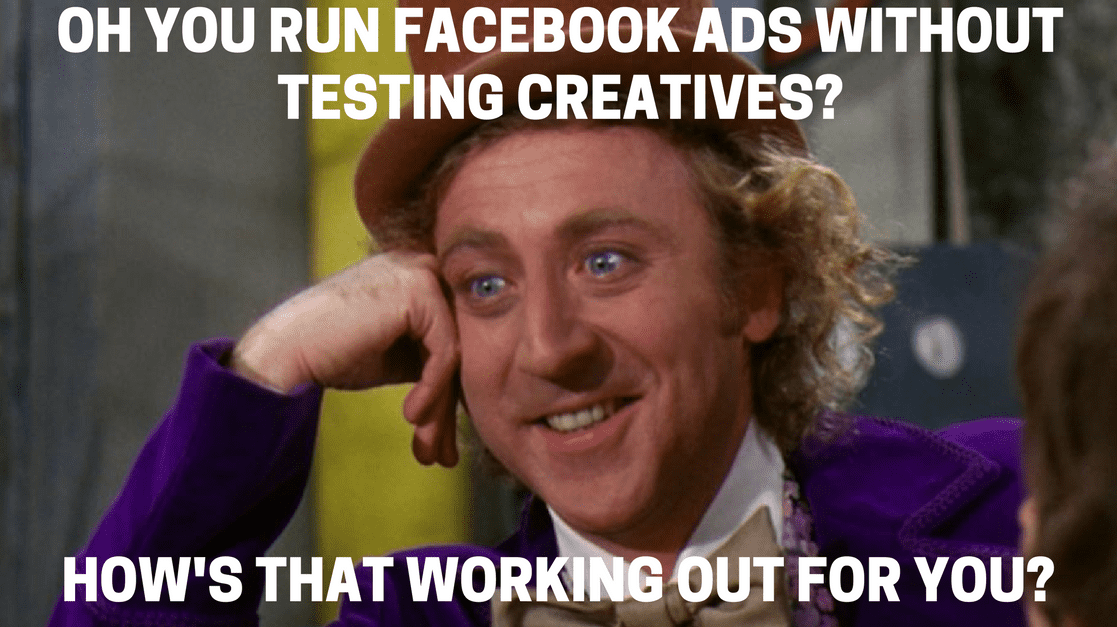 Check out the video or podcast above. 
 Subscribe to our weekly live stream on Facebook, or take it on the go with a podcast on your chosen platform. Keep up-to-date on news, trends, and tips in digital marketing and join in on the conversation.
What's New?
This week we have some new features rolling out on YouTube and TikTok. Check out the links below to learn more!
YouTube is Testing Clips on Live Streams and VODs - YouTube is introducing clipping — the ability to make short clips of live streams or videos — starting today with a small group of creators. Those clips can be anywhere between five and 60 seconds in length and will have a new URL associated with them.
Digital Learning Tools Arrive on TikTok - To further learning on TikTok and bring more value to the app experience, TikTok is partnering with Quizlet, the popular online study platform, to provide another way for creators and learners to explore topics and ideas they're interested in and want to learn more about.
What's Working?
Facebook has become a juggernaut over the years; now one of the world's largest social platforms with 2.7 billion monthly active users, which has made advertising on the platform incredibly lucrative and successful.
However, trying to navigate Facebook for Business is complicated and the number of options available is frankly staggering. Jumping in for the first time can be intimidating, to put it nicely.
With eCommerce and eLearning booming now that so many businesses have had to pivot into the digital space to remain open, it's the perfect time to dig into this complex world and break down how to test and optimize Facebook campaigns.
We will be covering:
Why Advertise on Facebook & Instagram?
Why Consider eLearning and eCommerce?
See, Think, Do, Care.
Personas and Journey Mapping.
Facebook Targeting.
How to Develop a Strategy.
Facebook Ad Optimizations.
How to create custom audiences.
eCommerce.
Facebook Shops.
Why Advertise on Facebook & Instagram?
Traditional advertising typically comes with an astronomical price tag, making it a difficult, or impossible option for small businesses with limited advertising budgets.
Facebook advertising is much more affordable, with options like boosting posts for as little as $20, and a robust suite of tools for analytics and building custom targeted audiences.
These tools are invaluable when learning how to test and optimize Facebook campaigns, and offer volumes of data that you would not have access to through traditional advertising methods, such as print, TV, radio, or magazine ads.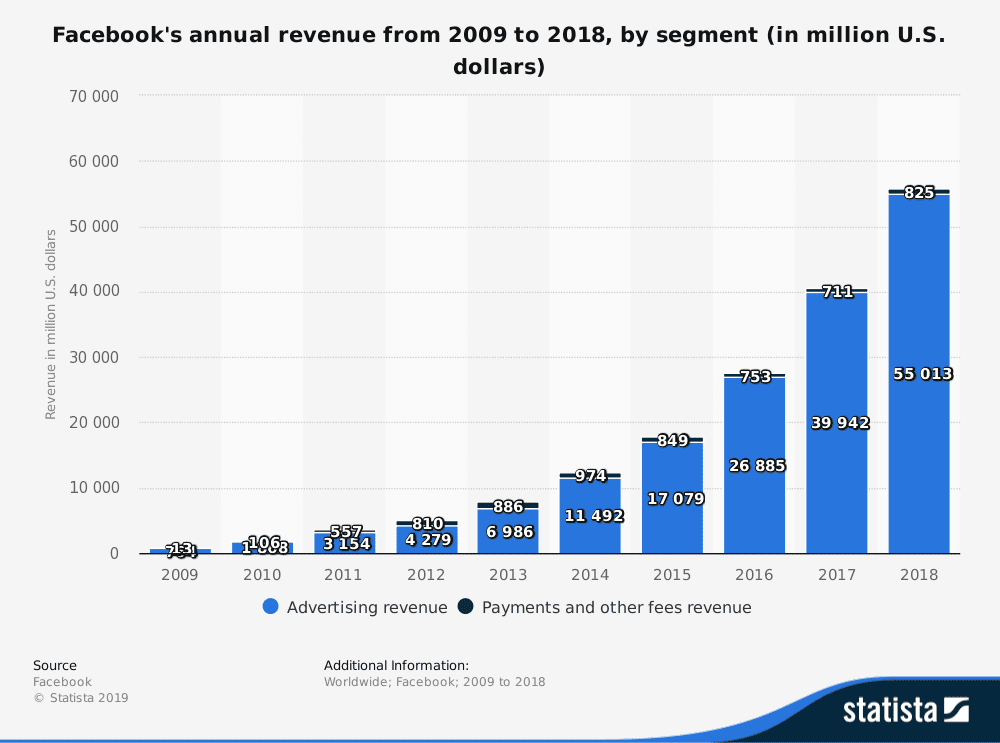 As you can see from the above graph, advertising on Facebook has become an incredibly lucrative business, and with so many businesses transitioning into the digital space, it's a great opportunity to develop cost-effective campaigns, and potentially reach millions of users.
So, why advertise on Facebook and Instagram?
Running small campaigns is very cost-effective.
Robust set of tools and analytics.
Facebook Advertising is highly successful.
You can create Custom Audiences and fine-tune your targeting.
Facebook Ad Campaigns are highly customizable.
New features are added monthly.
Why Should Businesses Go Online?
The digital space has been in steady growth for years, and with the current world events, this transition has been dramatically accelerated. For many businesses, it's do or die.
However, doom and gloom aside, there are some truly substantial benefits for businesses looking to make the move online.
Empowers Customers & Your Business - Through their websites and online advertisements, businesses can communicate with their clients, provide information on new products and complete sales.
Increases Reach, Resiliency & Efficiency - Businesses leverage the information through e-commerce channels to improve reach, the quality of their products, enhance customer satisfaction, and make better corporate decisions.
As we've seen over the past year, resiliency is paramount to survival, so getting your business online should be a top priority to help diversify your ability to provide to your customers.
Why Should Businesses Consider Online Courses & eLearning?
People like learning. It's an essential part of our being - to grow and evolve so we can better navigate the world we live in.
Thought leadership has become more important than ever, as people seek out valuable content and information.
The business world has been turned upside down in the past year, and many people have had to pivot to new careers, meaning the need for retraining has become very high.
Unlike traditional education, online courses can be studied at your own pace, in your own time, and from wherever you like. They are generally much cheaper than traditional institutional education and can offer the same content.
An online course can offer great value. They often contain up to date and relevant information that has outpaced even traditional school curriculums. This makes it perfect for customers who need the flexibility of learning at their own pace in a fast-moving, changing environment and subject matter.
Check out the graphic below for even more benefits of offering online courses and eLearning.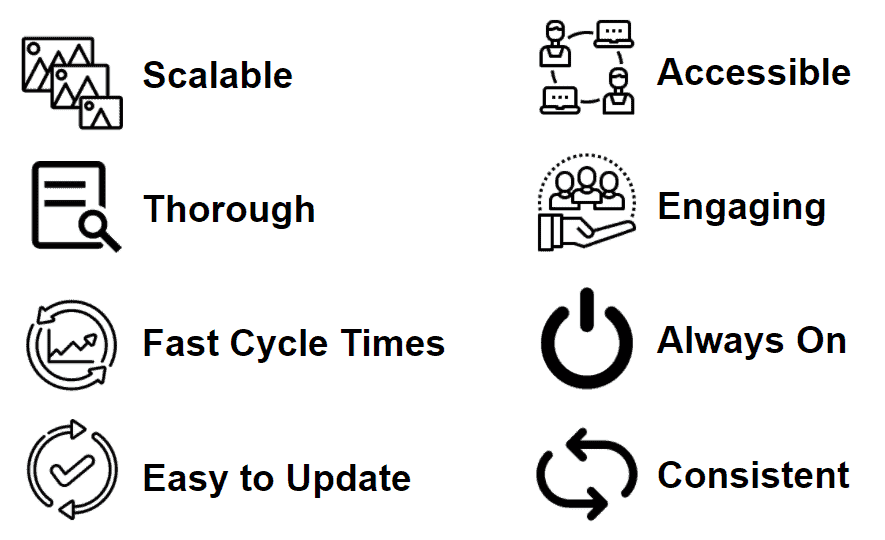 Being able to offer content that is engaging, consistent, and always available is invaluable, and the fact that it is accessible to anyone at any time makes it a very appealing offer, and allows your business to scale far beyond what would be possible offline.
See. Think. Do. Care.
The see-think-do-care framework has 4 distinct audience intents clusters, and as marketers, we need to be able to fulfill all 4 clusters to achieve success and customer satisfaction.
It looks like this:
See: This stage is comprised of the largest, qualified, addressable audience.
Think: Is the part of the audience that is actually thinking or considering a particular thing.
Do: Is made up of that subset of the audience that is looking to buy.
Care: At this stage, you want to nurture the customer to develop your relationship and retain them as loyal customers.
Below is a graphic that maps the framework to a real-world implementation of campaign structures on Facebook.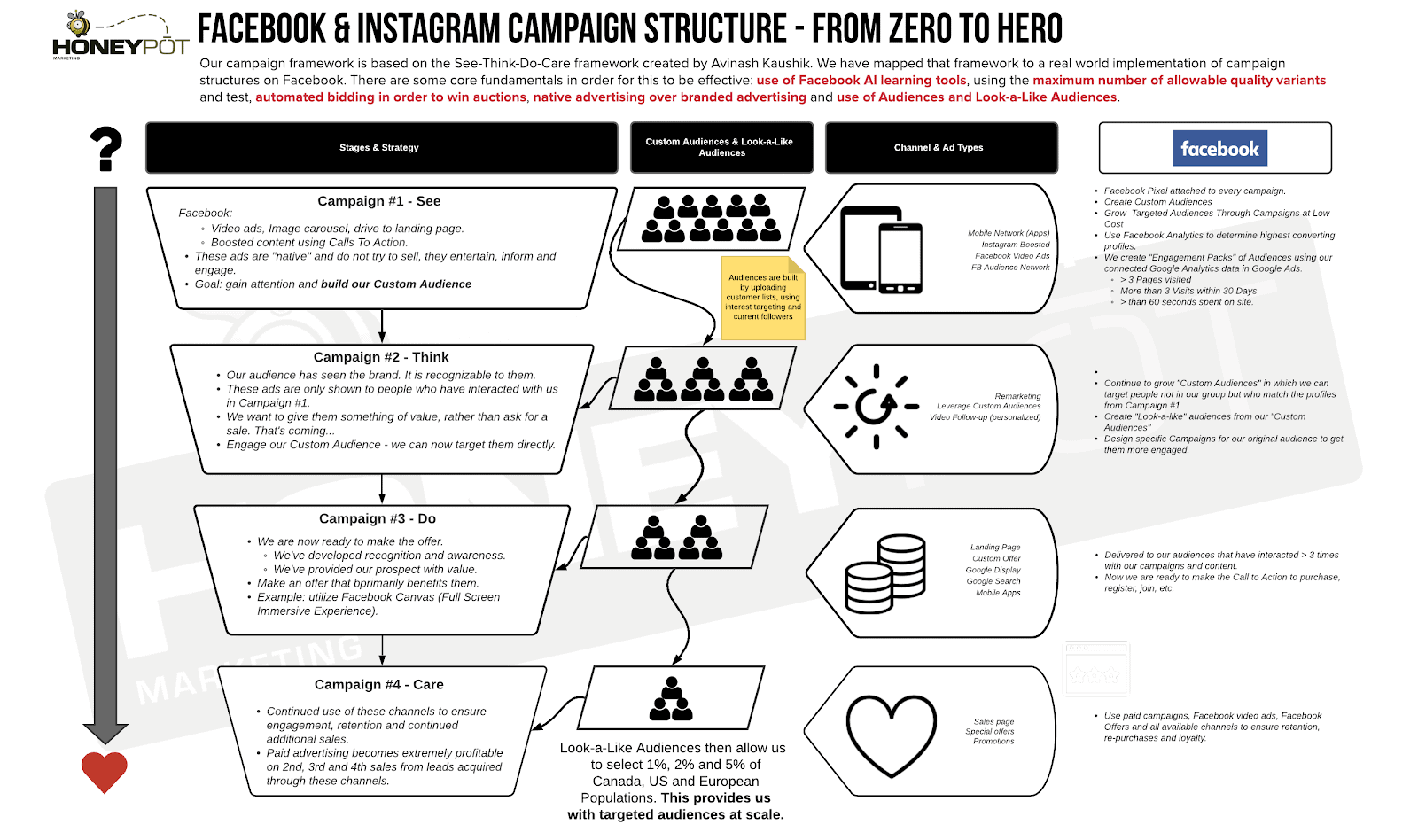 For further reading, check out this article from the creator of this business framework, Avinash Kaushik:
See, Think, Do, Care Winning Combo: Content + Marketing + Measurement! - In this blog post he shares two strategic clarifications/extensions of his thinking about the See-Think-Do-Care framework.
And this great post by Search Engine Journal:
See, Think, Do, Care: A New Way to Communicate Your SEO Strategy - This article discusses how to apply the "See, Think, Do, Care" framework to discussions around the implementation of optimizing a website for organic search.
Customer Personas and Journey Mapping
We've talked about customer personas and journey mapping in previous blogs, and though it is a very important step in how to test and optimize Facebook campaigns, we won't dig too deeply into this here - but will provide links for further reading below.
Ultimately, this is a starting point. You want to take the time to develop your customer personas so that you understand who you are trying to reach, and how you should communicate with them.
Below is an example of what a customer persona looks like: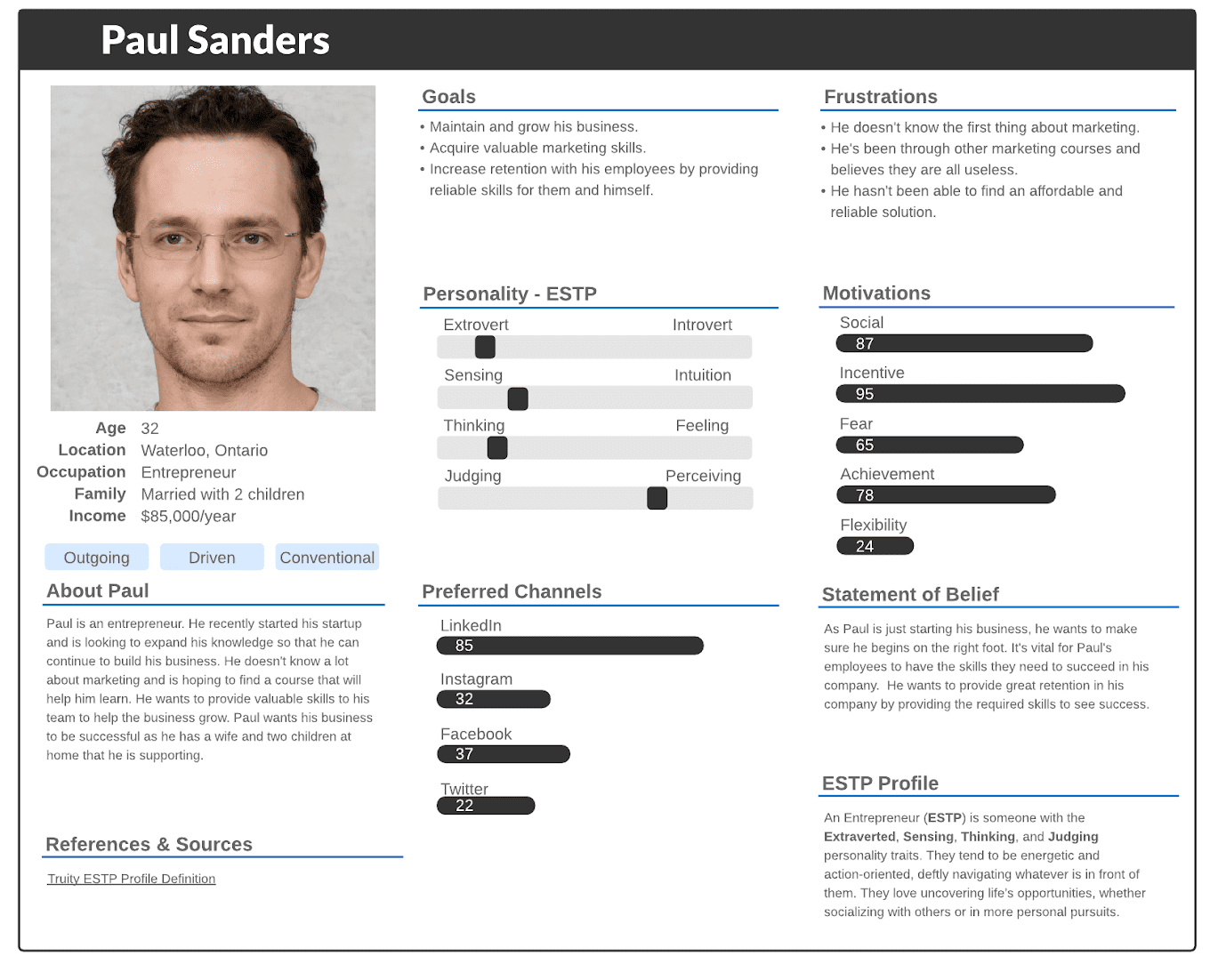 And here is a visual example of a customer journey:
If you're interested in further reading, check out our previous blogs where we explore the topics more:
Research. Strategize. Execute. 3 Pillars of Building Your Brand Online.
Non-Linear Customer Journeys and How to Implement Them
Facebook Targeting
Facebook will automatically show your ads to people who are most likely to find your ads relevant. You can further target your ad delivery with three audience selection tools.
Core Audiences - Define an audience based on criteria like age, interests, geography and more.
Custom Audiences - Get back in touch with people who have engaged with your business, online or off.
Lookalike Audiences - Reach new people whose interests are similar to those of your best customers.
With Core Audiences, you set the rules for where your ads are delivered. Adjust your target audience to be as broad or well-defined as you like.
Custom Audiences allow you to connect with people who have already shown interest in your business, whether they're loyal customers or people who have visited or engaged with your content on Facebook,  used your app, or visited your website.
In the example below, you can see that you can choose from location, demographics, and interests to help narrow down your audience to the people who will be most likely to engage with your brand.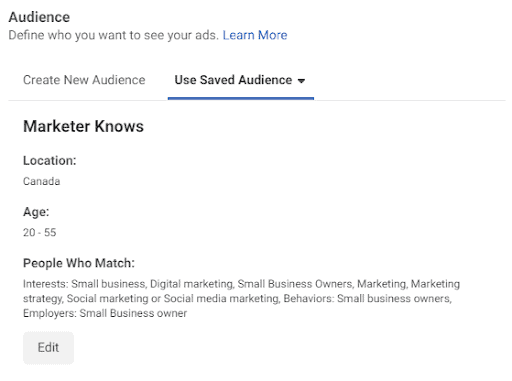 Lookalike Audiences are a fast and effective way to connect with people likely to respond to your ads. All you need to do is create a source audience of people you know. Your ads will then reach people with common interests and traits of the custom audience you created.
You can decide how closely the lookalike audience matches your custom audience with a simple slider, with 1 being the closest to your target audience and 10 being much broader.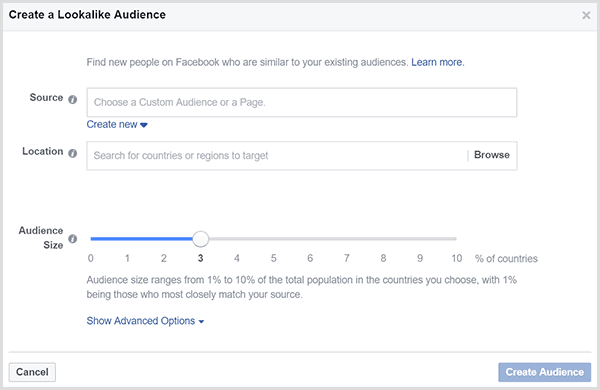 Create Custom Audiences
Creating custom audiences is an excellent way to reach out to people who already know your business.
You can build these audiences from a number of sources, such as:
Contact lists - Connect with your customers and contacts on Facebook using information from your CRM system or email lists. You can even use information you collect in-store for online retargeting.
Website visitors - Set up the Facebook pixel to automatically create a Custom Audience of people who visit your site or take certain actions there. With the pixel, you'll be able to show people targeted ads for items they've previously viewed on your website. Amazing, right?
App users - If you're a developer, install the Facebook SDK to create more relevant ads that drive people to take in-app actions like returning to a game, viewing an item or making a purchase.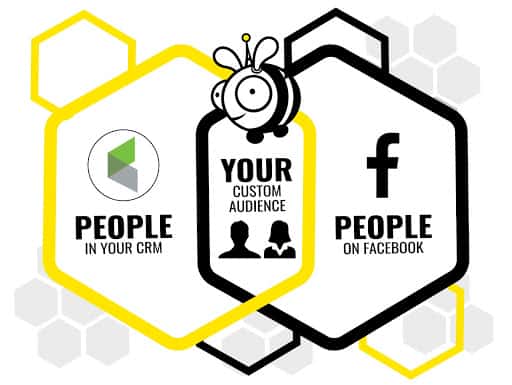 Here is an extended  list of Custom Audience Sources you can use to build out your audiences:
Your Sources
Website
Customer List
App Activity
Offline Activity
Facebook Sources
Video
Instagram Account
Lead Form
Events
Instant Experience
Facebook Page
Shopping
On-Facebook Listings
How to Develop a Strategy
So, how are you going to get people to buy from your business? Facebook offers 3 main ad objectives: awareness, consideration, and conversions.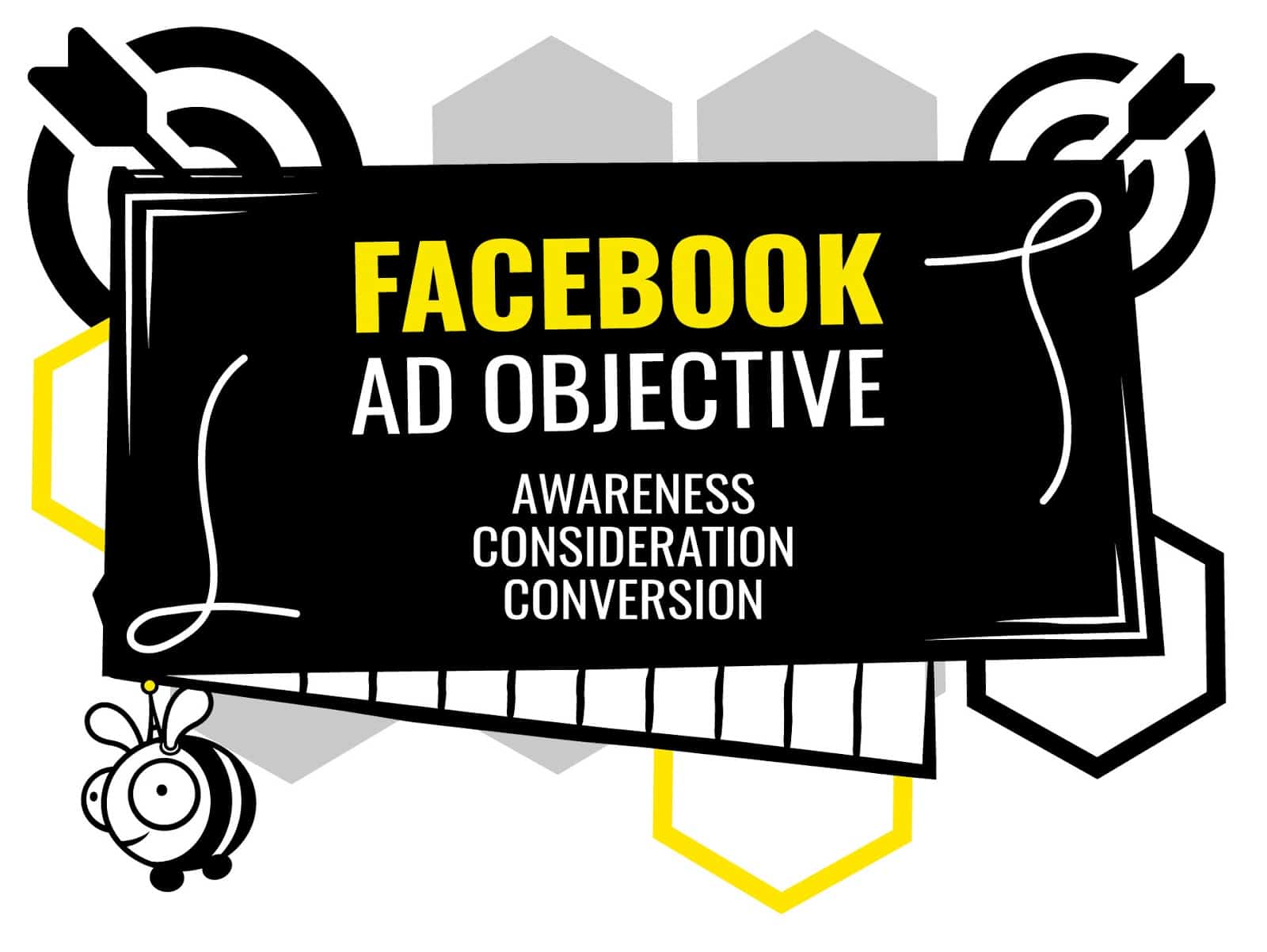 It's critical to remember to not sell to a cold audience. In the awareness stage, your goal should be to offer content that has value to your audience. You need to build awareness of your brand and develop trust.
In the consideration stage, you could go with "Video Views" and creating short and engaging videos that are attached to your audience, to attract more people and build interest - and then you can create new audiences, for example, for anyone who watched more than 50% of your video.
The conversion stage is where you want to go for the sale, and not before this. If you try to just jump straight to the sale, you risk losing the sale before the customer has even considered your product or service.
So, in summary, you want to:
Understand the Business

Customer journey
Customer segments or Buyer Persona

Understand the Business Goals

Brand awareness
Lead Generation
App Installs

Plan your Conversion Funnel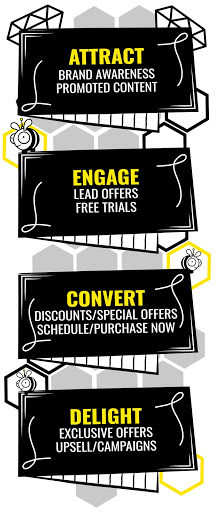 Video View Campaigns
A video view campaign is perfect for brand awareness and building audiences when you test and optimize Facebook campaigns.
We know that video content generally out-performs other types of content, such as static images or text, with higher engagement rates and better optimization.
You can collect some great data through video analytics, and create different audiences based on actions when they watch your video, such as:
People who watched the video for 3 seconds.
Who watched 50% of the video.
Those who watched the entire video.
And more.
You can then target these audiences in different ways, using the analytics to determine what attracted the most interest and where you started to lose people. You can even see what the most engaging part of the video was, and use this data to test and optimize Facebook campaigns.
How to Convert Your Audience - eCommerce
Now that you have your audiences built, and some great content created, how do you convert these audiences?
A great way to start is with a lead magnet!
A good lead magnet is informational and very easy to get to, and remember you're targeting people who have already engaged with your brand. Another method you can use is a Facebook lead gen ad, have it connected to your marketing automation platform, and as soon as they register you can have an automation set up to send to them.
Some other things that can help with converting your audience include:
Install Facebook Pixel
Promote Premium or Free Trials
Promote gated content through
Facebook: Free guides or checklist
Mobile Optimize your website
Show reviews on your products
Have an easy checkout system
Help make buying choices
Create bundles
Here are some more examples we put together for Marketer Knows:
As you can see above from the mobile feeds, keep in mind that Facebook and Instagram stories are strong channels that perform very well, so test there and you might be surprised - don't just stick to your feed. You want to use as many channels as you can, and let the tests dictate where you focus most.
Ultimately you want to have a very low barrier to entry, not asking anything of a potential customer, and instead, offer something of value at no cost to the consumer.
Campaign Structure
Ads account structure is critical to success. This is especially true when you're running multiple campaigns or test campaigns at the same time.
When it comes to ad placements, audience targeting, location targeting, and testing interest-based audiences with lookalike audiences and other custom audiences, you need to segment and keep these separate so you can determine which elements are performing better.
By excluding the low ranking audiences from the high ranking audiences, your analytics will be more accurate and drive more qualified leads.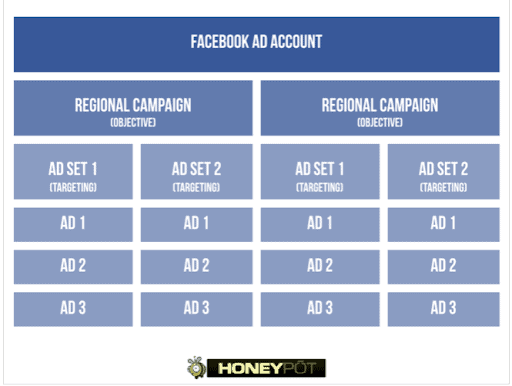 Test different ad sets for different placements (Desktop news feed, mobile and desktop right column). Combine multiple small locations into a single ad set. Avoid having multiple ad sets targeting the same audience.
Ad Placements
Quite often ad placement gets left to Facebook's automated system, but it's a good idea to manually choose the placements to ensure you are using the best placements for your own campaign.
Once your campaign has been running for a week or 2, check to see what ad placements are performing the best, and then focus your efforts there.
Facebook will not allocate most of the budget to those ads that are performing the best, so you need to do this manually when you test and optimize Facebook campaigns.
Some things to note:
Mobile ads are great for awareness and content promotional campaigns.
Facebook users like to use Facebook on their mobile devices. For that reason, mobile is a great place to promote blog and video content.
Facebook Video ads usually work best on mobile: These ads generate the lowest cost per view on mobile.
Facebook right column ads work the best on Desktop.
For engagement, Facebook Stories are one of the top performers.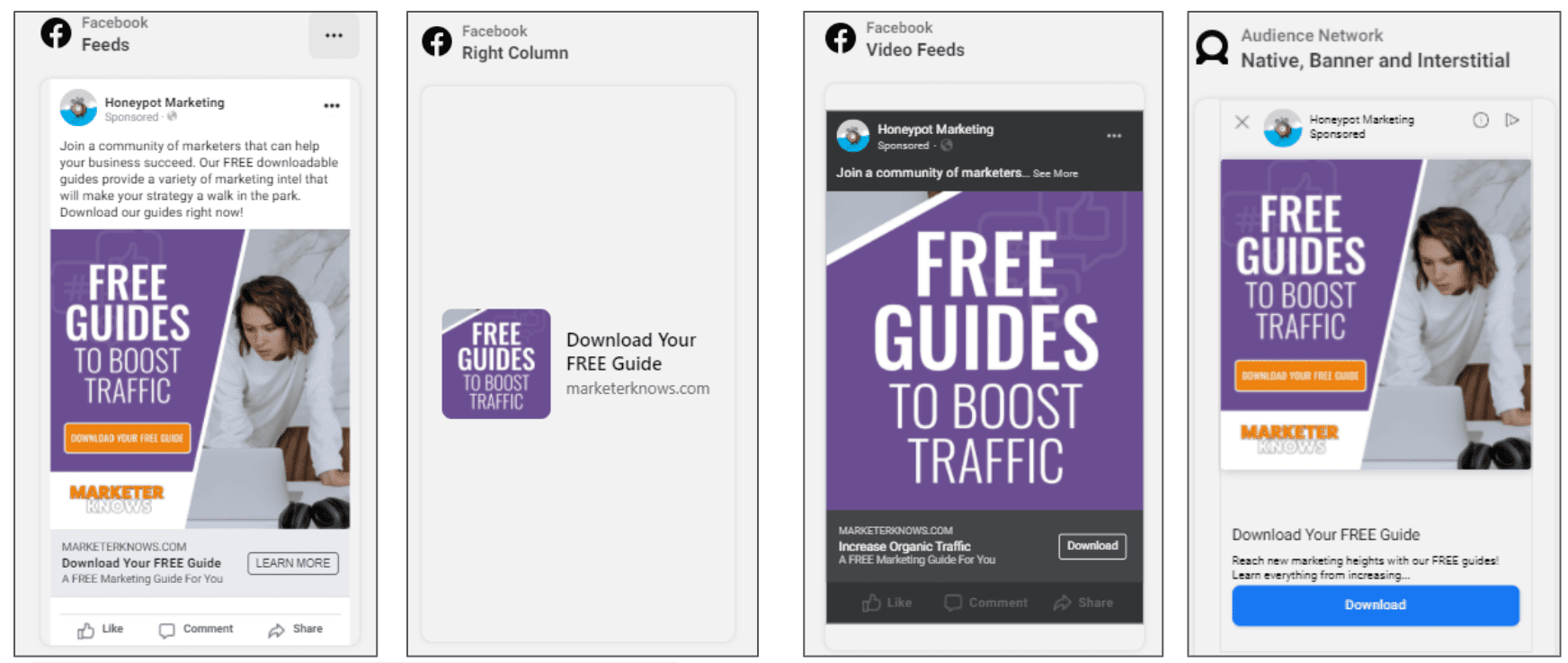 Customize your content for where your audience is and who you're talking to.
Campaign Ad Set Optimizations
We've talked about setting up the ads, creating custom audiences, setting up campaign structure, but once you launch your campaign(s) they're not done.
You want to monitor the campaigns so that you can optimize them regularly, tweaking them where necessary, based on the analytics, and this will improve performance tremendously.
Rotate your ad creatives if they've been running for a while, to keep the ads fresh. Facebook for Business provides the ability to run formal tests within the platform, so use the AI provided and create multiple variants.
Ad Espresso is a fantastic platform to scale and create massive ads, if you're interested in heavily testing multiple variations. Ad Espresso will create subcategories for you, segmenting your audience and performing micro tests to find the variants that have the highest performance.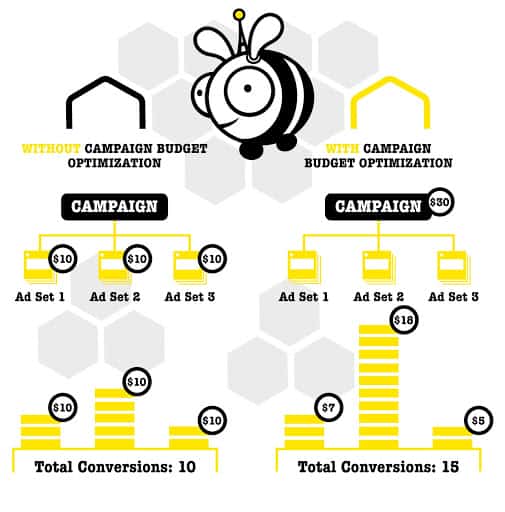 As you can see from the graphic above, ad campaigns that have been optimized are more successful and cost-effective than those left to run without manual adjustments.
In summary, you want to:
Implement the pixel and the power of a well-placed tag to inform strategies and track campaign results.
Continuously monitor and optimize.
Rotate ad creatives.
Update audience targeting.
Update Ad placements.
Make budget adjustments.
Facebook Shops
According to Facebook, 46% of the entrepreneurs and small businesses indicated that they are looking for an eCommerce solution to take their business online.
Facebook Shops is changing the way we shop, by giving us the option to buy a product in our feed with the simple click of a button, without even having to leave the platform.
The benefits are strong, and changing the way we approach eCommerce:
Shop experience works on both Facebook and Instagram.
Zero Investment Cost.
Shops showcase your brand and products in a native mobile experience.
Easy browse options.
Gives customer support, delivery status through Facebook messenger.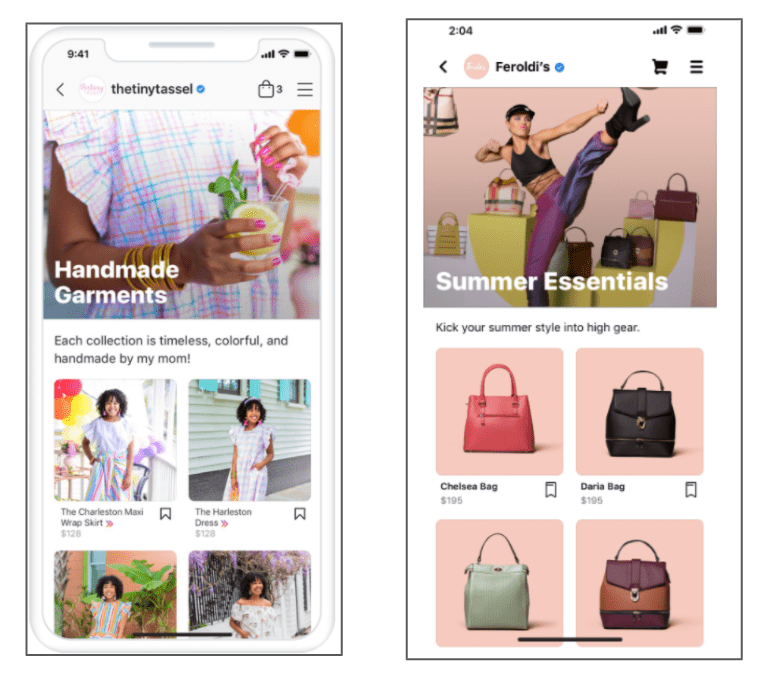 The goal is to eliminate the friction and create a seamless experience so that you don't have to leave the platform to complete your purchase.
What a time to be alive.
That's a Wrap
Thanks so much for reading and we hope you found some valuable information here. Below we've included some more resources from our past blogs that relate to this topic. As always, if you have any feedback, questions, or stories to share, sound off in the comments below.
How to Create and Launch High Performance Facebook & Instagram Campaigns With a Modest Budget
Foundations of a Successful Digital Marketing Plan